The global digital oilfield technology market was valued at $26,570.4 million in 2017, and it is predicted to surpass $34,871.6 million by 2023, witnessing a CAGR of 4.6% during 2018–2023 (forecast period). The Middle East and African (MEA) region are expected to witness the fastest growth during the forecast period.
The growth of the digital oilfield technology market in the MEA region is mainly driven by the growing production from a large number of oilfields. Furthermore, the recent discovery of a number of brownfields oil and gas reserves is expected to boost the demand for the technology in the region.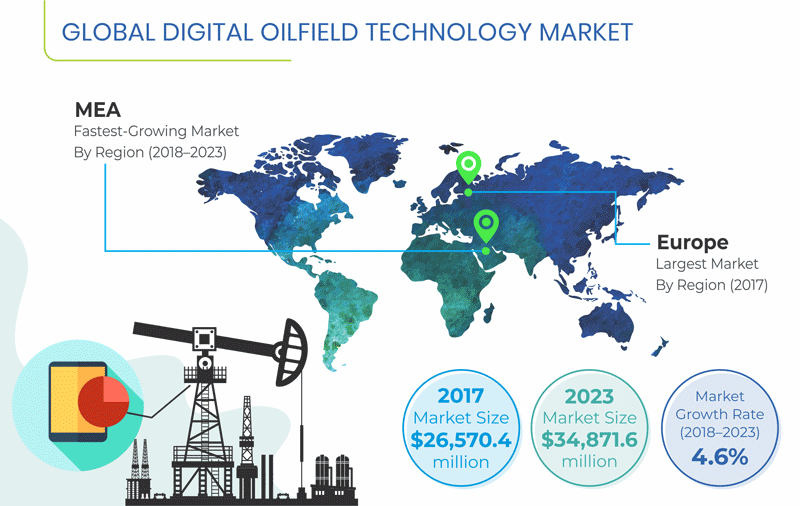 Factors Governing Digital Oilfield Technology Market
Globally, the compounding demand for energy has put immense emphasis on oil and gas exploration and production (E&P) activities. In response, major E&P firms are in the process of advancing their technology to increase their market share. Players such as Baker Hughes and Schlumberger N.V. are investing in offering innovative digital technologies, such as 3D seismic imaging and reservoir modeling, as well as advanced electrical submersible pumps.
A significant rise in shale gas productions in the U.S. is generating large amount of data for drilling and production cycles, spatial and seismic information, and other associated forces at play. According to the U.S. Energy Information Administration (EIA) in 2017, shale resources in the U.S. yielded about 16.76 trillion cubic feet (Tcf) of dry natural gas This huge shale data area remains largely untapped and unstructured; therefore, it is necessary to coordinate and examine such large unstructured data sets, to boost the drilling and production performance. Digital oilfield is one such technology which uses big data analytics to capture, analyze, and transform the data into easy-to-understand sets. Hence, the growing shale gas market will help in driving the global digital oilfield technology market.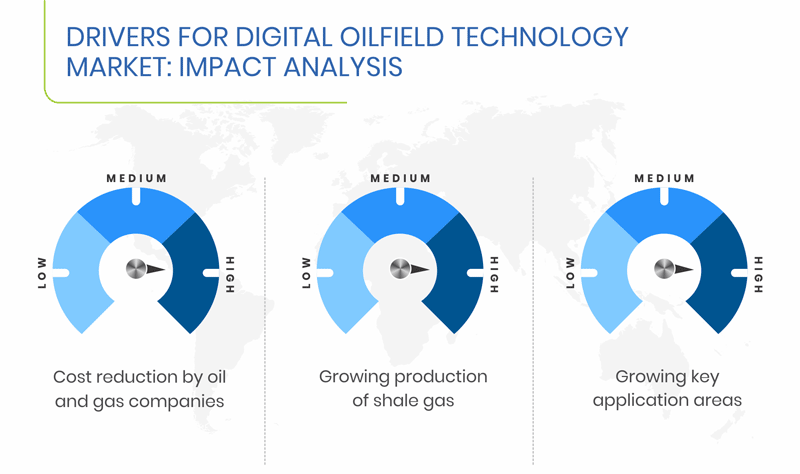 The number of onshore reserves in oil-and-gas-producing countries are declining at a rapid pace, which is creating ample opportunities for the major players in the digital oilfield market to provide their solutions to E&P firms. In January 2018, two of the world's biggest oil companies — Chevron and BP — announced that they have made major deep-water discoveries in the Gulf of Mexico and North Sea, which indicates that offshore oilfield exploration will grow in the foreseeable future.
Segmentation Analysis of Digital Oilfield Technology Market
Production optimization category, by process, accounted for over 35.0% value share in 2017, on the basis of process. The high-volume demand for equipment and related accessories, for improving the production volume at greenfield and brownfield oil and gas fields, has been identified as a key factor responsible for the category's largest share.
Instrumentation and automation held the larger share, of 53.5%, in the digital oilfield technology market in 2017, among all services. This is mainly attributed to a high demand for a differentiated array of end-use equipment, such as sensors, supervisory control and data acquisition (SCADA) system, logic controllers, and associated devices.
The demand for gateway devices is predicted to witness faster growth in the digital oilfield technology market, on the basis of device, due to their ability to efficiently transfer data and associated communications from oilfields to storage and data computation centers. Additionally, oilfields are usually utilize remote operations for optimization of oil and gas processes, and gateway devices are quite critical for the realization of this objective.
Digital Oilfield Technology Market Report Coverage

| | |
| --- | --- |
| Report Attribute | Details |
| Historical Years | 2013-2017 |
| Forecast Years | 2018-2023 |
| Market Size by Segments | Process, Devices, Services |
| Market Size of Geographies | U.S., Canada, Mexico, U.K., Norway, Russia, China, India, Malaysia, Brazil, Saudi Arabia, U.A.E., Kuwait, Oman, Nigeria |
Explore more about this report - Request free sample pages
Geographical Analysis of Digital Oilfield Technology Market
Globally, Europe was the largest market for digital oilfield technology in 2017, accounting for nearly 30.0% revenue contribution. This is mainly due to the rising demand for digital technology and its widespread adoption to optimize production and reduce costs. The U.K. held the largest share in the European digital oilfield technology market, during the historical period (2013–2017), of more than 25.0%, in terms of value,. This can be attributed to the presence of a large number of reserves in the North Sea.
During the forecast period, the global digital oilfield technology market is projected to witness the fastest growth in the MEA region, which is mainly attributed to the large number of oilfields and surging energy demand, coupled with the mature oilfields' decreasing production, which is forcing upstream companies to improve the recovery rates with the use of digital oilfield technologies. Saudi Arabia was the largest revenue-generating country in the region in 2017, due to the fact that oil companies here are shifting their focus toward operation optimization and improved work collaboration, to cut costs and improve the field recovery rates.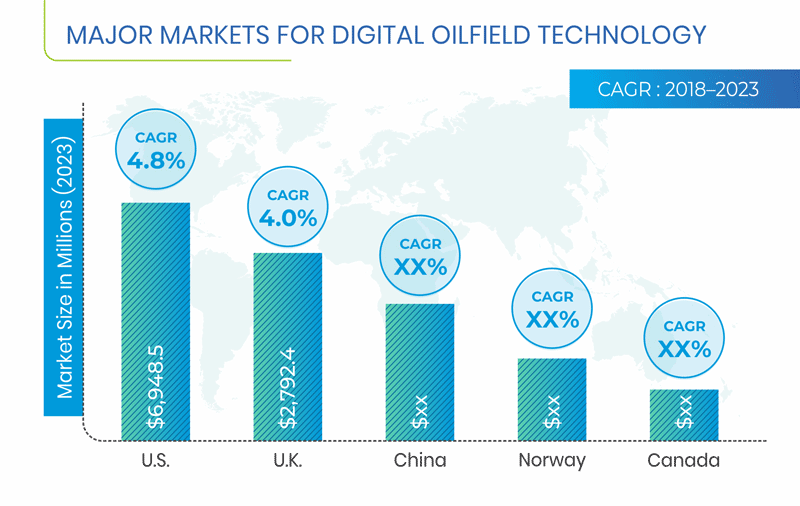 Competitive Landscape of Digital Oilfield Technology Market
Schlumberger N.V., Siemens AG, Honeywell International Inc., Baker Hughes, and Halliburton Company are some of the major players offering the digital oilfield technology. Some other key companies in the digital oilfield technology market are National Oilwell Varco Inc., Weatherford International PLC, Kongsberg Gruppen ASA, Emerson Electric Co., and Petrolink International Ltd.
Recent Strategic Developments of Major Digital Oilfield Technology Market Players
In recent years, major players in the digital oilfield technology market have taken several strategic measures, such as product launches and mergers and acquisitions, to stay on top of the competition. For instance, in March 2018, Schlumberger N.V. introduced the Tempo* instrumented docking perforating gun system at the SPE/ICoTA Coiled Tubing and Well Intervention Conference and Exhibition. This combination of a plug-in gun design with real-time advanced downhole measurements enables and monitors the wells' dynamic underbalance and creates clean perforations that boost reservoir productivity.
Market Size Breakdown by Segment
The Digital Oilfield Technology Market report offers comprehensive market segmentation analysis along with market estimation for the period 2013–2023.
Based on Process
Production Optimization
Reservoir Optimization
Drilling Optimization
Based on Devices
Remote Terminal Unit (RTU)
Gateway
Based on Services
Instrumentation and Automation

Distributed Control System (DCSs)
Smart Well
Supervisory Control and Data Acquisition
Wireless Sensor
Safety System
Programmable Logic Controller

IT expenditure

Software
IT Outsourcing
IT Services
Geographical Analysis
North America
Europe
Asia-Pacific (APAC)
South America
Middle East and Africa (MEA)

Saudi Arabia
U.A.E.
Kuwait
Oman
Nigeria