China Vacuum Pump Market Overview
China vacuum pump market reached $1.2 billion in 2018, and is anticipated to register a CAGR of 8.7% during 2019-2024. Growing demand for vacuum pumps in the chemical & pharmaceutical industry are some of the major factors boosting the growth of the market. Furthermore, growing demand for flat panel displays and solar panels is supporting the demand for vacuum pumps in the semiconductor industry.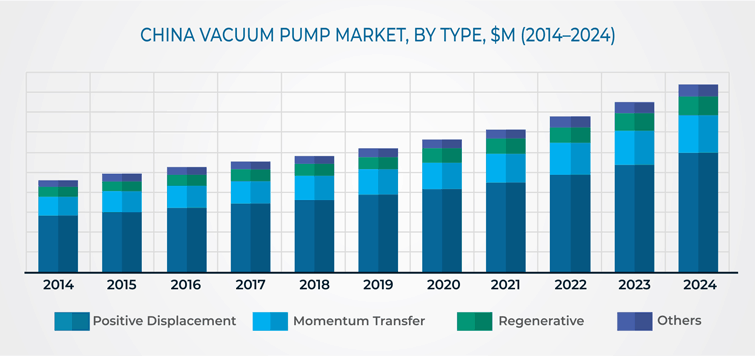 Based on type, China vacuum pump market has been segmented into positive displacement, momentum transfer, regenerative, and others, wherein others include, entrapment, venturi, and steam ejector. Further, the positive displacement pumps are subdivided into liquid ring, rotary vane, diaphragm, dry screw pump, piston pump and others, wherein others include, roots pump and lobe pump. Among these, liquid ring was the most popular positive displacement vacuum pump category in 2018. These pumps offer higher flexibility as compared to others; as different gases can be either condensed or passed by controlling the discharge temperature.
On the basis of application, China vacuum pump market has been categorized into chemical & pharmaceutical, semiconductor & electronics, food & beverages (F&B), mining & general, energy & power, oil & gas, and others, where others include, pulp and paper and medical applications. Of these, chemical & pharmaceutical segment was the largest application in terms of revenue in 2018. Vacuum pumps are among the most widely used types of equipment in the pharmaceutical industry. They are employed at all scales, from pilot to industrial production, and by all sectors, from manufacturers of intermediates to producers of Active Pharmaceutical Ingredients (APIs).
China is the world's second-largest and fastest growing industry for pharmaceuticals. Growing middle-class population and rapidly-aging society are the primary factors providing growth opportunities for the industry. The country is further working on exporting generic medication. For instance, Chinese pharmaceuticals obtained U.S. Food and Drug Administration approvals for 38 generic drugs in 2017, up from 22 such approvals in 2016. The rise in pharmaceutical industry is strengthening the market for vacuum pumps in the country.
In China, east region held the largest market share in 2018 due to the dominant presence of high-tech manufacturing and tech-related services in the region. The east region encompasses Beijing and all of China's east coast provinces, where it remains China's economic locomotive, with 10 eastern provinces making up for more than half of China's GDP in 2018, despite being home to just over a third of its population. Additionally, all of China's eastern provinces play a significant role in China's rise as a global manufacturing powerhouse. Guangdong is China's largest provincial economy and accounted for one-third of China's goods exports in 2018.
China Vacuum Pump Market Dynamics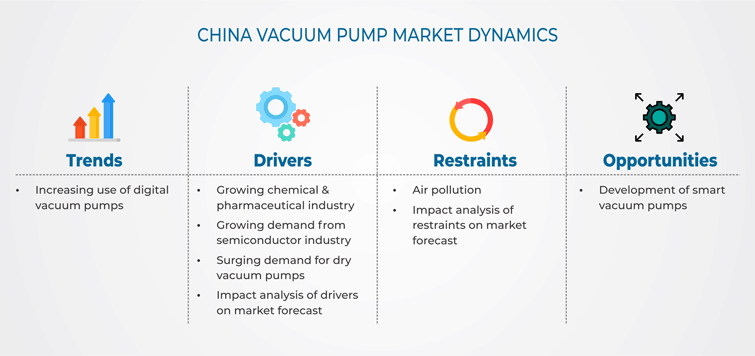 Growth Driver
Growing chemical industry is a key factor driving the growth of China vacuum pump market. The chemical & pharmaceutical industry installs vacuum pumps in various applications such as distillation, drying, and material transfer. In 2018, it has been recorded that China held the largest share in global chemical production, while accounting for approximately 37% of global chemical sales. The growth of chemical industry is attributed to rising investments and favorable government policies. Further, easy availability of labor, low-cost capital, relaxed environmental norms, and government subsidies have helped the country to serve as a leading chemical production base for global vendors.
Trend
Growing usage of digital vacuum pump is trending in the marketplace. Digital vacuum pump use digital gauges for measurement of pressure. The trend is being witnessed owing to its various advantages such as high range of results, rugged, and reliable operation, and easy to read and record features. The digital vacuum pumps offer higher accuracy in measurement of pressure as compared to analog vacuum pumps. Further, digital vacuum gauges assist in finding the last evidence of moisture being removed; as it helps in finding information about the dried-out position of the system.
China Vacuum Pump Market Competitive Landscape
China vacuum pump market is highly fragmented with top 4 players holding healthy share in 2018. The market is characterized by local as well as international players, where local companies collectively own a higher market share. However, international players like Atlas Copco AB are benefitting from the energy-efficiency mandates put-up by the government. The highest market share is owned by the Swedish player "Atlas Copco AB" in 2018. The company provides vacuum pumps under brands including Edwards, Leybold and Atlas Copco. The brands serve semiconductor market and various industrial sectors such as packaging, wood processing, rubber, and plastics.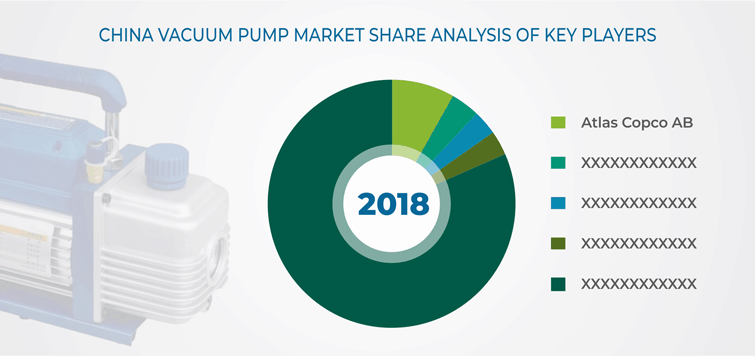 Guangdong Kenflo pump Limited, Zibo Vacuum Equipment Plant Co., Ltd, Zibo Water Ring Vacuum Pump Factory Co., Ltd, Flowserve SIHI Germany GmbH, Atlas Copco AB, Pfeiffer Vacuum Technology AG, Gardner Denver Holdings Inc., ULVAC, Inc., EBARA Corporation, Shimadzu Corporation, Leybold GmbH, Kashiyama Industries Ltd., KNF Neuberger GmbH, and Gebr. Becker GmbH are some of the major players in China vacuum pump market.