China Electric Scooters and Motorcycles Market Overview
China electric scooters and motorcycles market size stood at $7.7 billion in 2017 and is projected to reach $12.5 billion by 2025, at a CAGR of 6.1% during the forecast period. While the government support in the form of subsidies and regulations have been less for electric scooters and motorcycles (when compared to other electric vehicles) and the infrastructure in the form of battery swapping facilities and recharging stations is not adequate, the market is still expected to grow in medium to long term driven by growing urbanisation and rising environmental awareness.
CHINA ELECTRIC SCOOTERS AND MOTORCYCLES MARKET, BY BATTERY TYPE, '000 UNITS (2013‒2025)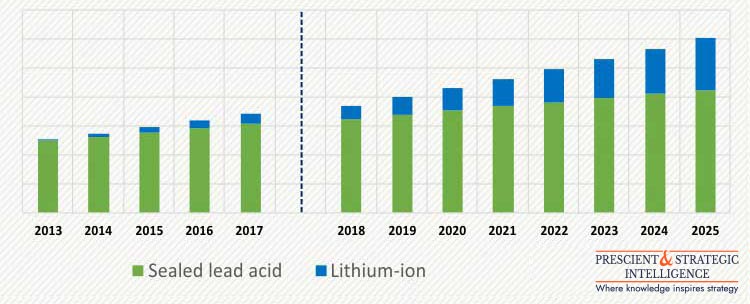 China Electric Scooters and Motorcycles Market Dynamics
Drivers
Rising environmental awareness among the customers is driving the sales of electric two-wheelers in China. People are increasingly becoming concerned about the growing pollution levels in the country and are adopting environmental friendly electric two-wheelers compared to the conventional ones. In future, more people are expected to opt for electric two-wheelers due to environmental concerns. Stringent regulations on lead batteries have reduced the lead-acid battery manufacturers from 1,000 in 2012 to around less than 200 in 2016. Further market consolidation of lead-acid battery manufacturers is expected in coming years, with only good quality and environment safe lead batteries being manufactured in the country.
Electric two-wheelers have been commonly used in China for short trips such as going to work, leaving children to schools etc. However, over the last few years electric two-wheelers are being increasingly used by services industry for delivery purposes. Electric scooters being simple, small and smart are best suited for delivery services such as in fast food joints and e-commerce. The share of delivery services in the total sales, though small, is driving the market given the growth of e-commerce and internet penetration in the country. Electric scooters are expected to become a mainstay for such services in future.
Challenges
The political support for electric two-wheelers industry in China has not been enough in the past. Many municipalities in big cities even have stringent regulations on electric scooters and motorcycles due to the road safety concerns and traffic congestion. These factors have been limiting the growth of the Chinese electric scooters and motorcycles industry to an extent.
Unlike electric cars, the batteries of electric two-wheelers could be charged overnight at home. However, two-wheeler recharging stations and battery swapping facilities increases the ease and practicality of owning an electric vehicle (compared to gasoline powered two-wheelers). The current charging stations in China are not enough to support the growth of electric scooters and motorcycles market in medium to long term. It is important that the charging stations and battery swapping facilities continue to develop at a good pace to support the increasing demand of electric scooters and motorcycles in the country. Increasing the number of charging stations at a sufficient scale would require public and private funding and considerable time slowing the potential sales of plug-in electric two-wheelers.
China Electric Scooters and Motorcycles Market - Competitive Landscape
The Chinese electric scooters and motorcycles industry is fragmented with many players, each constituting a small share in the overall sales. The market is dominated by local manufacturers and is highly competitive. Some of the important players in the market includes Yadea Group Holdings Ltd, AIMA Group, Zhejiang Luyuan Electric Vehicle Co Ltd, Jiangsu Xinri E-Vehicle Co Ltd and Dongguan Tailing Electric Vehicle Co Ltd.