Market Overview
The total estimated size of the breakfast cereals market was USD 38.3 billion in 2023, and it will grow at a rate (CAGR) of 4.2% from 2023 to 2030, to reach USD 50.9 billion by 2030. The market is driven by the increasing acceptance of ready-to-eat food, which is itself due to the pacey lifestyles of the working people. Other key drivers for the market are the rampant urbanization, rising disposable income, increasing need for convenience, surging awareness of a healthy breakfast, and expansion of supermarket/hypermarket chains.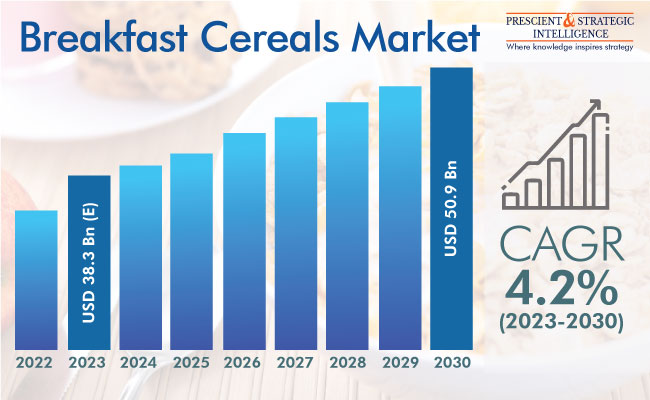 Moreover, numerous lifestyle habits in developing countries, including the diet, are influenced by those of Western nations. Breakfast cereals, which are a staple in North America, are now becoming popular in APAC and the MEA too. Nowadays, more customers know about these products due to the effective marketing campaigns and social media; therefore, companies in the market have numerous opportunities outside the traditional consumption centers. Here, the requirement for local flavors and convenient and healthy foods will power the consumption of these items, despite them not being considered a traditional breakfast option.
Though indulgent flavors are prevalent, cereal manufacturers are also trying to entice consumers with healthier options. In Europe and North America, the nutritional content is a key consideration during the development of any food product. Brands combine superfoods, conventional grains, seeds, probiotics, and nuts for improving the nutritional value. Additionally, many food & beverage companies have begun to offer gluten-free, keto-friendly, and organic/non-GMO cereals due to people's growing concern for quality and sustainability.
Ready-To-Eat Options Dominate Market
The ready-to-eat category had the larger revenue share in 2023, based on product, and this trend will continue till the end of this decade. Ready-to-eat breakfast options are loved because of their high convenience and nutritional value. The fast lifestyle of young professionals has led to the creation of RTE cereals as they require no cooking. Moreover, in developing nations, the expansion of chains of supermarkets & hypermarkets and the proliferation of e-commerce are other major factors powering the growth of the industry.
The revenue generated from the sale of hot cereals will grow faster during the forecast period. Hot cereals, such as muesli and oats, are becoming more popular among people as they are a healthy option. Additionally, oats have long been popular in the APAC region, where their consumption continues to grow.
Sales via Online Stores Will Grow Fastest
The supermarkets & hypermarkets category led the industry with regard to distribution channel in 2023, as the majority of the people visit these places for grocery and food products. This is why the growth of the market is powered by the rise in the supermarket & hypermarket count in urban areas, especially in emerging economies.
The online category will have the fastest growth over the forecast period, because of the increasing fascination of people with online shopping. During the pandemic, people around the world ate more at home and ordered more groceries through the online mode. For instance, online sales, which, for Kellogg's, entail mostly of sales on third-party retailer websites, for example, Walmart.com and Amazon.com, accounted for approximately 9% of its total revenue in 2020, which was nearly twice the percentage in 2019.
High-Fiber and High-Protein Breakfast Cereals Are Global Trend
With their increasing awareness of health, consumers are now more interested in high-fiber options. As per a study, every one in three consumers bases their decision of purchasing a breakfast cereal with a high fiber content, which is why manufacturers have come up with many such options. Similarly, high-protein options are becoming popular. As they are now increasingly aware of the widely known benefits of proteins, almost 25% consumers are influenced to buy a hot breakfast cereal item that claims to be high in proteins.
Flavored Breakfast Cereals Targeted at Children
Most children do not care for the nutrient content in their food; instead, they are drawn to options that look and taste good, being heavily influenced by TV advertisements. Therefore, food & beverage companies have created cereals with appealing flavors, such as fruits and nuts, honey, cinnamon, and coconut. Additionally, these products carry colorful packaging with fun slogans and, often, a mascot, to appeal to young minds. On the other hand, the nutrient content of these products are generally promoted to concerned parents, to boost sales.
Rise of Organic and Gluten-Free Cereals
Another major trend in the breakfast cereals market is gluten-free and organic products. Gluten-free products are preferred by those suffering from celiac disease, which initiates a strong immune response against gluten and makes it difficult for people to absorb nutrients from food. If unchecked, celiac disease can cause type 1 diabetes, dermatitis herpetiformis, multiple sclerosis, anemia, infertility and miscarriage, osteoporosis, epilepsy, migraines, stunted growth, CVDs, and intestinal cancers. Therefore, since gluten is an inherent component of grains, cereals free from it are being created and marketed to susceptible populations.
Moreover, organic and clean-label products have been trending around the world for a while. This is because of people's increasing awareness of the ingredients that go into their food and the way they are sourced. Conventional food flavoring and coloring are made from synthetic chemicals, which can harm the body. Hence, ingredients that are sourced from plants, animals, and other organic sources are finding increasing acceptance.
Breakfast Cereals Market Report Coverage

| | |
| --- | --- |
| Report Attribute | Details |
| Market Size in 2023 | USD 38.3 Billion (E) |
| Revenue Forecast in 2030 | USD 50.9 Billion |
| Growth Rate | 4.2% CAGR |
| Historical Years | 2017-2022 |
| Forecast Years | 2023-2030 |
| Report Scope | Market Trends, Drivers, and Restraints; Revenue Estimation and Forecast; Segmentation Analysis; Impact of COVID-19; Companies' Strategic Developments; Market Share Analysis of Key Players; Company Profiling |
Explore more about this report - Request free sample pages
North America Had Largest Revenue Share in Market
North America was the leader of the market in 2023. People in the region are the highest per-capita consumers of both ready-to-eat and hot cereals. It is primarily because of the growing urban population and rising count of convenience stores. Apart from this, the region is home to a large number of working professionals, many of whom eat breakfast on the go. Because of this need, most working Americans prefer such products, to keep themselves up and running all day long.
The increasing influence of social media, food bloggers, gym enthusiasts, and other factors also contributes to the growth of the industry. A number of aggressive marketing campaigns have been started by food & beverage companies in the region in the recent past, presenting cereals as an ultimate breakfast option that is equally delicious and nutritious, thus appealing to children and grownups alike.
The APAC region will grow the fastest over the forecast period, powered by the increasing intake of processed food products in India, China, Japan, and other countries. The food habits of people have changed significantly in recent times because of the rising incidence of cholesterol, heart diseases, obesity, and nutrient deficiency.
As per Kellogg's, its product sales increased in India during the pandemic because of the rising at-home consumption of food. The company has introduced its popular brand Froot Loops in the country observing a good opportunity for the expansion of sales. Additionally, it has brought out region-specific products in the Indian market, differing in ingredients.
Further, seeing the rising popularity of these products, Parle entered the breakfast cereals market of India in September 2021 with the launch of the Hide & Seek Fills line.
Major Players in Breakfast Cereals Market Are:
Marico
Calbee
Bagrry India Pvt. Ltd.
General Mills Inc.
Kellogg Co.
B&G Foods, Inc.
Nature's Path Foods.
Bob's Red Mill Natural Foods
Nestlé S.A.