Market Overview
The biorefinery market size is USD 150.4 billion (E) in 2023, and it will propel at 8.8% compound annual growth rate during 2024–2030, to reach USD 268.3 billion by 2030.
Biorefineries are facilities intended for producing animal feed, fuels, chemicals, and energy from biomass. In recent years, the expenditure in such infrastructure has augmented because of the rising demand for clean energy and fuels. For instance, Indian Oil Corporation Limited was in the process of setting up a 10-tonne-per-day bio-enzyme plant in Haryana to be completed by December 2022. It will supply the commodity to a 100-kiloliter-per-day 2G ethanol plant expected to be commissioned in 2024.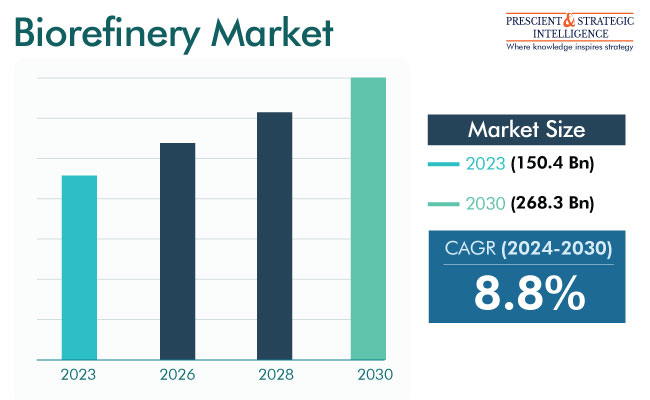 Similarly, in February 2022, Oklahoma State University introduced a patent for a new co-fermentation procedure that changes sugars into alcohols, ketones, and organic acids without any ecological effect. In this procedure, naturally occurring gas-fermenting and sugar-fermenting bacteria are combined, and carbon dioxide is produced, which is further fermented to produce more biofuels.
Biorefineries also have numerous applications in the manufacturing of chemicals. Lignin and cellulose from plant walls could be renewable, clean biofuel power sources and high-value chemicals.
Fast Industrialization and Urbanization Power Market Growth
There has been incredible growth in the manufacturing sector, along with various technical improvements worldwide. The rising heat and electricity usage in the industrial sector has resulted in an extensive requirement for renewable power. This has boosted the focus on bioenergy, thus powering the biorefinery industry, as biomass can be utilized to produce low-carbon heat, steam, and electricity.
As per Trading Economics, industrial engineering activities in the U.S. grew by 3.9% in July 2022. The U.S. industrial sector advanced at a rate of 3.2%, with mining growing by 7.9% and the utility sector increasing by 2.2%. Further, the Energy Information Administration states that in 2021, the manufacturing industry was accountable for more than 35% of the total power usage in the U.S.
In the same way, the rising urbanization has advanced power usage in the commercial and residential sectors worldwide. As per an article, the average yearly power usage for a U.S. household was 10,715 kWh in 2020. The growing energy usage, its increasing prices, and the emissions associated with it alter the focus of customers toward renewable resources. As per the IRENA, the U.S. had an overall power capacity of 13,573 MW from bioenergy. This is nearly 4.2% of the overall renewable electricity capacity, thus hinting at a vast potential in this underutilized technology.
Industrial Biotechnology Category Is Leading Industry
On the basis of technology, the industrial biotechnology category continues to hold the largest share. The field includes the integration of conventional manufacturing processes with biotechnological principles, as well as the manufacturing of products from biomass. In the context of biorefining, the industrial biotechnology approach is used to produce chemicals, plastics, and fuels from natural resources. Biorefineries that use this technology are characterized by eco-friendliness, high performance, and profitability.
During the forecast period, the usage of thermochemical techniques will witness the fastest increase. These processes include gasification and pyrolysis, which are widely known and implemented around the world. This is because they are able to utilize a wider range of feedstock, including waste biomass and lignocellulosic material, thus enabling a reliable supply chain. The process first transforms biomass into syngas, which is then used to produce bio-based ethanol, which is a popular automotive fuel nowadays.
Biorefinery Market Report Coverage

| | |
| --- | --- |
| Report Attribute | Details |
| Market Size in 2023 | USD 150.4 Billion (E) |
| Revenue Forecast in 2030 | USD 268.3 Billion |
| Growth Rate | 8.8% CAGR |
| Historical Years | 2017-2023 |
| Forecast Years | 2024-2030 |
| Report Scope | Market Trends, Drivers, and Restraints; Revenue Estimation and Forecast; Segmentation Analysis; Impact of COVID-19; Companies' Strategic Developments; Market Share Analysis of Key Players; Company Profiling |
Explore more about this report - Request free sample pages
Guidelines for Environmental Protection To Boost Investments
The improving knowledge of environmental conservation has boosted efforts to reduce soil, water, and air pollution. This is also because of the enforcement of strict rules by governments to surge spending on greener fuels. This is being done to replace conventional oil and gas, which result in considerable contamination and leave a significant carbon footprint on being burned.
Nations have become more aware of their CO2 footprints and have set targets to decrease their carbon release, especially post the Paris Agreement. This has significantly boosted the expenditure on biorefineries in recent years. As per the 2030 Climate Target Strategy, the European Union plans to increase its emission reduction target to below 55% from the levels in 1990; the initial target was 40%.
Starch & Sugar Crops category To Corner Substantial Share
On the basis of feedstock, the industry is divided into organic & agricultural residue, starch & sugar crops, multi-feedstock, energy crops, and others. The starch & sugar crops category will have the largest share because of the ease of obtainability and cost-effectiveness of such biomass. Additionally, their high carbohydrate content allows them to be used as the starting material for bioplastics.
Global Biorefinery Companies
Renewable Energy Group Inc.
Neste
Abengoa Bioenergy SA
UOP LLC, Valero Energy Corporation
Pacific Ethanol Inc.
Honeywell International Inc.
Chempolis
Sekab
Ørsted A/S
IES BIOGAS srl
AB HOLDING SPA
Zea2 Bioworks
UPM Global
BTS Biogas Srl/GmbH
TotalEnergies SE
Godavari Biorefineries
Cargill Inc.
Clariant AG
Valero
Green Plains
Asia-Pacific Is Largest Revenue Contributor
APAC is the leading region in the industry. As per the U.S. Department of Energy's Alternative Fuel Data Center, China has framed guidelines for biofuel production and use. At a global level, it is the third-largest producer of ethanol. Moreover, the Indian government has sanctioned INR 858 crore for biorefinery setup and operation till 2026. Moreover, 32% of India's primary energy comes from biomass, which is why the government is making efforts to utilize their renewable resource.
The European industry is dominated by Germany, driven by the implementation of stringent rules for renewables usage. The new German bioeconomy policy of January 2020 details the suitable conditions to make use of biomass to reinforce Germany as a frontrunner in this area. The plan shows how biological awareness and better technology support a future-oriented, climate-neutral, and sustainable economy and relates to the use of biogenic raw materials.
Across the seas, the U.S. is expected to lead the North American industry during the projection period, credited to the augmenting government investment in bioenergy expansion initiatives. For instance, in June 2022, the U.S. DOE declared USD 59 million funding to escalate the usage of biofuels and bioproducts in hard-to-decarbonize industries and create good jobs in rural America.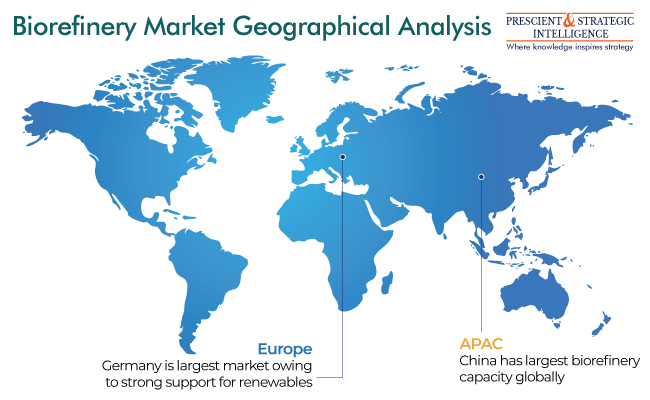 The DOE is laying focus on applied research, development, and demonstration for reducing biofuel production costs and scaling up production systems. By reducing costs and technical risks, these efforts can help in the setup of commercial-scale integrated biorefineries, which will eventually drive the market. Under these initiatives, a biorefinery is already under construction in Port Westward, Oregon, that will start producing biofuels in 2026.