Autoclaved Aerated Concrete Market Overview
The global autoclaved aerated concrete (AAC) market was valued at $4,498.5 million in 2019, and is expected to witness a CAGR of 6.0% during the forecast period (2020–2030). This can be majorly ascribed to the high-volume investments in the construction sector, along with rise in number of large-scale construction projects in developing nations.
COVID 19 has hampered every industry globally, including construction industry, which is one of the major end users of autoclaved aerated concrete. In order to curtail the spread of the coronavirus, industrial activities particularly at construction sites, manufacturing units, and commercial complexes were temporarily shut down, which led to reduction in the growth rate of the construction industry, further negatively effecting the market.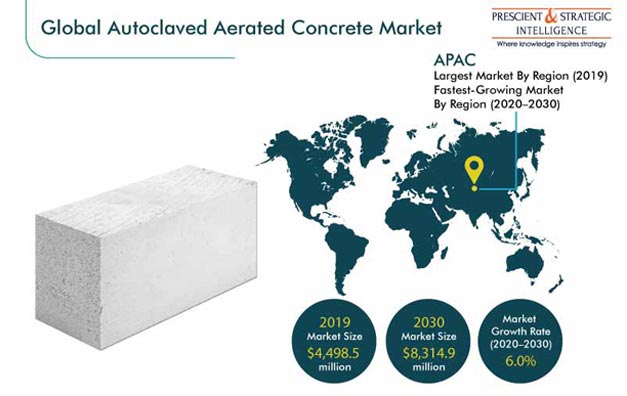 Blocks to be the Fastest-Growing Category during Forecast Period
During the forecast period, the blocks category is expected to witness the fastest growth in the autoclaved aerated concrete industry, based on type of product. This can be attributed to their ability to be stacked together with a thin-bed mortar in a running bond. Owing to their quick and easy installation and high thermal efficiency, autoclaved aerated concrete blocks are well suited for high-rise buildings, pavement construction, and construction of rail-road bridges. In addition, these blocks are one most preferred construction materials, owing to their high stability and constructive factors, including lightweight, environment-friendly, easily reducible (can be cut conveniently), and high strength.
Construction Material to be the Largest Application Category during Forecast Period
The construction material category, based on application, is expected to have the largest share in the autoclaved aerated concrete industry, during the forecast period. This can be attributed to the increasing construction activities across the world, owing to the rapid urbanization and increasing population. Along with this, rising need for environment-friendly materials to protect the environment is contributing toward the market growth. Owing to its superior properties, such as high-tensile strength, higher degree of compression, and easy machinability, over traditional concrete, construction material is expected to remain the fastest-growing category during the forecast period.
Public Infrastructure – Largest Revenue-Generating End-User Category
During the forecast period, the public infrastructure category is expected to hold the largest revenue share, based on end user. Increasing development in civil infrastructure, in order to efficiently serve the growing population is the major factor boosting the demand for autoclaved aerated concrete. The increasing use of AAC is also attributed to its superior properties, such as non-toxic, reusable, renewable, and recyclable. In many countries, the development of public infrastructure has become a top agenda, in order to deliver better governance. The construction sector has also been given a push by affordable housing schemes launched by governing bodies around the globe, which has increased the demand for autoclaved aerated concrete.
APAC – Largest & Fastest-Growing Regional Market in Industry
During the forecast period, APAC is expected to be the largest and fastest-growing market, due to the growing local real-estate construction industry. In addition, governments in developing countries in the region are investing on large-scale construction of infrastructure projects. Also, rising purchasing power of people, rapid urbanization, growing population, and government efforts to provide affordable housing are projected to enhance the need for AAC across these economies.
The rapid urbanization has driven the development of smart cities across the region. Governments of the various countries in the region are also aiming to optimize urban space through public transport, high-capacity infrastructure, mixed-use development, and green city planning. This is further boosting the demand for construction products, thus accelerating the autoclaved aerated concrete market growth.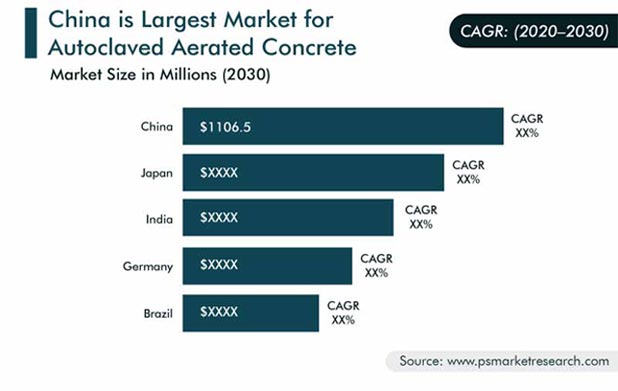 Shifting Preference for Disaster-Resistant Buildings – a Key Market Trend in the Market
Traditionally, majority of buildings constructed in urban and rural areas lacked sufficient deterrence to any natural disaster. This resulted in high economic and human life loss at the time of calamity. In a bid to tackle the damage caused due to natural disasters, including earthquake, developers across the world are shifting toward the construction of disaster-resistant structures, which are designed to protect buildings during the natural disasters. AAC building blocks are considered one of the safest materials to construct disaster-resistant buildings. This is attributed to the lightweight of these blocks, thus reducing mass of overall building structure. This has resulted in shifting builder's preference toward autoclaved aerated concrete materials over conventional materials.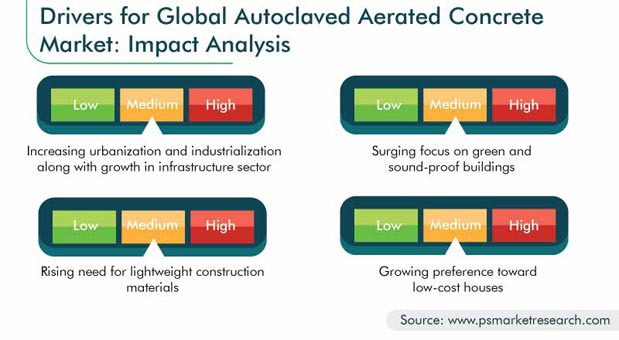 Increasing Urbanization and Industrialization with Growth in Infrastructural Sector
Increasing industrialization and urbanization has boosted the demand for AAC blocks in the market. Superior properties of autoclaved aerated concrete, such as low cost, ability to sustain earthquake and fire, and variation in block sizes, are making it popular in the construction industry. It also reduces the construction time by 20%, as blocks are available in different sizes. Further, developing nations are increasingly focusing on road connectivity, highways, and residential housing, which are driving the demand for autoclaved aerated concrete market.
Surging Focus on Green and Sound-Proof Buildings
Builders are focusing on construction of green and sound-proof buildings, which is also one of the major factors driving the demand for autoclaved aerated concrete market. The manufacturing of these materials is non-polluting in nature, as it is made up of non-toxic ingredients and it does not exude gases, and the total energy consumption for producing autoclaved aerated concrete block is less than half of what it takes to produce alternative building material, such as clay brick. Along with that, noise control in buildings is of great significance for the health and well-being of occupants, especially in multi-family dwellings. AAC block has superior sound absorption qualities, due to its porous structure. Thus, it is majorly used in the construction of schools, hospitals, hotels, and others.
Rising Need for Lightweight Construction Materials
Over the years, majority of structural frameworks of buildings were done by using bricks manufactured out of clay. These bricks have several disadvantages, such as excessive burden on foundation due to their high weight. However, autoclaved aerated concrete block is the safe and fast replacement of clay brick, as it has lightweight and environment-friendly for the construction of buildings and houses. Owing to the rising need for lightweight construction materials, the demand for these materials is expected to grow significantly during the forecast period.
Autoclaved Aerated Concrete Market Report Coverage

| | |
| --- | --- |
| Report Attribute | Details |
| Historical Years | 2014-2019 |
| Forecast Years | 2020-2030 |
| Base Year (2019) Market Size | $4,498.5 million |
| Forecast Period CAGR | 6.0% |
| Report Coverage | Market Trends, Revenue Estimation and Forecast, Segmentation Analysis, Regional and Country Breakdown, Companies' Strategical Developments, Product Benchmarking, Company Profiling |
| Market Size by Segments | By Type; By Application; By End User; By Region |
| Market Size of Geographies | U.S., Canada, Germany, U.K., Russia, Poland, Romania, Japan, China, India, Brazil, Mexico, Saudi Arabia, South Africa |
| Secondary Sources and References (Partial List) | Aircrete Product Association, American Concrete Institute, American Institute of Constructors, American Society of Civil Engineers, American Society of Interior Designers, Associated Builders and Contractors, Associated General Contractors of America, Autoclaved Aerated Concrete Producers Association, Brooking Institution's Data, Building Seismic Safety Council |
Explore more about this report - Request free sample pages
Growing Preference Toward Low-Cost Houses
Across the world, growing population has resulted in fresh demand for large number of houses, particularly affordable homes. Hence, the need for construction materials that can bring down the overall cost of construction is also arising. AAC blocks are one such cost-effective solutions. These blocks can be produced at a lower cost, as compared to the clay bricks. Moreover, in the areas of difficult terrain, autoclaved aerated concrete blocks can be transported effectively at a cheaper cost, owing to their lightweight, thus, cutting down the cost of transportation for delivering the construction materials. With the rising need for the development of affordable houses, the demand for cost-effective construction materials, such as autoclaved aerated concrete, is expected to rise significantly over the forecast period.
Market Players Merged and Acquired Other Players to Gain Competitive Edge
The autoclaved aerated concrete industry is fragmented in nature with presence of several market players, such as Masa GmbH, Isoltech srl, ACICO Industries Co. KSCP, and Xella International GmbH.
In recent years, players in the industry have merged and acquired other players, in order to stay ahead of their competitors. For instance:
In July 2019, LafargeHolcim Ltd. signed an agreement with Oresa Romania to acquire a Romanian concrete manufacturer, Somaco Prefabricated Group. Through this acquisition, LafargeHolcim Ltd. entered the Romanian market to provide precast concrete and integrated solutions.
In July 2019, Zhejiang Yuanzhu Housing Industrialization Co. Ltd. (Dingyuan) acquired Aircrete Europe Holding B.V. (Aircrete). Dingyuan provides engineering, procurement, and construction (EPC) services in China. With this acquisition, Aircrete became the subsidiary of Dingyuan, and helps to expand its business in Europe.
Some of the Key Market Players in AAC Market Include:
Autoclaved Aerated Concrete Market Size Breakdown by Segment
The autoclaved aerated concrete market report offers comprehensive market segmentation analysis along with market estimation for the period 2014–2030.
Based on Type
Blocks
Panels
Tiles
Lintels
Based on Application
Construction Material
Road Sub-Base
Roof Insulation
Bridge Sub-Structure
Void Filling
Concrete Pipes
Based on End User
Residential Buildings
Commercial Buildings
Public Infrastructure (bridges, highway substructure, and water treatment systems)
Geographical Analysis
North America
Europe

Germany
U.K.
Russia
Poland
Romania

Asia-Pacific (APAC)
Rest of World (RoW)

Brazil
Mexico
Saudi Arabia
South Africa