APAC Commercial Refrigeration Equipment Market Overview
The APAC commercial refrigeration equipment market was valued at $14.3 billion in 2017 and is forecasted to witness a CAGR of 9.3% during 2018–2023. Increasing urbanization and growing food and beverage industry in the region, are the key factors driving market growth.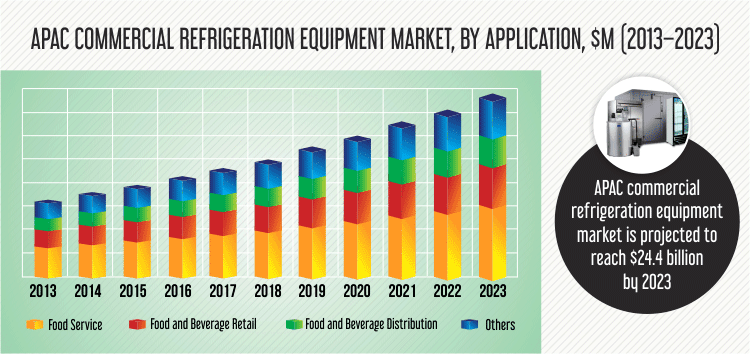 On the basis of equipment type, walk-in coolers category accounted for more than 25% of market share in 2017, in terms of revenue. Changing food patterns such as increasing consumption of frozen foods; and rising number of hypermarkets and supermarkets owing to increase in purchasing power of consumers, is driving the demand for walk-in coolers in the region. On the contrary, the ice making machineries category is expected to record fastest CAGR, during the forecast period, in terms of volume. Rising number of bars, cafes and food outlets is leading to surge in demand for ice making machineries.
Based on application, the food service category accounted for the largest revenue share in the APAC commercial refrigeration equipment market in 2017. This is primarily attributed to growing demand for preserving and maintaining food quality till it reaches the end user. On the other hand, with increasing disposable income of consumers, there is an inclination toward outdoor dining. This has led to surge in retail food and beverage outlets, where refrigeration equipment plays a vital role in serving customers.
APAC Commercial Refrigeration Equipment Market Dynamics
Trend
APAC Commercial refrigeration equipment market is exhibiting a shift from fluorinated refrigerants to natural refrigerants due to the increasing global warming concern. Governments, globally and in APAC are focusing on reducing emissions of the greenhouse gases, which is one of the main factors for the rise in temperature.
Countries such as India, Japan, China, Australia, and New Zealand are actively participating in reducing the consumption of hydrofluorocarbons (HFCs) for commercial refrigeration. For instance, Japan revised F-gas law, under which instead of imposing restrictions on high global warming potential (GWP) gases, government has set GWP targets per product group, which each and every manufacturer need to reach by a certain target year.
Moreover, earlier in February 2016, China released a list of natural refrigerants which can be used as the refrigerants, later on China is expected to release stage 2 plan under which the consumption of HCFCs would be reduced below 35%. With this, India is following Montreal protocol for the reduction of HFCs from the market. Additionally, Australia and New Zealand are considered to be the countries with the most stringent regulations for the containment of harmful gases which is further expected to reduce the emission of harmful gases by 85%.
Driver
Increasing urbanization is one of the key factors driving APAC commercial refrigeration equipment market. Urbanization has paved the way for commercial refrigeration industry in recent years, due to which the number for supermarkets and modern retail stores have increased substantially. Simultaneously, it has led to an increase in the women workforce. According to World Bank, the combined women workforce in China, Australia, India, Japan, Korea, New Zealand, and Singapore in 2017 was around 520 million as compared to 509 million in 2013. The rise in women workforce led to an increase in trend of eating out at food service restaurants which increased the demand for commercial refrigeration.
In countries such as India and China, urbanization is on a steady rise with over 33% and 57% of the total population living in urban areas, respectively, in these countries, and it is expected to further increase in the coming years. The Chinese government is planning to merge smaller cities and towns to divert and attract migrants from the densely populated areas of the country.
The urban population in China is expected to reach around 1.4 billion by 2025, as compared to 782 million in 2016, whereas urban population in India is expected to reach around 1.4 billion by the end of 2023. Increasing urbanization, proliferation of women workforce and government investments in developing urban areas is expected to propel the demand for commercial refrigeration market.
Opportunity
Escalating e-commerce industry is creating ample opportunities for market players in the APAC commercial refrigeration equipment market. Presently, the food and beverage consumers in countries like India are spending over 50% of their monthly salaries on groceries. Although, in APAC, only 6% of the consumers buy fresh foods online, in selected cities of India and China, where online shopping is highly developed. This low number can be attributed to the concerns of freshness of food delivered.
Also, the online retailing is the fastest growing channel for the sale of fresh as well and frozen foods, attributed to increasing busy lifestyle and the convenience offered by the online retailers in delivering food at doorstep.
APAC Commercial Refrigeration Equipment Market Competitive Landscape
In the APAC commercial refrigeration equipment market, top three companies accounted for majority of the revenue share in 2017. United Technologies Corporation was the largest player, accounting for highest market revenue share in the APAC commercial refrigeration equipment market in 2017. This is attributed to increasing number of product launches done by the company under its popular brand 'Carrier'.
Some of the key players operating in the APAC commercial refrigeration equipment market include Hussmann Corporation, Frigoglass S.A.I, AB Electrolux, United Technologies Corporation, Dover Corporation, Daikin Industries Ltd., Illinois Tool Works Inc., Johnson Controls International Plc, Fujimak Corporation, and Emerson Electric Co.