AI in BFSI Market Overview
The AI in BFSI market, estimated at $3,091.9 million in 2018, is expected to advance at a CAGR of 37.2% during the forecast period 2019–2024. Financial organizations are focussed on leveraging from AI, that would be introduced in areas such as mobile banking, customer experience, cyber security, social banking, payments, branch automation, and operational efficiency.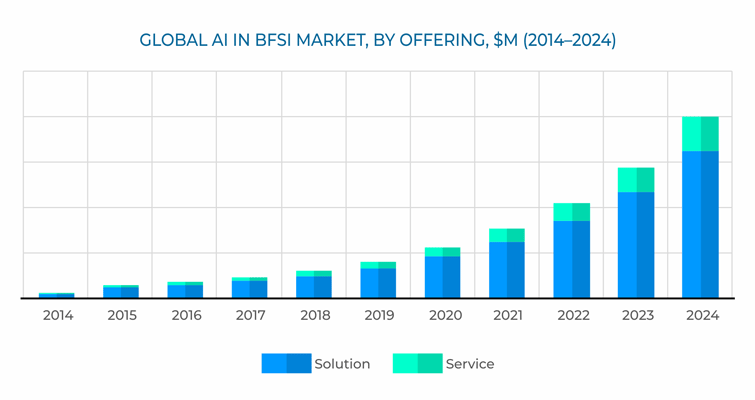 Based on offering, AI in BFSI market is categorized into solution and service. Among these, solution category accounted for the largest market share in 2018. This is attributed to the increasing demand for personalized service, shift from traditional to digital banking, and growing need for analyzing customer behavior and providing users with customized products. Additionally, services category is expected to grow at a higher CAGR, globally. Additionally, services category is anticipated to exhibit fastest growth, during the forecast period. This can be attributed to increasing demand for support and maintenance, training and support services by retailers deploying AI.
Based on technology, the AI in BFSI market is classified into machine learning, NLP, computer vision, and others. Among these, machine learning held larger revenue share in the market in 2018. This is attributed to the growing adoption of machine learning technology for the development of algorithms which result in reducing operational costs for banks, increased efficiency, better compliance, and enhanced user experience. On the other hand, NLP is expected to be the fastest growing technology during the forecast period. This could be attributed to the increasing demand for digital banking as compared to traditional banking. As a result, banks are focusing on the adoption of NLP, which is able to process the caller type, by understanding human speech, and structure data into groups.
Based on region, North America garnered largest revenue share in AI in BFSI market in 2018. Within North America, U.S. held the largest share in the market, primarily due to increasing number of investments in the fintech sector and rising implementation of AI-based solutions by major U.S. based banks including Bank of America Corporation, Wells Fargo & Company, JPMorgan Chase & Company, and U.S. Bancorp, among others. However, APAC is anticipated to be the fastest growing region, and is expected to lead the market over the forecast period. This is attributed to the shift toward digitization by the financial sector, and the demand for personalized customer service in the region.
AI in BFSI Market Dynamics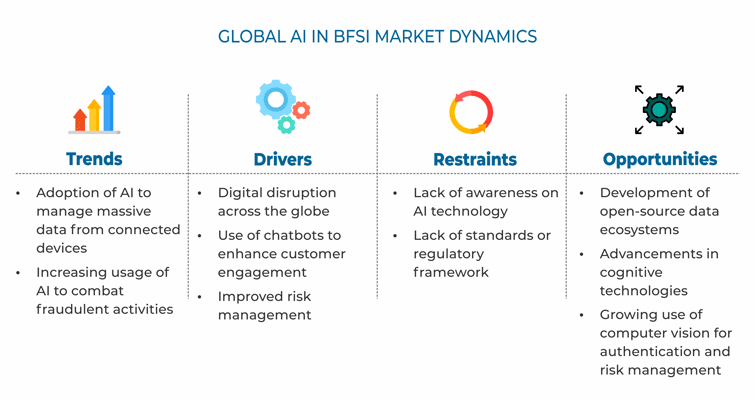 Trend
BFSI industry is leveraging advanced AI-based data analytics in order to combat fraudulent transactions and to improve compliance. AI technology has the potential to assist banks in becoming more efficient in detecting fraudulent activities. Further, AI algorithms are used for carrying out anti-laundering activities in significantly less amount of time. Features such as AI bots, digital payment advisers and biometric fraud detection mechanisms lead to higher quality of services, to a wider customer-base. This further leads organizations to gain increased revenues, reduced costs, and a boost in operational profits.
Driver
The need to enhance customer engagement, BFSI industry is leveraging AI-based chatbots to increase client satisfaction, improve efficiency, and maintain customer loyalty. For instance, Bank of America has developed a chatbot, Erica, an AI-enabled tool, that provides financial guidance to the clients via voice and text messages. The service is available 24/7, and assists in performing day-to-day transactions. Moreover, transactional and other data sources can be tracked to understand customer's behavior and preferences to deliver personalized services and enhance the overall customer experience. Hence, the usage of chatbots is anticipated to drive engagement with customers is leading the upsurge of the AI market in BFSI industry.
Opportunity
Computer vision could be utilized to detect masked faces of criminals or intruders, and any form of violent activities inside the ATMs. The technology can also detect the presence of weapons inside an ATM, and generate real-time alerts to prevent further damage. Computer vision is being used by some organizations in order to extract information from unstructured documents, for smart Know Your Customer (KYC) procedures, automated cheque processing, and face recognition for authentication for several banking services, among others. Hence, leveraging the AI technology in the form of computer vision is anticipated to create growth opportunity during the forecast period.
AI in BFSI Market Competitive Landscape
Banking is one of the most data intensive industries, where a large percentage of global banks are accepting that transition into AI infrastructure would reform the industry rapidly with unprecedented data revolution forecasted for the coming 10 years. Thus, competition in the AI in BFSI market is projected to intensify during the forecast period.
Some of the key players in the market include IBM Corporation, Microsoft Corporation, Alphabet Inc., Inbenta Technologies Inc., Intel Corporation, Lexalytics Inc., Salesforce.com Inc., Oracle Corporation, SAP SE, and Amazon Web Services Inc.