APAC Specialty Chemicals Market Overview
The APAC specialty chemicals market was valued at $259.6 billion in 2017 and is projected to reach $361.0 billion by 2023, witnessing a CAGR of 5.7% during the forecast period. The growing consumption of specialty chemicals in various industries including construction, agriculture, and automotive is the major factor driving the growth of the market.
APAC SPECIALTY CHEMICALS MARKET, BY TYPE, $Bn (2013-2023)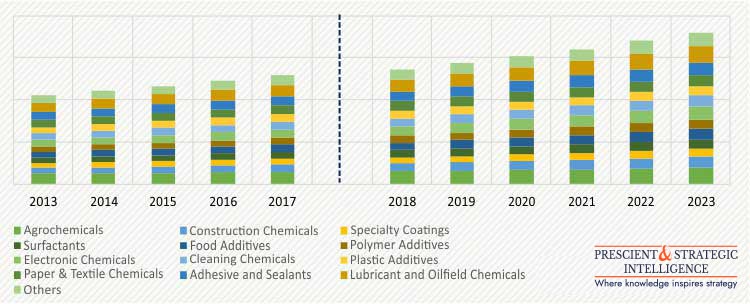 Specialty chemicals are also known as performance chemicals. They are used as ingredients in the manufacturing processes of various goods. These are low volume chemical products, which add significant value to different products. These chemicals can be used for producing a variety of products, including detergents, paints, electronics, and petroleum products.
Based on type, the APAC specialty chemicals market is categorized into agrochemicals, construction chemicals, specialty coatings, surfactants, food additives, polymer additives, electronic chemicals, cleaning chemicals, plastic additives, paper and textile chemicals, adhesives and sealants, lubricants and oilfield chemicals, and others. The other types include advanced ceramic materials, rubber processing chemicals, water treatment chemicals, and mining chemicals. Of all, agrochemicals has been the largest category in the market, with a revenue contribution of more than 11.0% in 2017. This can be attributed to the growing demand for crop protection chemicals, increasing adoption of new technologies and chemicals that increase crop production, and rising demand for diversified food items.
China has been leading the APAC specialty chemicals market so far, contributing a share of more than 50.0% in 2017. This can be attributed to the increasing domestic demand for residential and commercial buildings from the massive population of the country. Additionally, raw material abundance and low labor costs are further fueling the market growth in the country.
Dynamics of APAC Specialty Chemicals Market
The major trend witnessed in the APAC specialty chemicals market is the shifting of production base to APAC. Increasing demand of specialty chemicals and increasing penetration of end use industries in the region are the major drivers identified in the market.
Trends
The major trend witnessed in the APAC specialty chemicals market is the shifting of production base to APAC. Due to stringent environment norms in other regions, particularly Europe and North America, various companies are shifting their manufacturing base to APAC. Along with that, expensive labor cost and falling profit margins are compelling manufacturers operating in the European and North American markets, to shift their bases to APAC, which is comparatively a low-cost location.
Drivers
Driven by the rapidly growing population and increasing consumer spending, the APAC specialty chemicals market is expected to witness a good growth in the coming years. The growing middle-class population and disposable income in the region, and growing industrialization in the field of food, agriculture, cosmetics, and many other manufacturing sectors, are creating the demand of specialty chemicals in APAC.
Restraints
The major factor restraining the growth of the APAC specialty chemicals market is the changing chemical regulations. Chemical regulations in APAC are dynamic and are constantly changing as per the changing compliance requirements. Most of the countries in the region have their own sets of regulations and requirements, which makes it difficult for international companies to enter the market. For instance, countries such as China, Japan, and Indonesia have stringent regulatory policies that are both time and money consuming. This acts as a barrier for new market players. Hence, changing rules and regulations and long market approval process are restraining the market growth.
APAC Specialty Chemicals Market Competitive Landscape
Some of the major players operating in the APAC specialty chemicals market are DowDuPont Inc., Ashland Global Holdings Inc., Evonik Industries AG, Akzo Nobel N. V., Eastman Chemical Company, LOTTE Fine Chemical, Mitsui Chemicals Inc., Mitsubishi Chemical Corporation, BASF SE, Clariant AG, Huntsman Corporation, and China Petroleum & Chemical Corporation.