APAC Networking Equipment Market Overview
The APAC networking equipment market valued at $22,875.2 million in 2018, and is expected to advance at a CAGR of 11.3% during the forecast period 2019–2024. This can be attributed to factors including rising bandwidth requirement and growing data traffic. Further, rising incidents of cyber-attacks are also driving the market where organizations are enforced to adopt networking security solutions in order to mitigate risks arising from such attacks.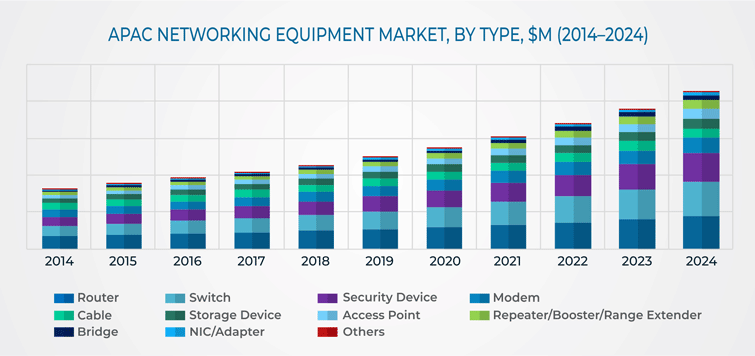 Based on type, the APAC networking equipment market is categorized into router, switch, security device, modem, cable, storage device, access point, repeater, bridge, NIC, and others including antennas, amplifiers, and hubs. Of these, the market for router category held the largest share in the year 2018. Moreover, significant demand for high-speed data transmission from the customers has enabled large enterprises to enhance network efficiency at reduced operational costs, which is expected to enhance growth prospects for routers in the market during the forecast period.
Based on speed, the market for repeaters with speed above 300 Mbps are expected to hold the largest revenue share, by 2024. Moreover, the market for this category is also projected to exhibit the fastest growth, during the forecast period. This is owing to the requirement of continuous availability of strong network and internet connectivity in organizations as well as for consumers.
Based on switch type, unmanaged switch category is projected to continue to hold larger revenue share by 2024. However, the market for managed switches is expected to register a faster growth during the forecast period. This is due to the fact that managed switches offer better control over the data access authorization, and has the ability to configure, manage, and monitor the local area network LAN. The initial investment in managed switches is high as compared to unmanaged switches, but large enterprises prefer managed switches due to their enhanced quality of service and security.
Based on end user, the switch market is categorized into government and transportation, commercial, telecom/ISP, data center, and residential. Of these, government and transportation sector held the largest market share in the APAC networking equipment market in 2018; attributed to rising construction activities in China, India, and Japan. Further, the market for networking equipment for residential sector is expected to achieve the fastest growth during the forecast period. This can be attributed to the rising number of residential building projects in countries such as China, Japan, and India.
APAC Networking Equipment Market Dynamics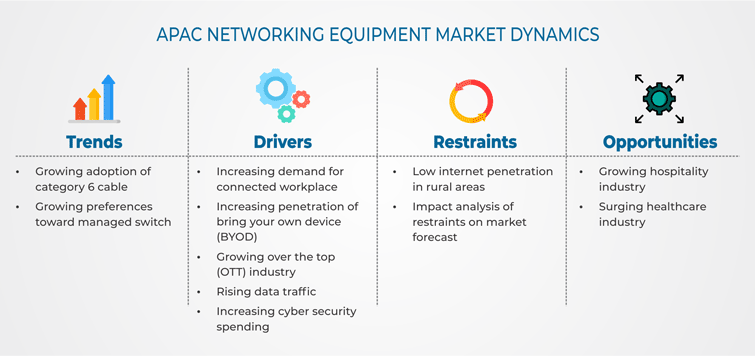 Trend
Growing adoption of category 6 cable is one of the key trends in the APAC networking equipment market. Previously, in the region, category 5 and enhanced category 5e UTP cables had been preferred for data applications. However, new applications require cables with high performance that can provide greater bandwidth and high data transfer rate. In particular, there was a need to reduce both signal attenuation and alien crosstalk between cable pairs to accommodate the requirement of advanced applications such as gigabit ethernet, where all four cable pairs are being used to transmit data simultaneously. The category 6 cable meets these requirements by providing a larger copper conductor to reduce signal attenuation between transmitter and receiver.
Driver
Rising cyber security spending by enterprises is driving the growth of the networking equipment market in APAC. Due to lack of cyber security, companies in APAC have been found to be 80% more likely to be targeted by hackers as compared to other regions. For instance, in 2016, a bank in Bangladesh lost around $81 million due to cyber-attack. Furthermore, in 2017, personal data of 850 personnel were stolen from Singapore's defense ministry online portal. Thus, to protect data and information, companies and government bodies are increasingly deploying various network security devices such as firewall, e-mail security systems, intrusion detection systems, and application security systems.
Opportunity
Growing hospitality industry in the region is posing an opportunity for the APAC networking equipment market. Countries like India and Japan are posting a healthy growth in the hospitality industry. Presently, Wi-Fi in hotels is no longer a luxury facility. As Wi-Fi connection is an essential part of modern lifestyle, majority of guests are considering the presence of Wi-Fi amenity a part of their decision-making process whilst confirming reservations. As a result, growing hospitality industry would increase the demand for networking equipment.
APAC Networking Equipment Market Competitive Landscape
In the recent past, players in the APAC networking equipment market have particularly focused on product launches and partnerships to expand their customer base. For instance, in January 2019, NETGEAR Inc. launched Orbi Mesh Wi-Fi systems, using 6th generation Wi-Fi, that can deliver sustained gigabit internet speeds via Wi-Fi across homes and estates.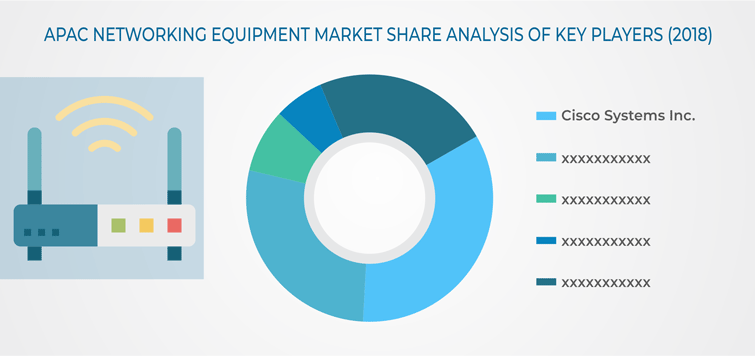 Some of the key players operating in the APAC networking equipment market include D-Link Corporation, NETGEAR INC., TP-Link Technologies Co. Ltd., CommScope Holding Company Inc., Juniper Networks Inc., IBM Corporation, Cisco Systems Inc., Huawei Technology Co. Ltd., Nokia Corporation, and ZTE Corporation.