APAC Marketing Automation Software Market Overview
The APAC marketing automation software market was valued at $2.9 billion in 2017 and is forecasted to register a CAGR of 15.1% during 2018–2023. Increased adoption of automation tools in retail sector, and rise of social media and digital marketing, are the key factors driving the growth of the APAC marketing automation software market.
Based on enterprise size, APAC marketing automation software market has been categorized into large enterprises and small and medium enterprises (SMEs). Of these, market for SMEs category is expected to record a faster growth, during the forecast period, owing to growing awareness among smaller businesses toward marketing solutions that assist in reducing business/marketing complications, in addition to being affordable. SMEs in the region are proliferating and to better compete with large enterprises they are adopting marketing automation solutions.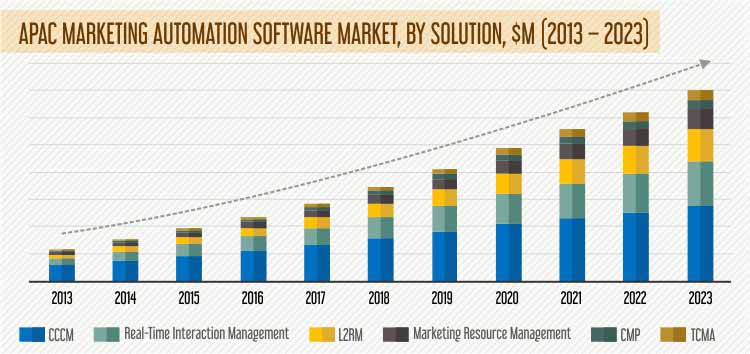 For instance, ActiveCampaign, a marketing automation provider set-up its office in Sydney, Australia in May 2018, to cater explicitly to small businesses and better serve customers in the APAC region. Hence, easy access to automation tools, affordability, and services tailored for small businesses are the factors resulting in heavy adoption of marketing automation tools by SMEs in the region.
On the basis of industry, the APAC marketing automation software market has been categorized into BFSI, telecom & IT, retail, automotive, manufacturing, healthcare, government, media & entertainment, hospitality, e-commerce, and education. Marketing executives in financial service and banking industry are increasingly adopting marketing automation software to lure customers in order to engage with them by spreading awareness regarding their schemes, protocols, and benefits. Marketing automation software allows financial marketers to simplify marketing complexities and target potential customers, with changing customer behavior and expectations. Hence, BFSI category held the largest market share in the APAC marketing automation software market, in 2017.
However, increasing penetration of e-commerce in countries such as China and India, along with increasing digital transformation, improving economy, and growing number of market players, demand for marketing automation software in the region is rising positively. Marketers are heavily leveraging e-commerce platforms for advertisements, and lead nurturing, and thus, the market for e-commerce category is projected to witness the fastest growth, during the forecast period.
APAC Marketing Automation Software Market Dynamics
Trend
Marketing automation requires management of vast amount of data related to customer-base, and social media statistics, in the automation process. This is leading to a growing awareness by the market players to data management platforms (DMPs), such as Lotame, Oracle DMP, and Salesforce DMP. Marketers and advertisers are increasingly getting inclined toward sorting and storing information with the help of DMPs. DMP assists marketers in data collection, data classification, Ad network integration, and data analytics.
Further, marketing automation is registering a shift from being rule-based and hardcoded to being sensitive and responsive. Market vendors are focusing on providing scalable, responsive workflow, and database functions. DMPs offer a base for these operations, and enable solutions to be leaner and optimized, which further allows to capture and monitor data on leads. Hence, DMP usage among the advertisers and marketers witnessed as a major trend in the marketing automation software market.
Driver
With rising social media influence in APAC, especially on populace under the age of 40, marketers are leveraging this fact to build their consumer base strongly and effectively. The social media platforms are increasingly being adopted by marketers as a means to reach and engage with target audience, which is positively driving market growth. Social media platforms allow marketers to track interactions with prospects linked to campaigns and offers, to capture qualitative feedback, and use analysis/insight gained to improve the campaign.
Social media platforms are helping marketers to gain insights regarding users' demand, their experiences with the brand and its competitors and service-related feedbacks. Marketers in APAC are leveraging social media platforms to touch base with customers at a lower cost, thereby improving response time and increasing the scale of marketing operations. With growing digital marketing, the demand for marketing automation tools have also increased.
Email marketing, retargeting, text messaging, and advertisements in offline smartphone applications, are also prime means when considered for marketing digitally. Marketing automation thus enhances the effectiveness of customer engagement, and further strengthens content. Thus, rapid growth of digital marketing and social media influence on APAC populace are driving the marketing automation software market in the region.
APAC Marketing Automation Software Market Competitive Landscape
APAC marketing automation software market is exhibiting increasing number of vendors, with declining prices of marketing automation software, and easy access for new entrants to the market, especially to a large number of SMEs. Additionally, key market players have adopted several growth strategies including product launches, acquisitions, and partnerships to expand their market share, consumer base, and portfolio of offerings in the APAC marketing automation market. Some of the key players operating in the APAC marketing automation software market include Oracle Corporation, IBM Corporation, Adobe Systems Incorporated, Salesforce.com Inc., HubSpot Inc., Teradata Corporation, Act-On-Software Inc., SharpSpring Inc., SAS Institute Inc., and Infusionsoft Inc.