Asia-Pacific HVAC Market Overview
The Asia-Pacific (APAC) HVAC market is estimated to value $54.6 billion in 2018 and is expected to record CAGR of 4.3%, during the forecast period. Rise in average temperature mainly in countries such as India, China, Japan, South Korea, and Indonesia and increasing infrastructure spend are the major factors contributing to the market growth.
Based on type, the Asia-Pacific HVAC market is segmented into heating, ventilation, and cooling. Among these, cooling category is expected to account for largest share in the market in 2018, buoyed by growing demand from commercial offices and buildings; and residential sector. The major economies in APAC including China, Japan and India are witnessing increasing number of commercial construction activities due to increasing number of companies in various sectors setting-up their offices in the region, to capture the potential customer base. Besides, the rising average temperatures in APAC is expected to boost the demand for cooling equipment.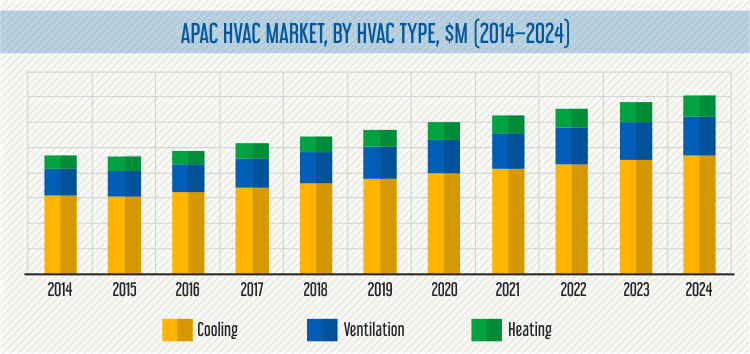 In terms of ventilation equipment type, the Asia-Pacific HVAC market is bifurcated into humidifiers/dehumidifiers, air cleaners, ventilation fans, and air handling units and fan coil units; wherein ventilation fans category is estimated to hold largest market share, which can be solely credited to the growing demand from residences, offices and buildings, hospitals, hotels, data centers, oil and gas industry, and automotive end-users. Among end-users, commercial category is estimated to account for the largest share in 2018, due to enforcement of using natural air ventilation in buildings. Apart from this, it is mandatory for commercial buildings and industrial areas to use these systems, owing to which the demand for ventilation fans is expected to grow in the coming years.
Based on country, India HVAC market is anticipated to register fastest CAGR in the forecast period, primarily due to growing population coupled with factors such as 'Make in India' initiative. This initiative has attracted FDIs as well as domestic players to start manufacturing in the country itself. Further, it propelled the growth of HVAC market in the country, in terms of industrial and well as commercial sectors. Due to increasing manufacturing of HVAC equipment in the country, the prices of the equipment declined by 8.2% during 2014-2018, and is expected to further fall by an average rate of 5.4% during the forecast period, hence driving the adoption of HVAC systems.
Asia-Pacific HVAC Market Dynamics
Trend
One of the key trends recorded in Asia-Pacific HVAC market include growing demand for smart HVAC systems. To reduce energy consumption, and improve system efficiency, a large number of buyers are adopting smart HVAC systems. These systems offer better controls, building automation, advanced real-time performance monitoring, and Internet of Things (IoT) based lighting controls. Smart HVAC systems also provide better temperature variability and remote access. Moreover, these systems provide preventive maintenance and related services, and improve system efficiency and lifespan. In addition, smart HVAC systems produce lower noise as compared to others, owing to which the demand for these systems is expected to rise in the coming years.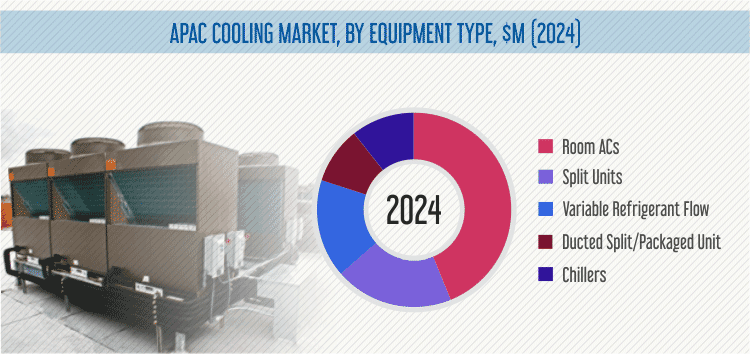 Driver
The key factors contributing to the growth of Asia-Pacific HVAC market includes rising disposable income of the populace, primarily in developing countries such as China and India. With rising disposable income, consumer spending is also on the rise. Customers are now spending more on appliances such as air conditioning systems, and refrigerators, which are no longer a luxury, especially in India. HVAC systems are now more widely accessible for general communities due to declining prices. Thus, rising disposable income of populace in APAC, is supporting HVAC market growth.
Opportunity
The key opportunity in the Asia-Pacific HVAC market include growing popularity of geothermal HVAC. Geothermal HVAC systems are essentially a standout amongst the most ecofriendly approaches to heat and cool homes. The system sources energy from the ground for heating and cooling. Thus, these systems help to save natural resources of earth like coal. As a result, a geothermal system reduces energy consumption, which in the course of a year could result in meaningful energy savings for users. In addition, geothermal HVAC systems do not produce any carbon monoxide or other greenhouse gasses that contribute to both increasing carbon footprint and air pollution.
Air pollution is a major environmental issue that is affecting individuals across the APAC. According to the World Health Organization (WHO), around one third of world's premature death from air pollution are in western pacific region. Thus, need for ecofriendly and energy efficient, geothermal HVAC systems is expected to increase in the coming years, which would thereby support HVAC market growth.
Value Chain Analysis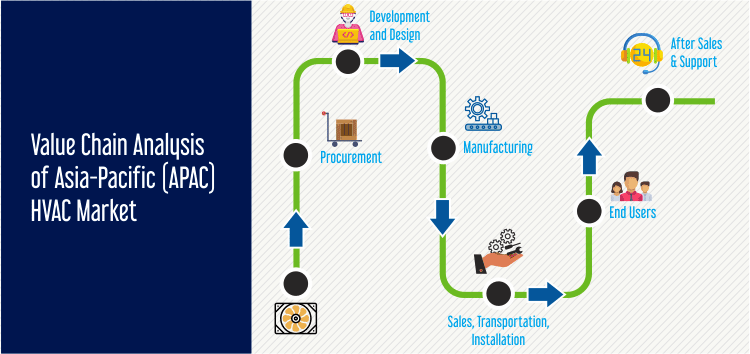 Asia-Pacific HVAC Market Competitive Landscape
Major players in the Asia-Pacific HVAC market have been involved in several mergers and acquisitions, partnerships, and product launches, to gain a foothold in the market. Companies such as Ingersoll Rand PLC, Blue Star Limited, and Daikin Industries Ltd. were involved in product launches to expand their product capabilities and provide latest technologies to their customers, adhering to the Montreal Protocol while offering high energy saving capabilities.
Some of the key players operating in the Asia-Pacific HVAC market include Johnson Controls International PLC, Ingersoll-Rand plc, United Technologies Corporation, Daikin Industries Ltd., Mitsubishi Electric Corporation, Toshiba Carrier Corporation, LG Electronics Inc., Fujitsu Limited, Midea Group Co. Ltd., Panasonic Corporation, and Gree Electric Appliances, Inc. of Zhuhai.