APAC Electric Motor Market Overview
The APAC electric motor market was valued at $50,948.1 million in 2017 and is forecasted to post CAGR of 6.9%, during 2018-2023. Increasing compliance for energy efficient motors and rising adoption of motor-driven electric vehicles are the key factors driving market growth.
Based on motor type, the market has been categorized into AC motor, DC motor and hermetic motor, where AC motor held a major share in the APAC electric motor market. The increasing demand for the AC motors is attributed to the rising adoption of ecofriendly electric vehicles as well as increasing demand in industrial machinery. Moreover, this type of motor requires lower power and maintenance as compared to the DC motor.
CHINA AC MOTOR MARKET, BY TYPE, $M (2013–2023)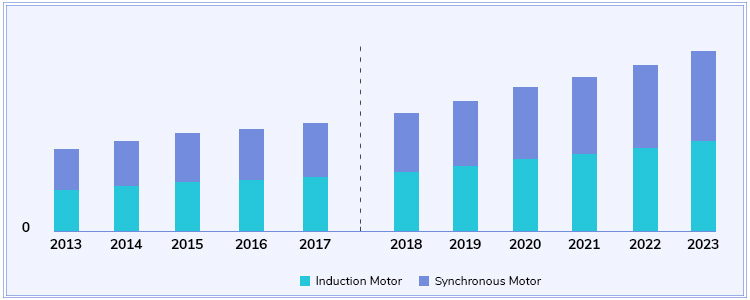 On the basis of output power, the electric motor market has been segmented into fractional horsepower motor and integral horsepower motor. Although, integral horsepower motor contributes a lower share, it is expected to witness highest CAGR, during the forecast period, owing to increasing use of high power motors in industrial machineries and electric vehicles.
Based on application, the electric motor market has been classified into motor vehicles, household, HVAC equipment, industrial machinery, transportation and aerospace. Motor vehicles is expected to continue holding the largest share in the electric motor market. The market growth in motor vehicles is buoyed by the largest motor vehicle manufacturing hub based in China. Moreover, the growth can also be attributed to Japan and India coming in top 5 motor vehicle manufacturing industries.
Geographically, China was the largest market in the APAC region, with revenue share of more than 74% in 2017. Growth of electric motor market in China can be credited to government initiative to make China a major manufacturing hub by 2025 under Made in China initiative. Additionally, government support such as 50% subsidies on the electric vehicles is also one of the key factors leading to electric motor market growth in China.
APAC Electric Motor Market Dynamics
Trends
The key trend exhibited in APAC electric motor market is the development of high power to weight ratio electric motors. Vendors are developing electric motors with high power to weight ratio, as large electric motors have portability and high energy consumption issues. In April 2015, Siemens researchers developed a new type of electric motor weighing 50 kilograms. The motor can deliver a continuous output of about 260 kilowatts – five times more than comparable drive systems. The motor was especially designed for use in aircrafts. Moreover, with rise of electric motor-powered vehicles, there is rising need for higher power, lower weight and smaller electric motors.
Drivers
Increasing need to reduce energy consumption by high power consumption industries is expected to fuel APAC electric motor market growth. In a manufacturing industry, electric motors can account for around 70% of the total energy consumption, the largest consumption of electricity can come from the running of compressors in an industry and half of all the energy consumed by electric motors. Therefore, to curb this, industries employ more energy efficient electric motors to reduce the operating cost. Also, the increasing adoption of motor-driven electric vehicles is expected to foster market growth.
Opportunities
The number of residential and commercial construction projects are rising in the APAC region which is expected to increase the demand for electric motor in various applications such as HVAC equipment, lifts, pumps, motor-driven household appliances and construction equipment. The real estate market is expected to witness a year-on-year (yoy) growth of 4.8% in 2018 in APAC, while China is expected to post a 6.5% growth during the same year. With rising population in developing economies like China and India, construction industry is expected to grow in these countries, which would support electric motors market growth.
Electric Motor Market Competitive Landscape
The intensity of rivalry in the market is medium to high. Market players such as ABB Ltd., Emerson Electric Co. and Denso Corporation are focusing on mergers and acquisitions to boost their service offerings and improve their market share, globally.
Some of the key players operating in the market are Emerson Electric Co., Toshiba Corporation, Wolong Holding Group Co. Ltd., Siemens AG, Johnson Electric Holdings Limited, DENSO Corporation, ABB Ltd., Mitsubishi Electric Corporation, Ametek Inc. and Robert Bosch GmbH.