APAC Air Compressor Market Overview
APAC air compressor market reached $11.8 billion in 2018 and is expected to register a CAGR of 4.1% during 2019-2024. Rising demand for energy efficient air compressors and growing demand from manufacturing industry are major drivers boosting the growth of the market. Moreover, with increasing focus toward the lower energy consumption, the demand for energy efficient compressors is growing.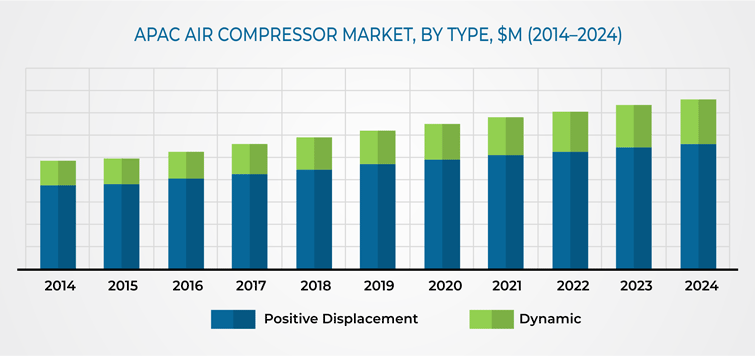 Based on type, APAC air compressor market has been categorized into positive displacement and dynamic; wherein positive displacement air compressors category held the larger revenue share in 2018. The category is expected to maintain its lead throughout the forecast period, buoyed by growing demand for the rotary type air compressors. Positive displacement air compressors are used for a number of applications including industrial manufacturing, automotive industry, food & beverage, power, and construction in the industry.
Based on the lubrication type, the APAC air compressor market is bifurcated into oil-free and oil-flooded air compressors. Oil-free category is expected to register the faster CAGR during the forecast period owing to its increasing demand from the food & beverage; and chemicals industry. The industry requires oil-free air to prevent contamination of food and sanitized areas, thereby maintaining the air purity.
Based on portability, the APAC air compressor market is divided into stationary air compressor and portable air compressor. Of these, stationary air compressors witnessed a larger market share in 2018. This can be attributed to their inherent application use in industrial settings and the need for bolting it down to the ground to reduce vibrations. However, portable air compressor category is projected to record the faster CAGR during 2019–2024 owing to increasing demand for these compressors from the construction sector in countries such as China, India, Philippines, and Thailand.
On the basis of application, the market is categorized into construction, power, industrial manufacturing, HVAC-R, chemical and cement, oil & gas, automotive, food & beverage, textile, and others; wherein, others include healthcare, research laboratories, and agriculture. Among these, the market registered the largest revenue share in industrial manufacturing in 2018, owing to the industry's high growth in China and India. With the advent of 'Make in China' and 'Make in India' initiatives, these countries are displaying a huge growth in the adoption of air compressors from the industrial manufacturing end-use application area.
Among the countries in APAC, China held the largest market revenue share in 2018, attributed to the country being the largest manufacturing hub, globally. China's vision – 'Made in China in 2025' is one of the major factors contributing to the growth of the manufacturing sector. According to the World Bank, China's manufacturing output is expected to grow by 5.2% during 2013-2023. Apart from this, industrial manufacturing has been exhibited as one of the top applications of air compressors in China, in 2018 and is expected continue leading during the forecast period.
APAC Air Compressor Market Dynamics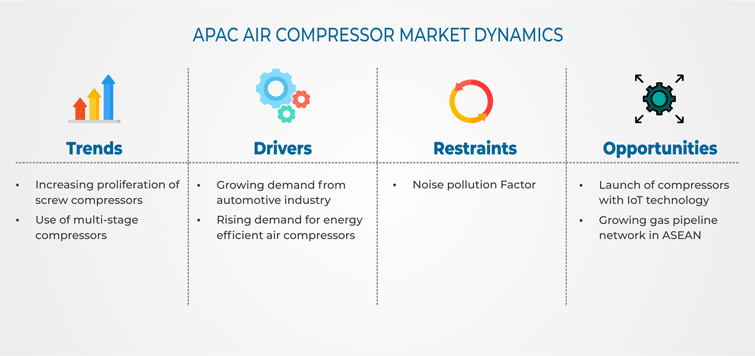 Trends
Increasing use of screw compressors is one of the prominent trends being witnessed in the APAC compressor market. Applications including industrial manufacturing, mining, construction, and oil & gas are citing the adoption of these compressors. Screw compressors are used in mining industry for screening, crushing, and refining operations. While in industrial settings, these compressors are being utilized for supplying plant air as well as instrument air.
Growth Drivers
Increasing demand for energy efficient air compressors is driving APAC air compressor market. Increasing focus toward production efficiency and energy savings is driving the demand for energy efficient compressors where it is predicted to rise in the coming years. The use of these compressors would result in reduction of energy costs as well as reduced emission of greenhouse gases. In response to this, major players in the APAC air compressor market have introduced more efficient air compressors.
Restraints
As per the World Health Organization (WHO), noise pollution can affect the health and behavior of person, when consistently exposed to high decibels of noise and can suffer from a hearing impairment. Noise generated from operations of a compressor can range somewhere between 70 decibels (dB) and 90 dB and can cause general health issues such as stress, anxiety, headache and fatigue.
APAC Air Compressor Market Competitive Landscape
The APAC air compressor market is fragmented in terms of market share, with competition characterized on the basis of brand reputation, product quality, and product pricing. Among the companies, Atlas Copco AB held the prominent position in the APAC air compressor market in 2018. The strong market position of the company can be attributed to its growing focus on product launches to increase its brand portfolio and customer base across the world. For instance, in 2018, the company introduced 12 new compressors under its 'Smart AIR solutions' product range.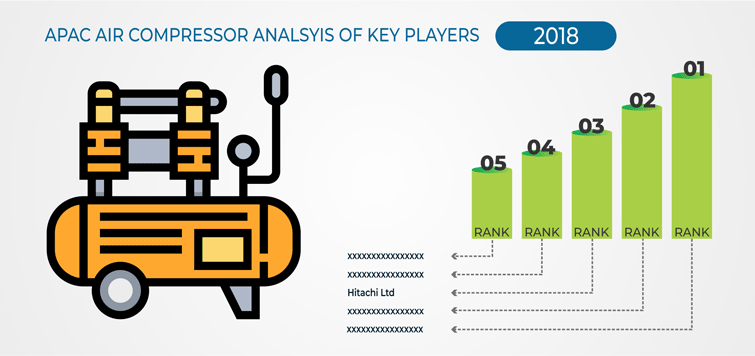 Atlas Copco AB, Elgi Equipments Limited, Ingersoll-Rand plc, Kaeser Kompressoren SE, ANEST IWATA Corporation, Hitachi Ltd., RECHI PRECISION CO., LTD, Siemens AG, Kobe Steel, Ltd., Zhe Jiang Hongwuhuan Machinery Co., Ltd, and Mitsubishi Heavy Industries Ltd. are some of the major players in APAC air compressor market.