Market Overview
The estimated size of the animal feed additives market is USD 41.3 billion in 2023, and it will grow at a rate of 4.7% from 2023 to 2030, to reach USD 56.9 billion by 2030.
This can be credited to the increasing meat consumption throughout the globe. The worldwide meat trade is projected to further fuel industrialization in animal husbandry, particularly in emerging economies, such as Brazil, China, and India, where meat production prices are lesser.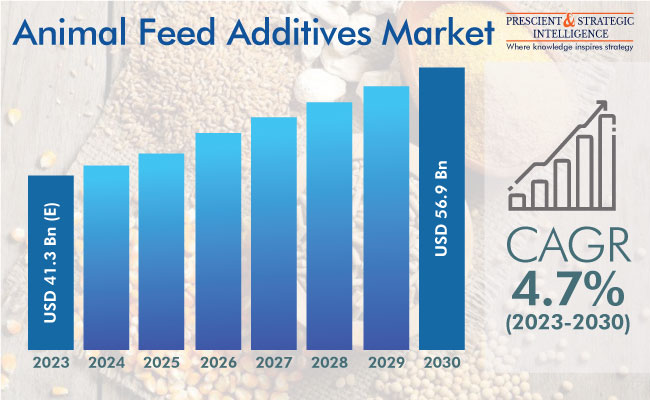 Furthermore, the growing awareness about the advantages of feed additives and the recent outbreaks of numerous zoonotic illnesses have positively affected the market. The increasing customer knowledge regarding the illnesses of livestock animals, such as swine flu and foot-and-mouth disease, has augmented the worries regarding the quality and safety of meat, which has encouraged the utilization of feed additives.
Additionally, the limits on the utilization of antibiotics in Europe and the U.S. are projected to open the industry for additional items, such as acidifiers, enzymes, and amino acids. Thus, many major grain harvesters, such as Cargill Inc. and BASF SE, are forward-integrated, delivering feed additives themselves and also acting as raw material suppliers to other animal feed producers. On the other hand, businesses such as Charoen Pokphand and Alltech are backward-integrated, to harvest raw materials (feed grains) and produce the final animal feed products.
Livestock production requires substantial resources, such as water, feed, land, and power for transporting, raising, and processing animals. Animal feed plays a vital role in the breeding procedure, offering crucial nutrients. Augmented productivity can be attained via improvements in feedstock production, mechanized agriculture, and technological enhancements, along with the utilization of fertilizers.
The dairy sector is also projected to witness development because of the growing usage of these items, propelled by their health advantages and varied applications. Thus, cattle farming has experienced a substantial rise, as cattle are the major source of many dairy items, such as cheese, milk, butter, and cream. To produce healthier milk and other dairy products, animals need to be fed nutritious food, which propels the market.
Growing Trend of Bio-Based Animal Feed Additives
With the growing awareness of organic produce and the harmful effects of synthetic chemicals in food, the usage of natural and bio-based animal feed additives is increasing. A variety of nutrients, including alkaloids, flavonoids, bitters, mucilage, glycosides, saponins, and tannins, can be extracted from plant sources, to be added to animal feed. Their usage is increasing due to the stringent regulations in Europe and North America with regard to the health of animals and the quality of the products derived from them.
Amino Acids Product Category Holds Largest Market Share
The amino acids product category is dominating the market. This can be credited to their capability to enhance immunity, help animals grow, and reduce the likelihood of skin and nail issues. Additionally, amino acids play a vital role in stopping cerebral dysfunction, which can result in muscular issues in animals. Therefore, amino acids are expected to be heavily required as a feed enhancer and pet food ingredient.
Preservatives Category To Advance with Highest CAGR
The feed preservatives category is projected to advance at the highest CAGR during the projection period. The requirement for feed preservers is rising because of the surging concentration on lengthening the shelf life of animal feed products. In the past few decades, substantial dietary variations have happened in livestock breeding, which has caused an augmentation in the requirement for preservatives, such as anticaking and mold-inhibiting agents.
Poultry Category Is Market Leader
The poultry category is leading the market, based on animal type, credited to the constant development in broiler rearing and processing technologies throughout the world. Different kinds of poultry feed additives are available, such as antioxidants, enzymes, acidifiers, and vitamins, to surge productivity and nutrition value.
Additionally, a rise in poultry consumption is being witnessed in emerging economies, where growing income is allowing customers to add diversity to their meals. Therefore, developing countries will witness a rising demand for feed additives for chickens and other poultry species in the forecast period. As per the FAO, by 2030, people around the globe will get 41% of their proteins they source from animals from poultry.
Moreover, the major factors affecting the pork market are profitability, efficiency, and productivity. Hence, enzymes, antimicrobials, emulsifiers, antioxidants, binders, and pH regulators are widely added to pig feed. Antibiotics help in enhancing illness protection, while fat-soluble vitamins, including D, A, E, and K; and water-solvable vitamins, such as niacin, B12, choline, and riboflavin; promote the growth of the swine.
Cattle is another important category, because of the rising beef, leather, and meat consumption everywhere. Like in all animals, the health of the cattle determines the quality of the milk and meat they produce. With the growing awareness of this fact, cattle farmers are mixing a range of additives to enhance the food given to their livestock.
Animal Feed Additives Market Report Coverage

| | |
| --- | --- |
| Report Attribute | Details |
| Market Size in 2023 | USD 41.3 Billion (E) |
| Revenue Forecast in 2030 | USD 56.9 Billion |
| Growth Rate | 4.7% CAGR |
| Historical Years | 2017-2022 |
| Forecast Years | 2023-2030 |
| Report Scope | Market Trends, Drivers, and Restraints; Revenue Estimation and Forecast; Segmentation Analysis; Impact of COVID-19; Companies' Strategic Developments; Market Share Analysis of Key Players; Company Profiling |
Explore more about this report - Request free sample pages
APAC Is Dominating Industry
The APAC region is leading the worldwide market, credited to a significant livestock populace and varied farming economies. As per the World Animal Foundation, the cattle populations of India and China are the largest and third-largest in the world, numbering 305.5 million and 100.2 million, respectively. Additionally, the major companies are projected to concentrate on increasing their poultry feed offerings, to fulfill the altering meat-eating preferences of customers.
Meanwhile, Europe's industry is categorized by innovation and severe guidelines regarding human health, the environment, and animal wellbeing. Such rules commonly result in consistent product changes, such as bans and restrictions. These factors, coupled with the free-trade contracts within the EU nations, are projected to positively impact product development in the continent. Additionally, in Spain, the pig farming industry is witnessing significant development because of the decreasing hog production expenses and surging Spanish pork exports, especially Jamon Iberico.
In the same way, the increasing meat consumption in North America, along with the severe guidelines on meat quality, is a propeller for the industry. The existence of numerous pet food manufacturing businesses and animal farms in North America will also contributes to the augmenting product demand. Furthermore, the rising health consciousness among customers and increasing per capita meat consumption will aid the industry's enlargement. The easy obtainability of rich raw materials, such as maize and dextrose, is also projected to boost the industry revenue.
Feed Additives Industry Updates
In December 2022, Adisseo Group decided to buy Nor-Feed and its companies to advance and register botanical additives for utilization in animal feed.
Adessio Group operationalized its liquid methionine plant with a capacity of 180,000 tonnes in Nanjing in September 2022.
Key Companies in Animal Feed Additives Market
Cargill Inc.
HONG HA NUTRITION
BASF SE
Kemin Industries Inc.
ANOVA Groups
Koninklijke DSM N.V.
Olmix Group
Archer–Daniels–Midland Company
Evonik Industries AG
Chr. Hansen Holding A/S
Alltech Inc.
DuPont de Nemours Inc.
Zoetis Services LLC
Nutreco N.V.
Solvay SA
Novozymes
Novus International Inc.
Sumitomo Chemical Co. Ltd.
International Flavors & Fragrances Inc.