Pipeline Overview
Amyotrophic lateral sclerosis is a disease that causes progression in neurodegeneration in brain and spinal cord. In Amyotrophic lateral sclerosis, the muscle does not get adequate nourishment due to which it becomes atrophic. The disease occurs in the lateral region, an area in which spinal cord reflexes are found majorly. Therefore, the degeneration leads to hardening and scarring of muscles in that region. The progressive degeneration of neurons from brain to the spinal cord and spinal cord to the whole body can ultimately lead to their death. The affected neurons in an individual can cause losing their ability to control muscles and performing other daily activities such as, ability to eat, move, breath, speak etc. Therefore, both voluntary and involuntary muscles tend to degenerate in Amyotrophic lateral sclerosis.
Amyotrophic lateral sclerosis is classified into two types, namely, sporadic and familial. Approximately 90% to 95% of the patients suffering from the disease in the U.S., experience the sporadic Amyotrophic lateral sclerosis. Familial Amyotrophic lateral sclerosis accounts for only 5% to 10% of the total number of cases reported in the U.S.
The initial symptoms of the disease begin with losing control on the muscles that regulate the swallowing of food, speech and muscle of arms and legs, difficulty in lifting or grasping objects. The painless and progressive muscle weakness, tripping, abnormal fatigue of arms and legs, dropping things. Some of the other symptoms include muscle twitches and laughing or crying in an uncontrolled manner.
The diagnosis of Amyotrophic lateral sclerosis is difficult, since there are other diseases as well with the similar symptoms as found in Amyotrophic lateral sclerosis. There are certain test that can rule out the probability of other diseases such as, electro-diagnostic tests including electromyography (EMG) and nerve conduction velocity (NCV), spinal tap, myelogram of cervical spine, thorough neurological examination, blood and urine studies including high resolution serum protein electrophoresis, thyroid and parathyroid hormone levels and a 24-hour urine collection for heavy metals, X-rays, including magnetic resonance imaging (MRI).
Pipeline Analysis
As of May 2017, the Amyotrophic lateral sclerosis pipeline comprises of approximately 72 drug candidates in different stages of development.
NUMBER OF AMYOTROPHIC LATERAL SCLEROSIS DRUG CANDIDATES UNDER DEVELOPMENT (2017)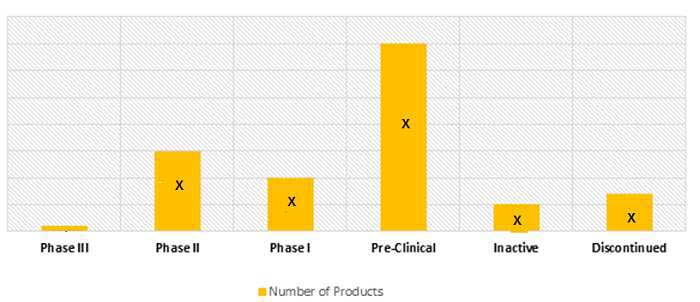 Competitive Landscape
Some of the key players developing drugs for Amyotrophic lateral sclerosis include Genervon Biopharmaceuticals LLC, Orion Corporation and others.
Scope for Customization
P&S Intelligence offers customization as per specific business requirements of clients. Illustrative customization within the scope of this report includes:
Market Forecast – Market analysis and forecast for the drug candidates in the latest stage of development
Company Profiles – Wider company coverage in terms of detailed analysis or additional company profiles