Market Overview
The air purifier market was valued at an estimated $11,422.7 million in 2021, and it is expected to advance at a CAGR of 11.8% during 2021–2030. The advance of the market is due to the growing air pollution levels across the globe, deteriorating indoor air quality, increasing prevalence of airborne diseases and health concerns, along with the improving standard of living and rising disposable income of individuals.
As per the WHO air quality guidelines, the recommended annual levels and interim targets for common air pollutants, such as PM2.5, is 5 μg/m3; for PM10 is 15 μg/m3; for O3 is 60 μg/m3 (peak season); for NO2 is 10 μg/m3; for SO2 is 40 μg/m3; and for CO is 4 mg/m3. However, according to the WHO, almost the entire global population, i.e., 99% of the people, breathe air that exceeds these limits. In fact, indoor air pollution is one of the primary causes of respiratory illness, cancer, and even eye diseases, along with premature deaths, especially in developing countries.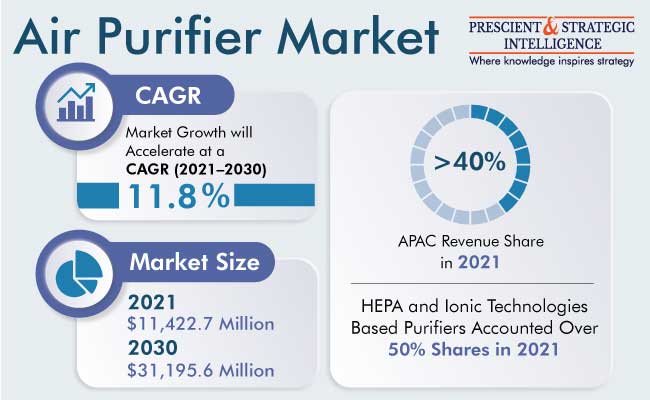 The prevalence of airborne infections, such as influenza, measles, tuberculosis, and common cold, has been rising over the years. For instance, tuberculosis is the thirteenth-leading cause of death and the second-leading infectious killer after COVID-19. In 2020, approximately 10 million people suffered from tuberculosis and 7.5 million from measles, globally. According to the U.S. Environmental Protection Agency, air purifiers help in reducing the concentration of airborne contaminants, including viruses, in confined spaces. Thus, the rising awareness of healthy living among individuals is increasing the use of air purifiers.
The COVID-19 pandemic caused people to look for access to cleaner air, to minimize the risk of the disease. As a result, the air purifier market saw a significant surge in its revenue in 2020. In fact, San Francisco-based companies Brondell and Molekule are among the first the air purifiers of which have been approved by the FDA to combat the coronavirus.
Air Purifiers with HEPA and Ionic Technologies Widely Preferred
Air purifiers with the HEPA and ionic technologies account for more than 50% of the market share, with those based on the HEPA technology leading the market. HEPA air purifiers incorporate HEPA filters that comprise multi-layered meshes made of fine fiberglass threads. These filters are bombarded with high-velocity air, which dries out any virus. They capture the smallest airborne particles found in indoor air, thus helping fight asthma and preventing allergies and other respiratory diseases. In fact, these filters are capable of capturing the COVID-19 virus, which is approximately 0.125 microns in size.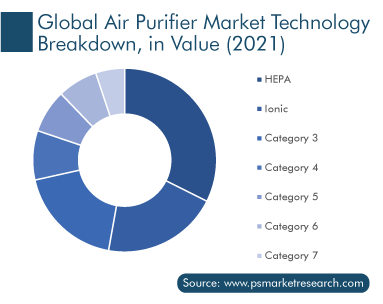 Ionizers are part of a filterless technology that uses positive and negative ions to purify the air and eliminate allergens as small as 0.1 microns. Globally, the price of air purifiers with the ionizing technology ranges from $30 to $300, based on brand, size, and model. The low operational and initial costs and less noise of ionic air purifiers are largely driving the market, with North America being the dominant user. However, countries such as China, Russia, and India are expected to exhibit a high demand for them during the forecast period.
Additionally, carbon air filters are largely used to remove gases with the help of a bed of activated carbon. They are generally used to remove the volatile organic compounds (VOCs) released from common household products and odors from the air, such as the smell of tobacco smoke. Thus, the activated carbon technology ranks third in the overall market share.
Residential Air Purifiers To Gain Momentum
In 2021, residential air purifiers accounted around 20% of the market share, and they are likely to witness the highest CAGR during the forecast period, on the basis of application. The growth of this category is majorly attributed to the increasing awareness among individuals on their health, because of the concerns arising due to the polluted air, and growing popularity of smart homes.
The HEPA technology is the most-widely accepted by residential air purifier users due to its high reliability and performance. In March 2022, Forbes listed the 10 best air purifiers for homes which listed Levoit LV-H132 Air Purifier with HEPA filter as 'Best Air Purifier Overall', while Dyson HP01 Pure Hot + Cool was categorized as 'Best Multi-Use Air Purifier.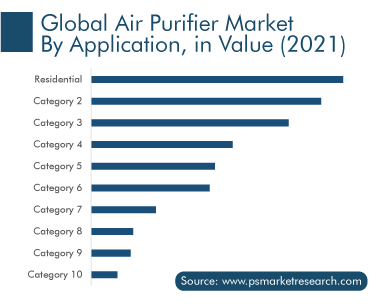 Residential portable air purifiers are becoming popular as they are small and lightweight, along with being cost-effective compared to in-duct systems. They also have various features, such as multiple filtration layers, sensors, and smart controls, which makes them the choice of a large proportion of consumers.
APAC Dominates Market
The Asia-Pacific air purifier market generates approximately 40% of the global revenue, on account of the growing population, rapid urbanization and industrialization, along with the increasing disposable income of individuals. Moreover, India, Bangladesh, and Pakistan are among the countries with the worst air quality, which exceeds the WHO limits by at least ten times, as per the IQAir report of air quality. Moreover, even though China's air pollution levels dropped in 2021, the country still has significantly polluted air, which raises health concerns among people.
In 2021, the country's PM2.5 went down by 9.1% compared to the preceding year, to 30 μg/m3 from 35 μg/m3. Thus, China leads the market in the region, accounting for around 50% of the market share, being the manufacturing base of a large number of companies in the market. In fact, companies have been massively investing in air purifier R&D and launches. For instance, in 2021, SGS opened a new filtration laboratory in Suzhou, China. The 2,500m2 facility is focused on the filtration testing of compressed air HEPA & ULPA, HVAC & industrial air, and residential air purification technologies.
Air Purifier Market Report Coverage
| | |
| --- | --- |
| Report Attribute | Details |
| Historical Years | 2017–2021 |
| Forecast Years | 2022–2030 |
| Market Size in 2021 | $11,422.7 Million (Estimated) |
| Revenue Forecast in 2030 | $31,195.6 Million |
| Growth Rate | 11.8% CAGR |
| Report Scope | Market Trends, Drivers, and Restraints; Revenue Estimation and Forecast; Segmentation Analysis; Impact of COVID-19; Companies' Strategic Developments; Market Share Analysis of Key Players; Company Profiling |
| Segments Covered | By Technology; By Application; By Region |
Business Opportunities
Large numbers of startups have been entering the market with innovative technologies. Few such companies are:

CleanAir: It is a Canada-based startup that offers the ALVI SMART Air Purifier based on the active polarization technology.
TEQOYA: It is a French startup that develops air purifiers that diffuse negative ions to purify the air.
Molekule: It is a U.S.-based startup that builds a proprietary photoelectrochemical oxidation technology to destroy air pollutants and microbes at the molecular level.

Ionic air purifiers do not contain any filter; thus, the production cost is expected to decline in the near future, along with the emergence of new technologies, thus offering opportunities in product development for manufacturers operating in the market.
Key Strategic Developments of Market Players
In recent years, major players in the market have been launching products with new technology and features, as well as upgrading the existing product portfolios and expanding their geographical operations, to stay competitive. For instance:
In February 2022, LG Electronics announced the plan to launch the new and improved PuriCare Wearable Air Purifier in Qatar. It is equipped with a fully automatic fan airflow control system, which increases breathing comfort and incorporates two H13 HEPA filters.
In December 2021, Philips India introduced a new 3-in-1 multifunctional air purifier with three modes: purify, heat, and fan. It is equipped with a three-layer HEPA filtration system.
In August 2021, Panasonic Corporation began shipments of IAQ devices, such as energy recovery ventilator systems and air purifiers, from its new factory in the Shunde District of the city of Foshan, Guangdong Province, China.
Key Players in Air Purifier Market Are:
LG Electronics
Panasonic Corporation
Samsung Electronics Co. Ltd.
Sharp Corporation
Koninklijke Philips N.V.
IQAir
Honeywell International Inc.
Dyson Ltd.
Daikin Industries Ltd.
Whirlpool Corporation
Segmentation Analysis
The research offers market size of the global air purifier market for the period 2017–2030.
Based on Technology
HEPA
Ionic
Activated Carbon
Photocatalytic
Ultraviolet
Electrostatic Precipitators
Based on Application
Residential
Office Spaces
Hotels
Hospitals
Airports
Educational Institutes
Shopping Malls
Gyms & Fitness Centers
Government Centers
Geographical Analysis
North America
Europe

Germany
France
U.K.
Russia
Italy

Asia-Pacific

China
Japan
South Korea
Australia
India

Latin America

Brazil
Mexico
Chile
Argentina
Colombia

Middle East and Africa

U.A.E.
Saudi Arabia
Turkey
South Africa
Egypt