3D CAD Market Overview
3D CAD is a three-dimensional computer-aided tool, which enables designers to visualize various designing concepts and simulate the designs for their performance comprehension in the real world. The software offers a superior three-dimensional quality to designers and engineers in comparison to two-dimensional designs, which are more prone to human errors.
The global 3D CAD market is gaining significant traction as a result of the rapid transformations and advancements in the software industry. Designers are increasingly seeking more advanced and user-friendly solutions to efficiently manage their product designing and development cycle. Currently, 3D CAD providers are offering ease-to-use solutions on ease-of-use basis to a large consumer base. Moreover, the market players are focused on catering to the growing demand for cost-effective and easily accessible CAD software solutions.
GLOBAL 3D CAD MARKET, $M (2012–2022)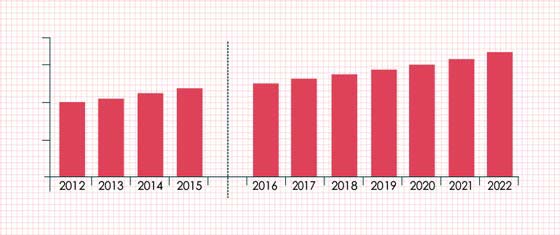 3D CAD Market Dynamics
The 3D CAD market is anticipated to advance at a CAGR of 4.9% during the forecast period to reach $7.2 billion by 2022. The shift from 2D CAD to 3D CAD in the automotive and media & entertainment industries is a major driving force for the rapid growth of the market. Additionally, with an increasing demand for 3D modeling and advanced real-time rendering by end-use industries, the market for 3D CAD is projected to witness considerable growth in the coming years.
Trends
The growing focus of market players on advanced products' launch and development is trending in the 3D CAD market. Further, the increasing mergers and acquisitions and partnerships amongst CAD software providers and a shift from license-based to subscription-based models are some of the major observations in the market. With the adoption of new technologies by product designers, CAD software providers are focusing on upgrading their offerings to meet the growing demand.
Growth Drivers
The 3D CAD market is witnessing growth as a result of multiple factors, including the increasing usage of the software in the packaging machinery and a shift from 2D CAD to 3D CAD. It helps in customer satisfaction and retention by combining the usage data and external data available and generating specific insights.
Besides, 3D CAD allows for advanced modelling and simulation of communication control tools while designing packaging machinery . These tools allow the selection of actuators and optimization of the motor to reduce operational costs and energy consumption in end-use industries. In the coming years, a massive number of connected cars are anticipated on the road, impelling designers to consider advanced solutions and tools integrated with 3D CAD software. This would improve the product development by resulting in error-free manufacturing, hence, contributing to the 3D CAD market growth.
This solution provides product engineers and designers with advanced analysis for simulating the flow of fluids and measuring vibrations in key structural components. While 3D CAD software offers a means of cost saving, which was not the case with 2D CAD software, product designers are also able to avoid the wastage of time, thereby improving and optimizing their work output. Increased accuracy, control, and creativity in product designs are some of the factors promoting a shift toward 3D CAD, thereby helping the 3D CAD market grow.
Opportunities
The players in the 3D CAD market would find opportunities by offering mobile-friendly 3D CAD software solutions to meet the editing demands of users and allow them to share and view their designs and drawings in a convenient manner. For instance, Autodesk offers a free drawing and drafting app, AutoCAD 360, which enables users to access, edit, and share the AutoCAD drawings. Furthermore, businesses are focusing on showcasing 3D models of their offerings to end-users, which would result in an increasing usage of the technology, thereby, creating huge opportunities for the growth of the market.
3D CAD Market Competitive Landscape
The 3D CAD market displays a consolidated landscape, wherein the top five players accounted for around 85.0% share in 2015. Some of the major companies operating in the market are Autodesk Inc., Dassault Systèmes PTC, Bentley Systems Inc., 3D Systems Inc., Hexagon AB, and Aveva Group PLC.
Autodesk, which is one of the major design software providers, dominates the global 3D CAD market currently. The company offers CAD services to a diverse array of end-users and aggressively focuses on a number of strategic development plans, including the acquisition of small and mid-size design software providers and partnerships with software companies. Apart from this, the company partners with institutes to provide integrated 3D CAD offerings to users.