Chemical Manufacturing in India: Current Scenario and the Road Ahead
Globally, India's chemical production is the sixth-highest in the world and third-highest in the APAC region. Moreover, as per the latest estimates, the chemical industry makes a 7% contribution to India's GDP. In all, the size of India's chemicals & petrochemicals sector in 2019 was USD 178 billion, which, according to McKinsey, is expected to grow at a CAGR of 11–12% between 2021 and 2027 and further, by 7–10% from 2027–2040, thus witnessing a tripling of its global share. Further, according to the U.S. Department of Trade, India's chemical industry will reach USD 304 billion by 2025.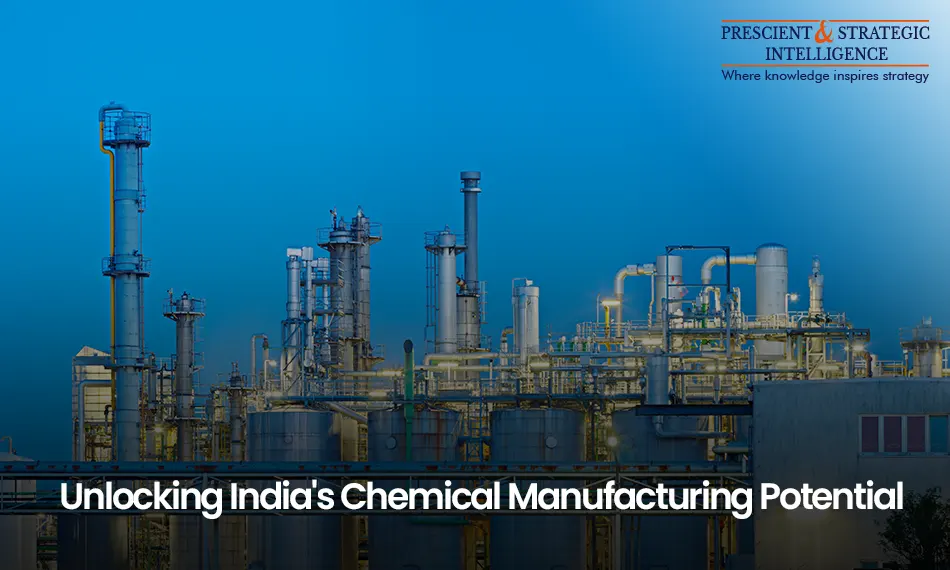 This can be attributed to the vast diversity of the kinds of chemicals produced in the country, with government sources claiming that India produces over 80,000 types of commercial products. The key subsectors this industry can be divided into are bulk chemicals, agrochemicals, specialty chemicals, petrochemicals, fertilizers, and polymers.
Key Insights
India's agrochemical production stands fourth, following the U.S., Japan, and China
India produces around 18% of the world's dyestuff and dye intermediates
Colorant production of the country accounts for a 15% worldwide share
India's chemical exports rank 14th globally
India is the eighth-largest importer of chemicals
Almost 30% of the chemical industry's workforce is employed by MSMEs
Total installed capacity of major chemicals stood at 156 lakh tonnes in 2021
India's chemical sector received USD 20.4 billion in FDI equity from January 2000 to June 2022
Major Driving Forces for Indian Chemical Industry
Construction Sector
The biggest driver for India's chemical sector is the vast domestic demand, itself owing to its huge population of 1.4 billion. This population, which is increasingly moving to cities, demands comfortable housing and other pieces of infrastructure. This is the biggest driver for the country's construction sector, which is poised to become the world's third-largest by 2025.
Within the construction sector, paints and coatings are key application areas of chemicals. With the sustained growth in urbanization pushing infrastructure development to new heights, India's paints and coatings industry valued USD 7.7 billion (INR 620 billion) in 2022, which is expected to reach USD 12.34 billion (INR 1,000 billion) by 2027, as per the Indian Paint Association.
Another major construction chemical is cement, 298 million tonnes of which were produced in the country in FY 2022. Additionally, as per the e National Council for Cement and Building Materials (NCCBM), cement production capacity in the country is set to increase by 80 million tonnes by 2025. This bulk chemical is produced at 210 large factories, 77 of which are in Andhra Pradesh, Tamil Nadu, and Rajasthan. Moreover, the southern, northern, eastern, western, and central regions account for 33%, 22%, 19%, 13%, and 13% of India's cement production, respectively.
Automotive Sector
Another major consumer of paints and coatings and a host of other chemicals in India is the automotive sector. As per the OICA, India was the fourth-largest manufacturer of automobiles in the world, with the number of units produced in 2022 standing at 5,456,857. This was a 24% increase from 2021, thus reflecting a major rise in the demand for automotive paints, seat foam, insulation materials, fuels & fuel additives, engine oils & coolants, AC refrigerants, and a variety of other associated chemicals.
The following table represents the number of automobiles manufactured in India between 2020 and 2022: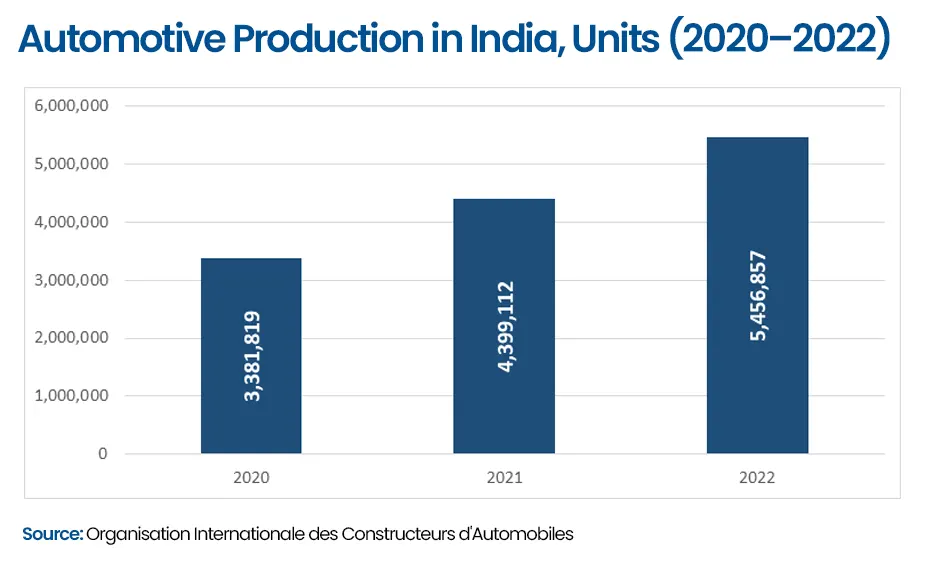 Textiles Sector
Currently, India is the world's third-largest textile and apparel manufacturer. India produced 2.4 tonnes of fiber and 4,762 million kg of yarn in FY 2021 (till January 2021). Moreover, the country's textile industry employs 4.5 crore people, who include 35.22 lakh handloom operators. In modern times, to boost textile production, the Government of India has launched the Scheme for Integrated Textile Parks (SITP) program, Mega Integrated Textile Region and Apparel (MITRA) Park initiative, and Technology Upgradation Fund Scheme (TUFS). Under these schemes, the government granted 1,000 acres of land for a textile park in Lucknow in February 2023, including much more land in many other cities. This sector demands huge quantities of chemicals, majorly colorants, pigments, and dyestuff.
Agriculture Sector
The agriculture sector, the most important since ancient times, offers direct or indirect livelihood to over half of India's population. The country is the top producer of many food grains, fruits, vegetables, and cash crops in the world. However, driven by the rampant urbanization and population growth, acreage continues to decline, while food demand keeps on booming. Thus, one of the government's priorities is to improve agricultural production from the land available.
This propels the consumption of a range of agrochemicals, including fertilizers, macro and micronutrients, pesticides, insecticides, and herbicides. As per reports, in 2020–2021, the country consumed 62,192.63 tonnes of agrochemicals. Moreover, as per the Ministry of Agriculture & Farmers Welfare, chemical pesticide consumption stood at 63,284 tonnes in 2021–2022, while biopesticide consumption stood at 9,321 tonnes. Since the consumption of both these kinds of pesticides is growing, the Indian chemical industry will need to augment its production of agrochemicals in the coming years, especially considering that the demand for locally produced pesticides is increasing as well.
The following table represents the consumption of indigenous pesticides in the country from 2017 to 2021: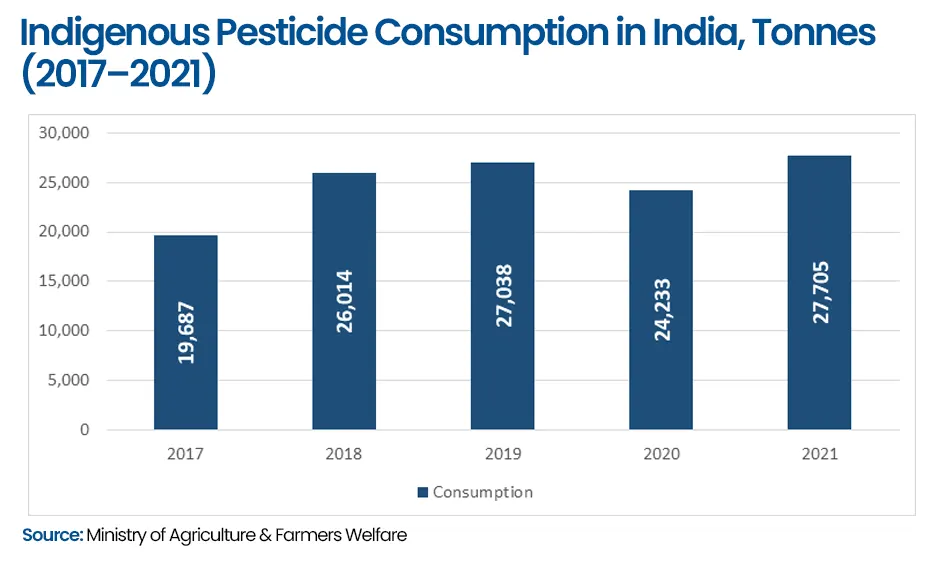 Major Subsegments of Indian Chemical Industry
Bulk Chemicals
Bulk chemicals are produced on a massive scale for a vast variety of applications. Some common bulk chemicals are methanol, ammonia, chlorine, hydrochloric acid, nitric acid, sulfuric acid, industrial- and medical-grade oxygen, titanium dioxide, graphite, alumina, acetaldehyde, benzaldehyde, ammonium phosphate, acetic acid, acetone, ethanol, polypropylene glycol, urea, ammonium chloride, and vinyl chloride.
Specialty Chemicals
Specialty chemicals are those that are produced in smaller amounts than bulk chemicals and, often, for specific purposes. Moreover, chemical companies generally have patent protections for such products, to gain an edge over their competitors. Based on this definition, specialty chemicals can further be categorized as adhesives, cleaning chemicals, colorants, cosmetic & personal care chemicals, elastomers, food additives & flavorings, fragrances, lubricants, polymers, surfactants, inks & pigments, and dyestuff.
The following figure represents the share of India's specialty chemicals industry based on different subsegments in 2019: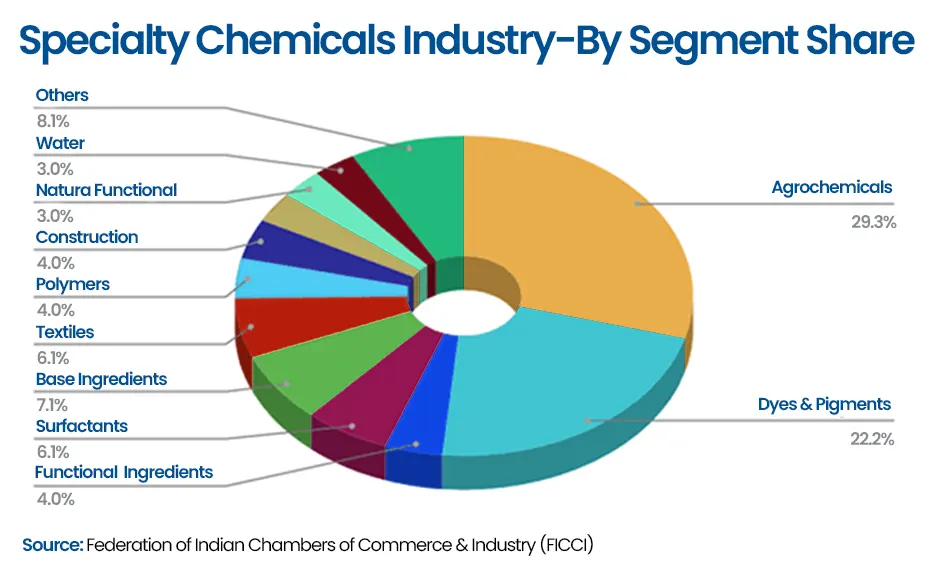 Specialty chemicals is a budding industry in India, valuing USD 32 billion in 2019, as per KPMG. Moreover, the firm says that the sale of such products accounts for a 22% share of the overall Indian chemical industry. Moreover, these products make up 50% of India's chemical exports. Moreover, as per a 2020 report of the Ministry of Chemicals and Fertilisers, in the last 20 years, specialty chemical manufacturing has rapidly shifted from North America and the EU to Asia. Moreover, in FY23, domestic specialty chemical companies poured in a combined USD 91 billion to boost production output, as per a recent article by CNBC.
Specialty chemical production has boomed so much in Asia in recent years that almost a major chunk of it is now exported to North America and EU, which, earlier, were themselves the major exporters to Asian countries. In 2019, around 25% of the specialty chemicals manufactured, in terms of volume, were sold to other countries, with the exports valuing almost USD 200 billion, as per a recent report by the FICCI.
Currently, China's specialty chemicals exports are four times India's, in terms of value. Moreover, even though the organized sector has a 70% share in India's specialty chemical industry, the landscape is itself highly fragmented, with UPL being the only notable domestic manufacturer, with revenue of more than USD 1 billion and a global manufacturing presence.
Additionally, in terms of manufacturing presence, Gujarat and Maharashtra are the leaders, with 15 of the 25 biggest Indian specialty chemical companies having manufacturing facilities here; 19 of the biggest companies have their plants in Gujarat and 15 in Maharashtra. This has been ascribed to the presence of numerous major seaports, which facilitates the easy import of raw materials and intermediates; large skilled workforce; supportive policies for businesses; and existence of adequate infrastructure.
Moreover, with the Government of India offering impetus to chemical production in Odisha through the Petroleum, Chemicals and Petrochemicals Investment Regions (PCPIR) policy, as well as East India's proximity to Southeast Asia, an emerging manufacturing hub, specialty chemical production could get a massive boost in the eastern part of the country. Additionally, the China Plus One strategy and the reduction in specialty chemical production in Europe following Russia's invasion of Ukraine could further boost production in India.
Further, fluorinated compounds could be a key opportunity for specialty chemical manufacturers in India. This is because of the wide application area of fluorinated chemicals in cooling & refrigerants, automotive industry, dyeing, electronics, agriculture (pesticides, insecticides & herbicides), textiles, and pharmaceuticals.
Petrochemicals
The term 'petrochemicals', encompasses a huge range of chemicals created from coal, oil, and natural gas, including methane, ethane, butane, propane, and longer-chain gaseous hydrocarbons; all kinds of plastics & polymers, and the derivatives of these two major kinds of products. In recent years, due to the stagnant growth in the EU's petrochemical industry, the Middle East and Asia are emerging as major hubs for refineries and plants further downstream in the petroleum supply chain. In India, basic petrochemicals are produced in the highest volumes, followed by intermediates.
Of late, many international E&P and petrochemical firms, including Saudi Aramco, Rosneft, BASF, Borealis, and ADNOC, have initiated joint ventures and investments in India. Thus, driven by investments from both private and public companies, India's petrochemical industry is expected to grow at a CAGR of around 10% in the next two decades, as per a May 2023 article in the Economic Times.
Currently, the country has 11 feed cracker units for petrochemicals with a combined production capacity of 17,938 kilotonnes per annum. Further, many refineries in India have added capacities to produce polymer intermediates, including ethylene oxide, polyols, phenol, propylene oxide, and styrene, as new revenue streams, since revenue growth curves from the refining business have been rather flat over the past few years.
This is because in order to cater to the burgeoning demand for plastics, even amidst environmental concerns, India could need 20 integrated refining-cum-petrochemical complexes by 2035. Moreover, many of these plants could employ direct crude-oil-to-chemicals (COTC) technologies, driven by the increasing need for aromatics, majorly olefins. Another key reason that necessitates such a massive capacity addition is the country's 50% import deficit of polymer intermediates.
Further, as per a November 2021 report by the FICCI, petrochemical production projects with a combined investment of USD 16 billion are being implemented of the total USD 100 billion worth of projects announced so far. Further, the government has approved the setup of over 10 plastic parks to boost domestic polymer production. This is being done under the PCPIR policy, which is expected to garner investments of USD 420 billion (INR 34 lakh crore) between 2020 and 2035.
Already, over 30,000 factories of all sizes produce plastics in the country, utilizing injection-molding, extrusion, blow-molding, and calendaring to manufacture an array of end-products. In the coming years, polymer processing is expected to increase in Rajasthan, Haryana, Punjab, Jammu & Kashmir, Uttarakhand, and Himachal Pradesh. The ultimate aim of the government is to boost plastic exports to 200,000 tonnes and generate USD 122.54 billion from the sale of locally produced plastics.
The following figure represents India's plastic exports in 2021: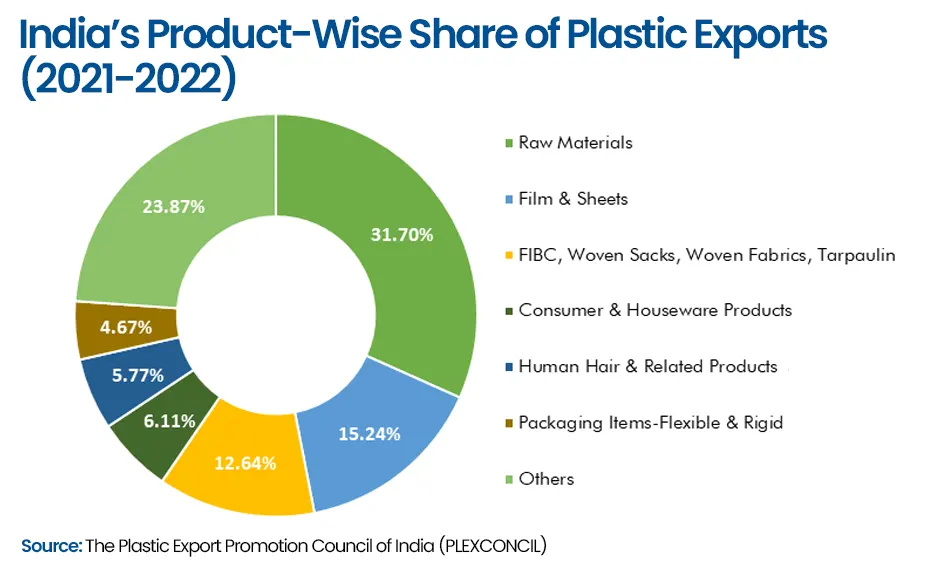 Until the previous decade, the industry was dominated by Reliance Industries Ltd (RIL), Indian Petrochemicals Corporation Ltd. (IPCL), Gas Authority of India Ltd. (GAIL), and Haldia Petrochemicals Ltd. (HPL). Further, the merger of IPCL with RIL in 2007 has brought about a further consolidation, as both of them now hold a 70% share.
Major Domestic Players in Indian Chemical Industry
The biggest local chemical manufacturers in India are Arti Industries Limited, Gujarat Heavy Chemicals Limited, Atul Ltd., Gujarat Chemicals & Alkalis Ltd., Pidilite Industries Ltd., TATA Chemicals Ltd., India Glycols Ltd., Reliance Industries, UPL Ltd., P I Industries Ltd., Coromandel International Ltd., Gujarat State Fertilizers & Chemicals Limited, Zuari Agro Chemicals Limited, National Fertilizers Limited, and Indian Farmers Fertiliser Cooperative (IFFCO), the creator of nano urea.
Major International Players in Indian Chemical Industry
The biggest international chemical companies with a manufacturing presence in India are BASF SE, Huntsman Corporation, LG Chem, DuPont de Nemours Inc., LyondellBasell Industries Holdings B.V., INEOS AG, Linde plc, Sumitomo Chemical Co. Ltd., Evonik Industries AG, Lotte Chemical Corporation, Solvay S.A., and Lanxess AG.