Why 6G Already, When the World Hasn't Even Seen 5G Yet?
Published Date:

April 28, 2023
Half the world hasn't even experienced 5G yet, but in some nations, the buzz around 6G has already started. There are network changes with every generation of communication technology, starting from 2G and continuing through to 5G up till now. And, with the next generation of telecommunications already beginning to be pursued, the pace and scale of these changes, as well as the impact they will have on the human race as a whole, will only increase.
This started from 2G, which enabled us to send voice messages. Then came 3G, but the real transformation started with the arrival of 4G, which led to a massive consumption of data. After that, 5G focused on enabling IoT, to connect industrial systems and automating the manufacturing process.
Further, in the era of 6G, intelligent knowledge systems will be equipped with robust computation abilities, to make humans more efficient and redefine the way of living.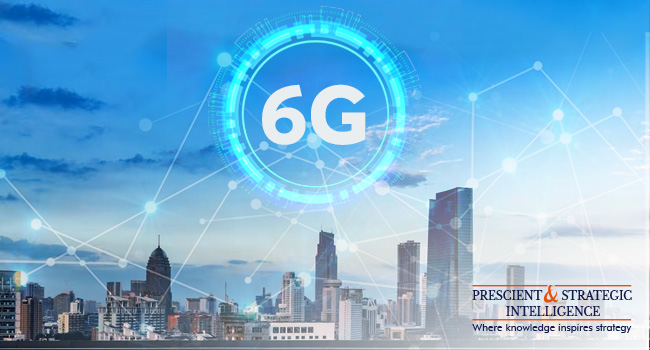 What Will 6G Do?
Every development made by 5G in telecommunication technologies will be improved by 6G. Whether smart cities, factories, or robotics, 6G will take it to the next level, by improving efficiency and enhancing user experiences.
The 5G technology has already made possible the use of AI/ML with digital twins. These digital clones are important as they allow us to examine the happenings of physical objects as well as processes, simulate likely outcomes, anticipate requirements, and then, take productive actions.
With 6G, these technologies can operate at a considerably larger scale. Digital twins will be found in the wide area networks of cities, with a major impact on the network architecture of 6G.
Smartphones will remain a key device in the 6G era, and consuming and controlling information will become much easier with HMIs. Touchscreen typing will be replaced by gesture and voice control, and digital cash and keys would become more normal for people in the contemporary world. Similarly, radio and additional sensing modalities, such as acoustics, will gather information on the environment, feeding it to control centers meant for city planning and environmental conservation.
6G will also encourage sustainability in numerous ways. Data could be analyzed with the use of sophisticated tools, for improving energy efficiency in industries. 6G will itself be much more energy-efficient, turning off the apparatus and scaling down capacity when requirement is low.
Requirements for 6G Network
There will be a requirement for a number of alterations in the way that communication networks are designed. Moreover, the configuration of smartphones will need to evolve, to allow them to run on 6G networks. The one downside to this will be the higher price of smartphones that are integrated with the new technologies.
Further, with the ever-growing number of smartphones, telecom standards will need to be advanced and maintained, for which the current 5G infrastructure will have to become more advanced till the time new infrastructure is deployed.
However, in many countries, 5G is yet to reach the masses, and in this scenario, there remain many doubts on the feasibility of the 6G technology, particularly in developing nations. But, this doesn't change the fact that it will revolutionize how people communicate with each other.
What Will the 6G-Powered Future Look Like?
Spectrum Bands
The RF spectrum the foremost step in establishing connectivity. The migration of the present telecom spectrum to the next generation will, thus, become important. The new spectrum blocks for 6G will be the mid-bands, of 7–20 GHz, for outdoor urban cells, as they enable higher capacity through massive MIMO; 460–694 MHz for excessive coverage, and sub-THz for the highest data rates, of more than 100 Gbps.
6G will advance localization, by benefitting from the wider spectrum and novel spectral ranges up to THz.
Improved Connectivity
The URLLC service, which started with 5G, will be improved for 6G, for supporting extreme connectivity necessities, such as sub-millisecond latency. Network consistency would be improved with the help of real-time transmission, device-to-device connections, and artificial intelligence and machine learning. Improved mobile broadband, along with a lower latency and improved dependability, will advance the experience of instantaneous video communications.
In the 6G era, a car area network or a body area network would have numerous sensors across less than 100 square meters. Making networks that connect cars or robots wireless will cut the need for the bulky wires.
AI/ML
AI /ML methods, particularly deep learning, have progressed significantly in the past, and they are being used across numerous domains.
6G will bring forth the true potential of these technologies, and with the methods in 5G-Advanced, machine learning and artificial intelligence will be presented to several network parts at various layers and for a number of functions.
New Network Architectures
5G has already replaced wired connectivity. However, with the rising strain on this network, advanced architectures are required that can support improved specialization and flexibility.
5G has a architecture based on service at the core and cloud-native deployments, which will be extend to various parts of the RAN. Additionally, heterogenous cloud environments, including a fusion of private, public, and hybrid clouds, will be used to deploy the network.
New solutions for network and service orchestration making the most of the progressions in AI/ML will bring about an unprecedented level of network automation, thus reducing the costs of operations.
Security and Trust
Cyberattacks threaten almost every kind of network and industry. This makes the deployment of a robust security apparatus imperative. 6G networks will also protect against jamming.
A Step toward Industry 5.0
5G started the fourth industrial revolution by enabling the integration of numerous modern technologies. In the same way, 6G would be important for the transition to Industry 5.0!
Communication and control co-design will allow for lower spendings, higher data rates, and an increase in the number of use cases. 6G networks will essentially allow for joint communications, sensing, and localization, addressing the requirements of industries with a single system, thus reducing the cost.
It would be possible to enable battery-less devices in 6G with the use of backscatter communications, which will lead to enormous scaling up of data gathering for analytics and closed-loop control. There will be widespread usage of drones and mobile robots in hospitals, hospitality, warehouses, and package delivery.
Investments in 6G
Since 6G is in its inception phase and not even experimental, investments will be key. In consideration of all the above-mentioned advantages and many more of this futuristic communication technology, governments are coming forward with funding in its design and development. Below mentioned are some of the significant investments made in this technology thus far:
The Government of India has made an investment of INR 2,240 million in a 6G testbed, which has been co-developed by a consortium of IITs, for providing a research and development platform to researchers, startups, industries, and broadband wireless users.
The first phase of the Bharat 6G vision lays emphasis on exploratory ideas, followed by the second phase, which emphasizes supporting concepts and ideas showing promise and making possible the commercialization of implementational IPs and testbeds.
Ericsson will invest USD 11.9 million by the end of this decade in a 6G research program in the U.K. This will involve service providers, academia, and vendors and will lay emphasis on areas such as network resilience, security, AI, energy efficiency, and cognitive networks.
Japan invested USD 450 million in the second additional budget for fiscal 2023 for R&D in the years to come.
The EU will invest USD 889 million in R&D from 2021 to 2027.
Germany will pour EUR 700 million from 2021 to 2025.
Thus, as investments continue to pour in, especially from the global telecom sector behemoth, China, the 6G revolution could be faster than expected. Moreover, since the idea behind the technology is to enable smoother communications and support remote operations, military and space exploration departments might be its biggest initial benefactors as well as beneficiaries.