Living a Life beyond Imagination in the Meta (Uni)verse
Published Date:

October 10, 2022
From traveling to distant destinations to making tons of money by selling digital assets, the metaverse is an amalgamation of physical with virtual reality allowing people to literally live a second life in a virtual universe.
It is an alternative digital reality, a place where people work, socialize, and play. It is like a mirror world, where the Magicverse, live street maps, the AR cloud, and the spatial internet are the driving technologies.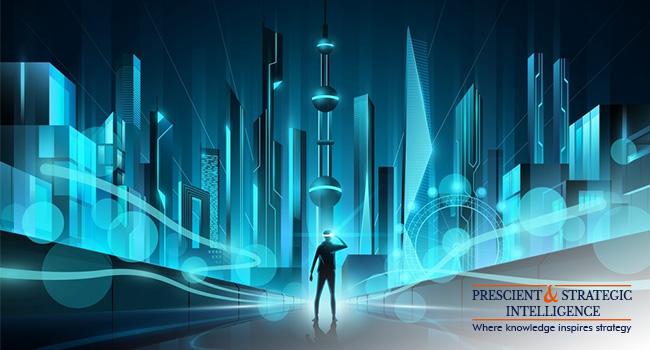 Today, reality can be represented digitally as avatars, in the metaverse. Responding to the rising demand for advanced technologies and their widening utility for the community, the virtual world constantly expands and changes. Metaverse essentially enables a totally virtual engagement of humans with each other (using virtual reality), or partially, in their physical space, via augmented and mixed reality.
The phenomenon of second life or 'beyond the universe' in a pseudo world has been popularized by the introduction of video game players to the notion of "living" or traveling to any part of the world, or even a live space, in augmented reality.
The new gateways to digital experiences in the virtual world include gaming platforms, digital classrooms, virtual retail stores, advertising channels, and certain training tools. The metaverse appears to be whatever individuals imagine it to be. But, even though the term "metaverse" has been in use for many years, it is still challenging to describe. Beyond the hype, the metaverse is genuine, potentially revolutionary, and has the makings of a sizable opportunity; however, many major developments need to be done before this virtual dream is fully realized.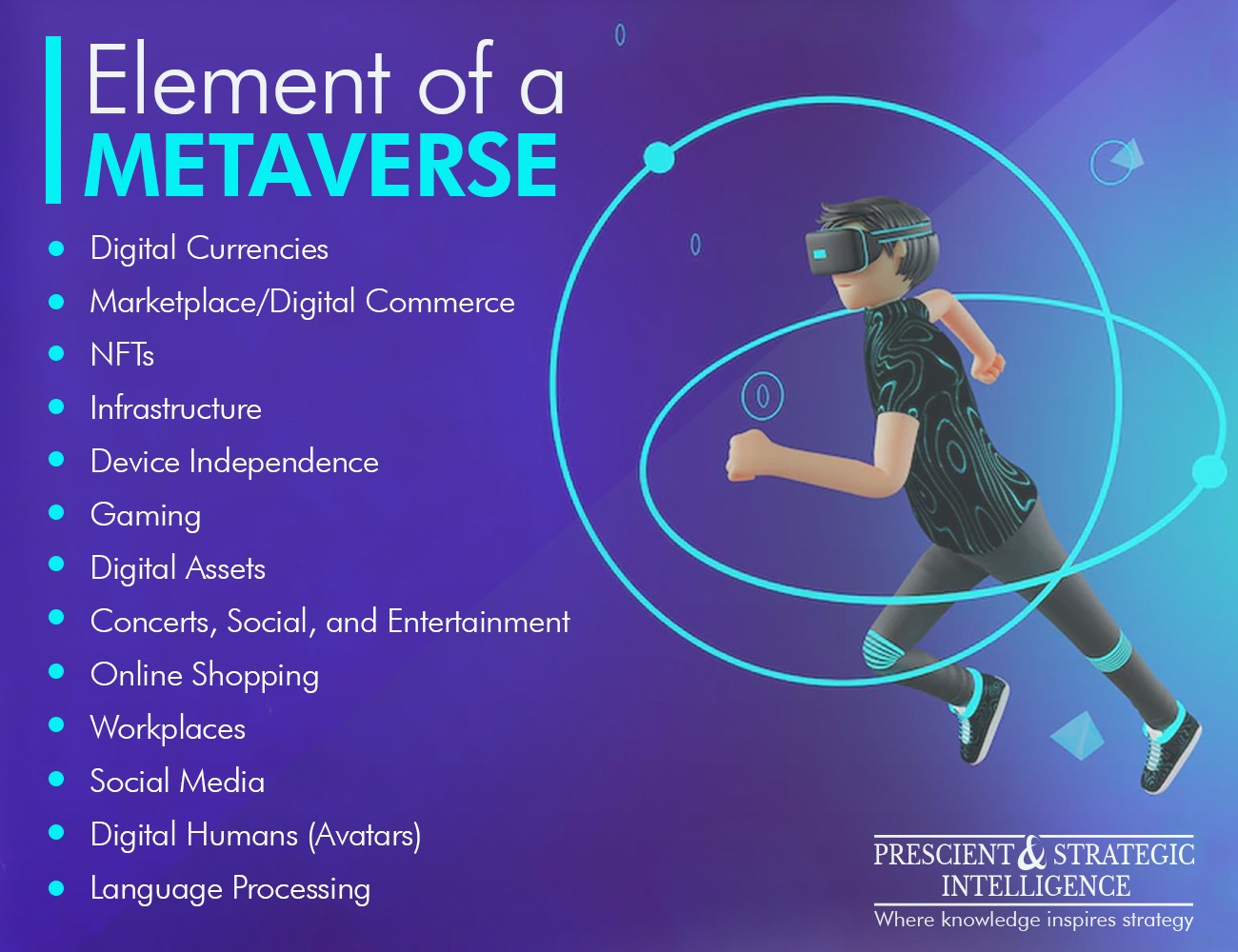 Metaverse in Sudden Spotlight
There are parallels between advancements in metaverse and the switch to Web 2.0 that occurred in 2004, which was the result of the integration of social networking platforms and user-generated content. People at the time were preoccupied with creating idealized content and the democratization of the internet.
Moreover, even though the potential of the technology is really promising, the computer power is not yet sufficient to create the metaverse of people's dreams a 'virtual' reality. To help get it there, though, billions of dollars are pouring into every aspect of the metaverse's infrastructure, encompassing everything from digital platforms and virtual worlds to back-end technological enablers, such as engines, blockchain, and hardware.
There is a lot of optimism about the metaverse as a space for developers, providers, and consumers. The consideration of inclusion and access to the metaverse economy as something that benefits many people makes space for opportunities such as learning, growth, and education to become more accessible to everyone.
Building Blocks that Make Up Metaverse
The four fundamental building components of the metaverse are content & experiences, platforms, infrastructure & hardware, and enablers. Additionally, the 10 "layers" of this technological stack, which include back-end tech enablers, such as engines, blockchain, and hardware devices, as well as the digital platforms and virtual worlds, are important because they represent the physical and operational foundations for all metaverse experiences.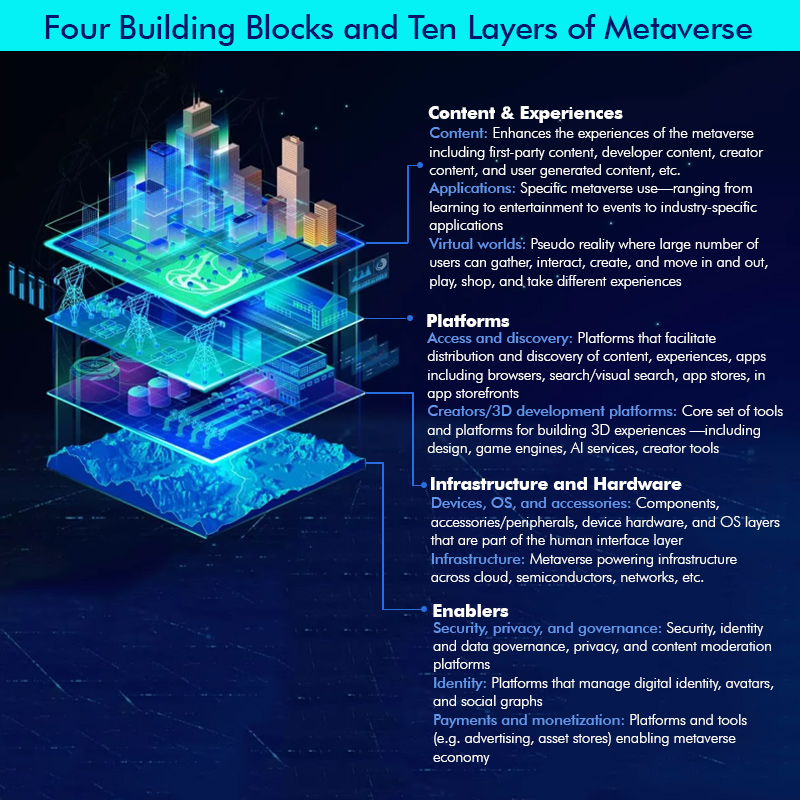 The metaverse runs on relatively new, high, and fast technology. The bottom line is that developments in computing infrastructure, networking infrastructure, and hardware will be necessary:
Computer Technology: Without ingenious solutions, such as even traffic distribution on the application, to prevent overloaded processing, concurrency limits currently cap the number of players in gaming worlds.
In a fully optimized metaverse, many more users will be able to be online at once. Furthermore, poor rendering prevents devices without graphics processors (such as smartphones) from displaying the photorealistic environments necessary for enhancing immersion.
Networking Architecture: There are now two widespread problems with the networking infrastructure. When using apps that need high frames per second, such as gaming and metaverse socializing, high-latency "lagging" gives the impression that the visual and/or audio is moving slowly. Additionally, low-bandwidth "buffering" happens when information cannot be sent rapidly enough, thus delaying access to material or halting it in mid-stream. Thus, the internet networking infrastructure should be strong enough to maintain the required networking speed for the metaverse.
Metaverse Gathering Big Investments
The interest in metaverse has exploded in a short span of time. The metaverse online gaming service Roblox is said to have reached over 55 million daily active users in February 2022. Moreover, since its introduction in 2006, Roblox has attracted businesses including Nike and Gucci as partners and advertisers. Further, more than $20 billion has been invested by Meta in its Reality Labs subsidiary, which creates VR goggles and other enabling devices for the metaverse, in the last three years.
Moreover, Activision Blizzard's pending $69-billion acquisition by Microsoft is aimed at providing the building blocks for the metaverse. Furthermore, Fortnite, a VR video game that has more than 20 million daily active users, generated more than $14 billion in transactions between 2018 and 2020. Moreover, a concert hosted by Travis Scott on Fortnite in April 2020 was attended by more than 27 million unique users.
Similarly, Naver Z's Zepeto is Asia's largest metaverse platform with over 300 million global subscribers. Samsung collaborated with it for its Galaxy S22 Treasure Hunt campaign in April 2022.
Investors Attracted by Ongoing Technological Advances
The metaverse's supporting infrastructure has swiftly advanced and created new opportunities; although, there are still many technological issues that seem difficult to solve at present. For instance, deploying such applications on mobile devices will only be possible after 5G is fully deployed and other, faster communication technologies, such as 6G, emerge.
Several further developments will be needed to speed up the realization of the metaverse dream, such as edge computing for processing metaverse, 5G for uninterrupted data transmission, devices that merge the physical and virtual, and of course, software development.
What Leaders Think about Metaverse
"We have Instagram. We have email. We have messaging. And then there's our real-life friends; the real-life activity that we're participating in. Sometimes there's an intersection between those two. But when I think about a real-world vision of the metaverse, it's really a union of those where they become much more deeply fused; where there's a digital extension to everything that's real." – CEO of Niantic
"We're trying to not define the metaverse so rigidly that it limits the imagination of creators" – CEO of Square Enix
"Web3, by definition, succeeds Web 2.0. The metaverse, by definition, succeeds our current computing and networking paradigm. The fact that they both succeed what we experience as the internet today naturally intertwines the two." – Industry Leader
"Web3, by definition, succeeds Web 2.0. The metaverse, by definition, succeeds our current computing and networking paradigm. The fact that they both succeed what we experience as the internet today naturally intertwines the two." – Industry Leader
"Gaming is already incredibly social and you have continuous innovation of social features. But as you're trying to draw in people who don't self-identify as gamers, a more extensive set of social-engagement mechanisms is going to be required to convince them to spend more time in the metaverse." – Chief Strategy Officer at Activision Blizzard
"Use cases beyond gaming are not just in the future, they're already emerging." – Founder and CEO of XR Safety Initiative
"We believe that with the metaverse we can create higher-quality government services. Current government services are demand driven. However, we believe that in the future we can provide services in advance of demand—we can provide a new form of government services and, in that sense, it will be very helpful to citizens. We also believe this metaverse platform will help citizens see Seoul city in a different perspective." – CIO of Seoul's Smart City Police Bureau
"It's going to be important to create a truly creator focused economy in the open metaverse, where creators can realize the value of their creations and not just be at the mercy of a gatekeeper that takes all the profit off the top because they are at the gate and they can do it." – VP of Epic Games' Unreal Engine Ecosystem
"It's a virtual immersion into the next generation of the internet. The metaverse will be iterative, not any one size or shape. And the capabilities we have within it will all be unlocked by both open standards and the devices that we wear or that we use to interact in these worlds." – Global Innovation Evangelist at Salesforce
Future of Metaverse
The nature of reality is changing dramatically. Our world is currently on the cusp of a significant technological revolution, which will push the boundaries of time and space for the "real world" we live in.
Extended reality (XR) is a new frontier of convergent technologies forming the future of metaverse. In this interconnected, immersive 3D reality, virtual reality, augmented reality, AI, blockchain, and cryptocurrencies will revolutionize how we live, work, and interact with one another.
The fast-emerging metaverse is giving rise to projections for a variety of previously inconceivable possibilities, with the promise of XR. We might spend more time in the metaverse than in the real world by the year 2030. People will use the virtual resources of the metaverse to apply for jobs, make a living, meet with friends, shop, and even get married!
In addition to boardroom and workplace meetings, higher education and job training may be offered more frequently in virtual 3D environments in the next 10 years. Businesses and governments will depend on the strength and scope of the metaverse to exchange knowledge, offer services, and work together in ways that have never been possible.
Further, brain–computer interfaces (BCIs), which allow for the tracking, recording, and sharing of human thought and emotion, are predicted to become common by the year 2030. We might actually be able to experience memories and events from other people's lives, because of the XR technology. Meanwhile, it is conceivable that artificial data derived from simulated environments will direct robots in problem solving, thus enabling the replacement of humans in hazardous jobs.