Regenerative AI: Transforming Industries and Shaping the Future
Published Date:

July 05, 2023
Evolution happens to anything and everything in this world. The biggest example of it is us, having evolved from the apes of Africa to the form we see ourselves in today.
But, if you are thinking that's it, and no more evolution after that, then you are surely caught on the wrong foot. With the rate at which times and things are changing, the future race of humans might have a completely different name!
Human evolution has both been a result of and reflected in the progression of the technologies we use to make our lives better. One of the most-relevant evolutions for the humans of today is perhaps that in the computer technology, which has now morphed into artificial intelligence, or AI.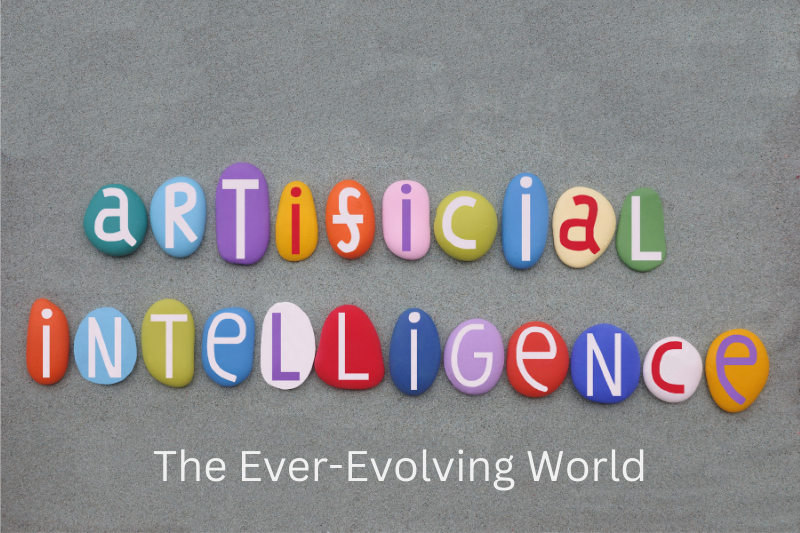 But, the progress hasn't stopped here, as even AI has begun to be evolved. Its latest incarnation is known as generative AI, or regenerative AI. So, what exactly is this technology, which is turning heads around the world, with some people singing its praises and others sounding alarms?
History of Regenerative AI
Regenerative AI is built on deep learning, which emerged way back in the 1950s. Further deep learning innovations began in the 80s and 90s with the creation of artificial neural networks and backpropagation algorithms.
By 2010s, the data available and computational competencies improved to such an extent that the concept of deep learning became truly practical.
In 2012, Geoffrey Hinton brought about a major development in speech recognition, with the use of convolutional neural networks. Then, in 2014, he made a major advancement in image classification techniques, which opened the gates for potentially disruptive innovations in artificial intelligence.
Moreover, in 2014, Ian Goodfellow released a paper on Generative Adversarial Networks (GAN), an experiment that placed two networks against each other in a zero-sum game for creating novel images similar in appearance to the ones the model was trained on, but not the same. This led to incremental expansions in the GAN architecture, which produced better results in image synthesis. These methods were also applied to applications such as music composition.
New architectures were developed in the form of convolutional and recurrent neural networks (text generation, video), long and short-short-term computer memory, variational autoencoders, diffusion models, and various flow model architectures.
Additional developments in generative AI produced NeRF, which can construct 3D assets out of 2D images; and reinforcement learning, which makes use of simulations for training an agent with the help of a reward-based trial-and-error method.
Various other substantial achievements in this field have been made in recent years, such as the generation of viable videos, photorealistic images, believable audio synthesis, and human-like text created by large language models (LLMs), such as OpenAI's GPT-1.
In the second half of 2022, numerous diffusion-based image services, OpenAI's ChatGPT, and various text-to-video based platforms came into the mainstream.
Despite a number of advancements in the field of regenerative AI, it is still in the stage of infancy. It is still a pretty new thing for industries and people, but with the speed at which the technological revolution is going on, it is on its way to being incorporated into the production process of a variety of industries, impacting them in ways that could be 'disruptive', to say the least.
It has already penetrated the field of content, boosting the productivity of not only individual content creators but entire organizations. As a downside, jobs will be heavily impacted by regenerative AI coming into the mainstream. With AI doing an increasing number of tasks, hirings will be fewer, and lay-offs will increase. We will talk about the impact of AI on jobs in detail going forward, but for now, let's focus on its advantages.
How Regenerative AI Will Revolutionize Industries?
Once, the working of industries was revolutionized with the advent of the industrial revolution, and now, there will be an AI revolution, which will transform how technologies collaborate even more extensively with humans, augmenting productivity, cost-effectiveness, and overall operational efficiency.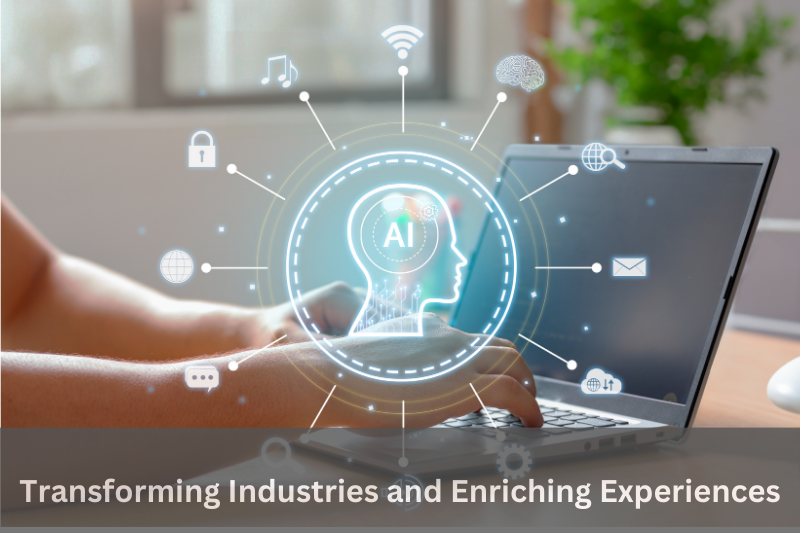 Content Creation
In the content creation field, regenerative AI models are used for creating original content in fields such as music, text, art, and video.
For instance, music and art created with AI can convey expressions in rather captivating forms, while the text generated with AI can be used for articles, product descriptions, news, and website content for marketing.
Customer Service
It has been a long time since basic chatbots started making their presence felt, but regenerative AI models have the potential to provide more-robust virtual customer service agents and offer assistance to customers with complex inquiries.
With the use of AI for the generation of responses to the queries of customers, the quality and competence of customer service operations can both be improved by companies.
Healthcare
Large volumes of data are produced in the healthcare in modern times, which includes imaging data and electronic medical records. With regenerative AI, these datasets can be leveraged for developing new diagnostic tools, predicting the outcomes of diseases, discovering drugs, and advancing allover patient care.
BFSI
In the BFSI industry, regenerative AI can be used for predictions about the prices of stocks, exchange rates, and additional monetary metrics. This information can come in handy for making decisions related to investments and, possibly, taking financial planning to the next level.
Translation
Regenerative AI can vastly advance the efficiency and accuracy of language translation services. By using this technology for translations, companies can better the quality of their services and products and, subsequently, reach new customers in untapped geographies.
Gaming
Innovative gaming experiences can be formulated with the use of generative AI models. AI-generated environments, characters, and storylines are already being employed for the creation of unique and engaging game experiences, which will also enhance themselves with the help of the feedback received from users. Regenerative-AI-based games could be the cornerstone of the metaverse, where renditions of reality altered in unique ways are imperative.
Search
The application of regenerative AI to internet search can considerably improve the experience of looking for anything online, making it more effective, tailored, and conversational.
This technology can understand natural language queries and deliver applicable search results with the use of NLP, letting users ask questions in a conversational manner and answering them instantly.
Is AI a Threat to Human Jobs?
There is no doubt that this technology will be hugely beneficial for industries once it settles well into the mainstream, but this also has a flipside to it.
It can surely pose a big threat to human jobs, as all the things will be done by this intelligent technology itself, with little to no human intervention. And, with the work that was earlier done by humans being taken over by the technology, there is an ominous possibility of businesses thinking about cost-cutting.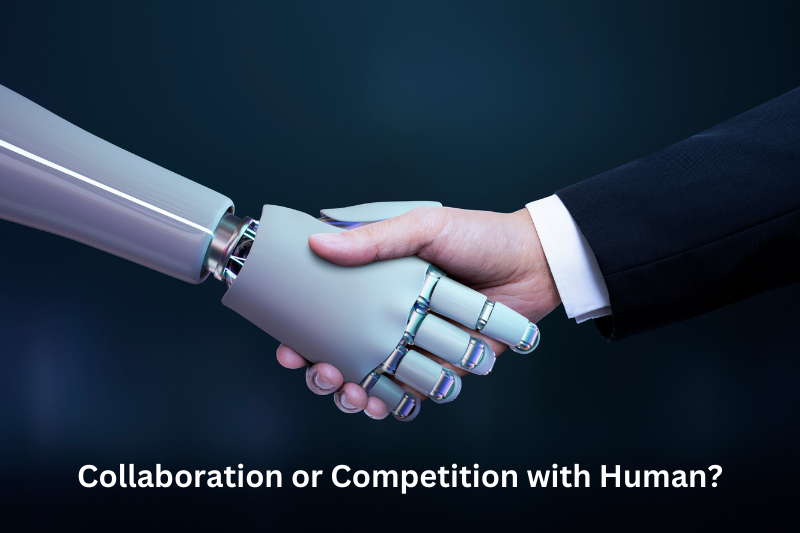 As per the CEO of tech giant IBM, around 30% jobs could be replaced by AI automation during the next five years. As per this statement, of the total 26,000 employees at IBM, 7,800 could be replaced by AI.
Moreover, according to a report by Goldman Sachs, regenerative AI can replace approximately 300 million full-time jobs, by being able to curate human-like content.
Similarly, Arundhati Bhattacharya, the CEO of Salesforce India and the former chairperson of SBI, has called regenerative AI a blessing in disguise, as it can do away with a lot of repetitive work, allowing people to engage in more-creative jobs.
"What generative AI actually will help us do is actually curate things so that they can be made more relevant to us. If you ask them questions in the right manner is where AI can actually help.", Bhattacharya told IANS in a recent interview.
Apart from this, the CEO of tech company ZOHO is of the opinion that AI poses a serious threat to various jobs related to programming.
Additionally, as per the findings of researchers from the University of Pennsylvania and Open AI, approximately 80% of the U.S.'s workforce will have a minimum of 10% of its tasks impacted with the introduction of large language models, with a total of 19% of the employees observing a 50% impact on their work.
This sentiment is echoed by many researchers who are of the opinion that AI will automate various jobs in a span of a decade or so, which will result in a widespread job loss in a number of industries, including white-collar jobs.
But, it is a rule of nature and mentioned in the Gita that every problem in this world comes with a solution. This holds true with respect to regenerative AI and the problem of it being a potential threat to human jobs as well.
How Can Threat of AI to Human Jobs Be Mitigated?
Here are some things that can be done for mitigating the problems posed by regenerative AI to human jobs.
Education
Educating people about AI is perhaps the foremost step in mitigating its threat to people's livelihoods. People should be aware of the workings of AI, its limitations, and its effects on their jobs. This education should be imparted at the school level itself and continue further, with the evolution of AI.
Upskilling and Reskilling
Upskilling and reskilling programs can come in handy for delivering new skillsets to employees that are required in this highly competitive world of AI. The knowledge acquired from these programs might allow them to familiarize themselves with the constantly changing environment.
Collaboration
Collaboration between machines and humans can come good for mitigating the ill effects of AI on the jobs of humans. This partnership could generate more-efficient work processes permitting both the technology and humans to make the most of each other's strengths. Collaborating with machines improves efficiency, while sustaining precision and reducing errors.
Regulation
Regulation is essential for protecting against any misuse of AI systems that could have a negative impact on employment opportunities. Governments need to lay down guidelines related to the use of AI and the extent to which it can be evolved and empowered.
What Are the Various Regenerative AI Interfaces?
Dall-E
Trained on a large data set of images and their related descriptions, Dall-E is a multimodal AI application that recognizes connections across multiple media, for example, text, vision, and audio. It connects the meaning of words to pictorial elements. Its next version, Dall-E 2, which came out in 2022, allows users to create imagery in numerous styles, with the help of prompts.
ChatGPT
Built on OpenAI's GPT-3.5 application, ChatGPT is perhaps the most-popular AI chatbot. OpenAI has offered a medium of interacting and fine-tuning text responses through a chat interface, by communicating feedback.
The latest version, GPT-4, was released in March 2023. This interface includes the history of its conversation in its results while having a new conversation with the user. After the astounding acceptance rate of the new interface, Microsoft publicized an investment of USD 10 billion into OpenAI and integrated a version of GPT into one of its search engines, Bing.
Bard
Google Bard is based on a lightweight version of its LaMDA family of LLMs. After suffering setbacks with the initial versions of Bard, Google has launched a new version with its most-innovative LLM, PaLM 2, allowing it to be more effective and pictorial in response to the queries of users.
How Countries Are Planning to Regulate Regenerative AI
As it was briefly discussed earlier, it is very important to restrain a revolutionary thing like regenerative AI with some stringent laws governing its usage and the level of power it can be given.
EU
The EU is the frontrunner when it comes to regulations pertaining to the use of regenerative AI.
In the AI Act, the EU states that AI-generated content should be revealed to consumers, for preventing illegal content, copyright infringement, and other malfeasance associated with the lack of end users' understanding of these systems.
The BEUC raised concerns about ChatGPT and its other counterparts, calling for consumer protection agencies to inspect the technology and its harm to people.
12 lawmakers of the EU have advised world leaders to organize a summit to find ways of controlling the development of AI systems, stating they were emerging faster than expected.
The European Data Protection Board stated that it will set up a task force on ChatGPT, which was hailed as an important step toward a common policy on setting rules regarding privacy on AI.
U.K.
Britain recently said that it plans to divide the responsibility for controlling AI between its human rights and health and safety regulators and not create a new body for the same.
U.S.
The federal government stated in April 2023 that it was looking for public comments on possible responsibility measures for AI systems.
Joe Biden had earlier told the advisers of science and technology that AI can come good for addressing climate change and disease, but it was essential to address the risks to society, economy, and national security.
Coming to a Conclusion
To conclude, whether you like it or not, regenerative AI is here, and it is here to stay. Just like COVID-19, we are just going to have to adapt and learn to live with it.
Moreover, what we are seeing is only the beginning, and there is a lot to come with respect to regenerative/generative AI. It is just like with people around us. Some we like for their qualities, others we dislike, and others we just try to bear with.
So, we might as well accept that regenerative AI will only become more powerful, and we are just going to have to find a way to use its capabilities for the benefit of mankind.