Market Overview
Lithium-ion battery market generated $46,142.1 million revenue worldwide in 2021. By 2030, this market size is forecast to reach $165,847.8 million, with a high CAGR of 15.3%. This will primarily be due to the increasing demand for renewable energy and high adoption of lithium-ion batteries in consumer electronics.
The global focus is turning to sustainable energy owing to the growing worry about the environmental consequences of burning fossil fuels and rising global electricity consumption. According to the World Bank, in 10 years since 2010, electrical power consumption increased from 2,958.3 kilowatt-hours (kWh) to 3,128.2 kWh per capita.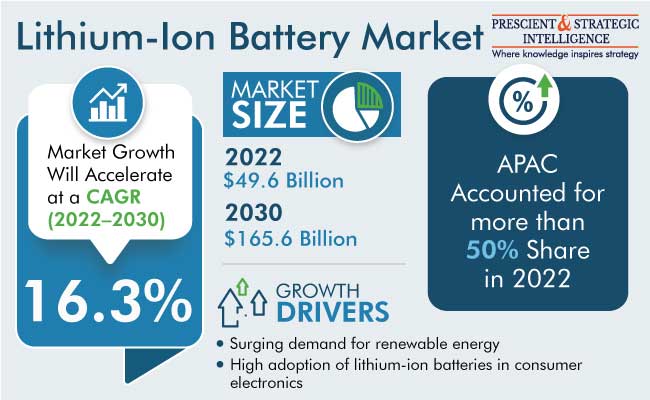 Furthermore, the favorable government regulations, trends of li-ion battery recycling, growing investor interest in the industry, and developments in environment-friendly technologies are increasing the global production of sustainable solutions. Lithium-ion batteries have solved the intermittency issues associated with renewable energy because they have a high specific power/energy density. They can be used to store the extra energy generated by solar and wind plants during periods of low demand and sell it to the grid when the energy requirement surges.
Moreover, as per the United Nations (UN), transportation systems significantly impact the environment, accounting for around 25% of the global greenhouse gas emissions. Therefore, governments are promoting the use of electric vehicles (EVs) with the aim of achieving sustainable and eco-friendly living. In addition, as a result of the fluctuating oil prices, the demand for EVs has increased dramatically in recent years, thus favorably impacting the lithium-ion battery business. For instance, according to the U.S. Energy Information Administration, the price of diesel has increased from $2.56 per gallon in 2020 to $3.54 per gallon in 2022.
The COVID-19 pandemic had a moderate impact on the lithium-ion battery market demand. Due to the COVID-19 pandemic, there was a limited supply of batteries and other components due to the severe disruptions in the supply chain. The majority of the battery components are made in APAC. Here, China is the major supplier of raw materials for Li-ion batteries, which is why being the epicenter of the pandemic hampered its raw material and component supply chains. The shutdown of operations in China and other regional countries has had a significant impact on battery makers in the U.S., Germany, and Australia. The limited output has also resulted in a significant drop in company inputs.
In 2021, the sales of li-ion batteries grew at higher rate than in 2020 due to the government regulations for emission reduction as well as the shift of consumers toward sustainable and economical solutions. The global economy is recovering, as is the supply chain, which will result in the growth of the market in the coming years.
Li-Ion Battery Market Report Coverage
| Report Attribute | Details |
| --- | --- |
| Historical Years | 2017–2021 |
| Forecast Years | 2022–2030 |
| Market Size in 2021 | $46,142.1 Million (Estimated) |
| Revenue Forecast in 2030 | $165,847.8 Million |
| Growth Rate | 15.3% CAGR |
| Report Scope | Market Trends, Drivers, and Restraints; Revenue Estimation and Forecast; Segmentation Analysis; Country Breakdown; Impact of COVID-19; Companies' Strategic Developments; Market Share Analysis of Key Players; Company Profiling |
| Segments Covered | By Type; By Capacity; By Application; By Region |
| Countries Covered | U.S.; Canada; Germany; France; Netherlands; Norway; Sweden; U.K.; Japan; China; India; South Korea; Brazil; Mexico; South Africa, Saudi Arabia |
Lithium–Nickel–Manganese–Cobalt (Li-NMC) Battery Type Witnesses Highest Sales
Li-NMC variants accounted for the largest share, of 31.4%, in 2021 in the lithium-ion battery market revenue. This is because Li-NMC batteries are widely used in EVs and consumer electronics owing to their extended life, good high-temperature stability, and great storage capacity. Furthermore, battery designers and researchers are currently focusing on minimizing the cobalt content in the NMC cathode, which will lower the cost of the battery and strengthen the market for it in the next few years. Additionally, these energy storage devices have high specific energy, due to which most companies offer these batteries for the electric vehicle market.
Global Opportunities
As the automotive, renewable energy, and consumer electronics industries grow, lithium-ion battery component companies are investing significantly in research, for lowering the prices of such devices. The existing production capacity may have to increase significantly, which brings opportunities for those who want to invest in manufacturing platforms to gain scale in certain geographies. The falling component prices, manufacturing on the mass scale, and adoption of advanced technologies to increase the battery capacity and lower the price would catalyze the adoption of these systems across a wide range of new applications. A rise in lithium-ion battery production over the previous decade has resulted in an 85% drop in their costs, thus making EVs and energy storage products commercially viable, resulting an increase in Lithium-Ion battery market size.
Batteries with 10,001–60,000mAh Capacity Witness Highest Demand across Industries
The sale of batteries with a capacity of 10,001–60,000 milliampere-hours (mAh) is estimated to have accounted for revenue of $21,031.3 million and the largest share, of 45.6%, in 2021. Batteries with a capacity of more than 10,000 mAh are used for EV, material handling, marine, robotics, industrial, standby power, smart grid, aviation, solar power, energy storage, and military applications.
Automotive Applications Continue To Generate Highest Demand for Li-Ion Batteries
The automotive category held the largest share, of an estimated 31.1%, in 2021, and it is projected to grow with a CAGR of 15.7% till 2030. This will primarily be due to the rising focus of major developing and developed countries on reducing carbon emissions and shifting from conventional vehicles to EVs. The sales of electric cars reached 2.1 million across the world in 2019, a record year in terms of sales, and their stock stood at 7.2 million in the same year. Moreover, the sales of electric cars accounted for 2.6% of the total car sales globally and their stock was around 1% of the total car stock in 2019, which registered around 40% year-on-year growth.
The European Union projects that the current policies and measures can deliver a 30% emission reduction by 2030, while the reported additional policies and measures countries intend to launch in the coming years can deliver a 36% reduction by 2030. Moreover, government subsidies and the increasing purchasing power of consumers in metropolitan cities will continue to push up EV sales in developing as well as developed countries.
Driven by Large Consumer Base, APAC Generates Highest Revenue from Li-Ion Battery Sales
APAC lithium-ion battery market generated estimated revenue of $24,586.2 million and accounted for the largest share, of 53.3%, in 2021. The demand for consumer electronics is skyrocketing in the region, which, in turn, is supporting the market growth. The rapid technical breakthroughs and rising demand for smart devices are also contributing to the adoption of these batteries.
Furthermore, the falling electric car prices, as a result of the favorable government regulations and subsidies, are driving the demand for them in the region, thus increasing the usage of lithium-ion batteries in China, India, South Korea, and Japan. These countries are offering incentives and subsidies to the manufacturers as well as buyers of EVs, to encourage their sales.
In addition, an expanding middle-class population, changing lifestyles, and quick shift toward smart electronic gadgets are driving the demand for consumer electronics, in which Li-ion batteries have become preferred in recent years. Additionally, regional countries are focusing on economic diversification, for which they are investing heavily in the ICT sector, which, in turn, will boost the demand for consumer electronic devices in the coming years. Lithium-ion batteries are widely used to provide power to these products; therefore, the surging demand for consumer electronics will drive the need for lithium-ion batteries.
Market Players Launching New Products to Gain Competitive Edge
The Li-ion battery market is consolidated in nature, with the presence of established players. In recent years, many of them have launched a number of new and advanced products and engaged in geographical expansions in order to stay ahead of their competitors. For instance:
In December 2021, Eaton Power Quality (Shanghai) Co. Ltd. (Eaton) and Contemporary Amperex Technology Co. Limited (CATL) teamed up to accelerate carbon neutrality, energy transformation, and long-term development. According to the agreement, the two companies will cooperate on product R&D, marketing, business models, and service response mechanism.
In October 2021, Contemporary Amperex Technology Co. Limited (CATL) expanded its lithium-ion battery manufacturing facility in Yichun, in East China's Jiangxi province. The company has invested around $2.1 billion in the first phase of the project to build a 50-Gigawatt-hour (GWh) lithium-ion battery production base, to develop a sustainable battery hub in Asia.
In February 2020, Toyota Motor Corporation and Panasonic Corporation formed a joint venture to develop, manufacture, and sell automotive prismatic lithium-ion batteries with a high capacity and output.
Some Major Players in Lithium-Ion Battery Market Are:
BYD Company Limited
LG Chem Ltd.
Panasonic Corporation
Samsung SDI Co. Ltd.
Shenzhen BAK Battery Co. Ltd.
GS Yuasa Corporation
Showa Denko K.K. Company Ltd.
Toshiba Corporation
Amperex Technology Limited
Tesla Inc.
Market Size Breakdown by Segments
The lithium-ion battery market report offers comprehensive market segmentation analysis along with market estimation for the period 2017–2030.
Based on Type
Lithium Nickel Manganese Cobalt (Li-NMC)
Lithium Iron Phosphate (LFP)
Lithium Cobalt Oxide (LCO)
Lithium Manganese Oxide (LMO)
Lithium Nickel Cobalt Aluminum Oxide (NCA)
Based on Capacity
0–3,000 mAh
3,001–10,000 mAh
10,001–60,000 mAh
More than 60,000 mAh
Based on Application
Consumer Electronics

Smartphones
Uninterruptible power supply (UPS) systems
Laptops
Others (games, gardening tools, and drilling)

Automotive

Battery electric vehicle (BEV)
Plug-in hybrid electric vehicle (PHEV)
Hybrid electric vehicle (HEV)

Aerospace and Defense
Medical
Telecom
Industrial
Geographical Analysis
North America
Europe

U.K.
Germany
France
Sweden
Norway
Netherlands

Asia-Pacific

China
India
Japan
South Korea

Latin America
Middle East and Africa

South Africa
Saudi Arabia