Market Overview
The global inhalation anesthetics market revenue stood at $1,356.0 million in 2021, and it is expected to reach $2,144.6 million by 2030, advancing at a CAGR of 5.2% during 2021–2030. This is ascribed to the surging usage of inhalation anesthetic drugs, due to the growing geriatric population prone to chronic diseases, increasing trauma cases, and rising accessibility to health services and surgeries.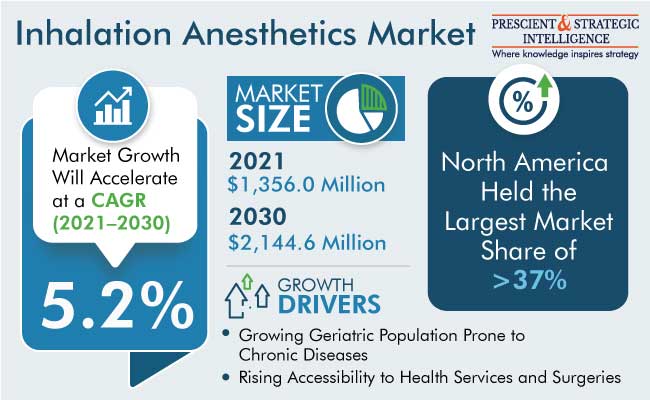 Increase in Demand for Inhalation Anesthetic Drugs in Laparoscopic Surgeries Performed in Hospitals
It has been seen that the demand for inhalation anesthetic drugs in hospitals holds the largest share in the market, based on the end user segment, and the hospitals category is expected to grow at a CAGR of 5.6% during the forecast period. In the inhalation anesthetics market, the trend is to optimize the hospital stay duration. The drugs help surgeons to avoid additional hospital stays of patients because of the comparative minimum MAC number of these drugs. Moreover, laparoscopic surgeries are associated with lower hospital costs than open surgeries. Thus, the patients who undergo minimally invasive surgery procedures benefit from shorter hospital stays and decreased readmission rates.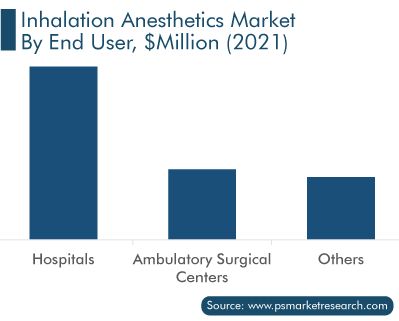 Sevoflurane Accounts for the Largest Market Share
Sevoflurane used for anesthesia held about 75.0% of inhalation anesthetics market revenue in 2021, and the category is expected to grow rapidly with a compounded annual growth rate of 5.1% in the coming years. This is because sevoflurane is one of the most extensively used drugs for anesthesia, due to its therapeutic features. Also, it is an ether inhalation anesthetic agent with non-irritant odor, low pungency, and low-blood gas partition coefficient.
Furthermore, the demand for isoflurane drugs is growing at the highest pace during the forecast period. Isoflurane drugs are comparatively two-to-three times cheaper than sevoflurane. Due to cost-conscious patients, isoflurane is the preferred option for inhalation general anesthesia among anesthesiologists in developing countries such as South Africa, Brazil, India, and Indonesia. Also, this drug is very helpful in anesthetic care of disabled, elderly, or peculiar veterinary patients, due to its quicker induction and recovery, and relative minimal side effects on cardiovascular function, cerebral blood flow autoregulation, and metabolism of the patients.
In addition, desflurane is considered to be the most used inhalation anesthetics during daycare surgery, as this drug helps in faster recovery of patients post-surgery. Apart from this, it has been witnessed that desflurane is considered to be the most useful in the treatment of children. However, the drug is not approved for the application of maintenance of anesthesia in non-intubated kids, owing to the high incidence of respiratory adverse reactions, such as laryngospasm, coughing, and secretions.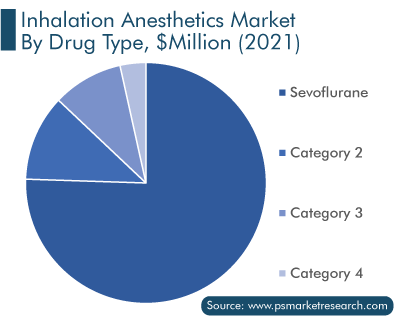 Inhalation Anesthetic Drugs Demand Is Highest in North America
Geographically, North America accounted for the largest revenue share in the inhalation anesthetics market in 2021. This is mainly attributed to the advancements in anesthesia and surgical techniques, along with the availability of novel drugs in the region. The key stakeholders of the industry such as doctors adopting and promoting the consumption of these drugs, and manufacturers and investors are investing in the production and research & development of the drugs. Moreover, the cases of chronic diseases, including cardiovascular problems and other malignancies, have been accelerating rapidly in the region, which increases the number of surgeries.
Europe holds the second-largest position in terms of market revenue. In the region, the French anesthetic drug market is expected to witness significant growth, owing to the increasing surgical operations. A large number of patients choose comprehensive care and procedures because the French healthcare system reimburses about 85–90% of the total cost incurred by the patients during surgeries. As a result, it is projected that the use of inhaled anesthetic medicines is high in the country.
On the other hand, the APAC market is expected to witness the fastest growth during the forecast period. The growing population, increasing investments in healthcare infrastructure, rising adoption of new technologies in surgeries, and surging healthcare expenditure per capita are the key factors responsible for gaining the footprint of anesthetic drugs in the region. Moreover, the demand for these drugs has increased as a result of government-favored reimbursement systems and their acceptance in both public and private healthcare institutions.
Inhalation Anesthetics Market Report Coverage

| | |
| --- | --- |
| Report Attribute | Details |
| Historical Years | 2017-2021 |
| Forecast Years | 2022-2030 |
| Market Size in 2021 | $1356.0 Million |
| Revenue Forecast in 2030 | $2144.6 Million |
| Growth Rate | 5.2% CAGR |
| Report Scope | Market Trends, Drivers, and Restraints; Revenue Estimation and Forecast; Segmentation Analysis; Impact of COVID-19; Companies' Strategic Developments; Market Share Analysis of Key Players; Company Profiling |
| Segments Covered | By Drug Type; By Application; By End User; By Region |
Explore more about this report - Request free sample pages
Market Outlook
It has been seen that there is intense competition among manufacturers of anesthetic drugs. Most of the manufacturers have released generic versions of drugs, and they are fiercely bidding against one another on price. In terms of new product innovation and product differentiation, there is little competition.
For general anesthesia, inhaled anesthetics are commonly used. Without general anesthesia, life-saving medical procedures like brain surgery, open heart surgery, or organ transplantation would not have been possible, hence the consumption of inhaled anesthetic drugs will increase in the coming years.
Furthermore, the market growth rate is expected to surge in the future, owing to the least blood gas solubility of desflurane. The drug is widely used for maintenance of general anesthesia in ambulatory surgeries in people of age above 18 years, as it provides faster recovery. Moreover, inhalational induction is one of the most preferred induction techniques in children across the world.
The COVID-19 pandemic negatively impacted the market in the first two quarters of 2020. This was due to the cancellation of non-essential surgeries across the globe. For instance, the Centers for Medicare and Medicaid Services had suggested hospitals to reduce, delay, or cancel elective surgeries in 2020, which resulted in about a 50% drop in surgical procedures in the U.S. However, the total count of elective procedures has increased in the post-COVID-19 period, which has boosted the demand for inhaled anesthetic products.
Key Strategic Developments of Market Players
In recent years, major players have been actively involved in launching new products or innovating their existing ones, product approvals, and geographical expansions, along with other developmental activities to enhance their capabilities and offerings. For instance, Sedana Medical AB announced the launch of Sedaconda (isoflurane) in Germany. Since the approval from the European DCP in July 2021, the product has received national approvals in 14 nations. Furthermore, several applications for marketing approval have been submitted, and the company assumes to get national approvals in Switzerland, Poland, Italy, and the U.K. in 2022.
Key Players in Global Inhalation Anesthetics Market Are:
Abbvie Inc.
Baxter International Inc.
Piramal Enterprises Ltd.
Hikma Pharmaceuticals PLC
Halocarbon, LLC
Lunan Pharmaceutical Group
Sandoz International GmbH
Fresenius Kabi Ag
Jiangsu Hengrui Medicine Co. Ltd.
Merck KGaA
Market Size Breakdown by Segment
The study offers a comprehensive market segmentation analysis along with market estimation for the period 2017-2030.
Based on Drug Type
Desflurane
Sevoflurane
Isoflurane
Based on End User
Hospitals
Ambulatory Surgical Centers
Based on Application
Geographical Analysis
North America
Europe

France
Germany
Italy
Spain
U.K.

Asia-Pacific

China
India
Japan
South Korea
Australia

Latin America
Middle East and Africa

Saudi Arabia
South Africa