Consumer-Driven Solutions to Witness Faster Growth in Gamification Market
Compared to $7,841.5 million in 2019, the global gamification market is predicted to generate $76,298.9 million in revenue in 2030. Additionally, during the forecast period (2020–2030), the market is expected to grow at a CAGR of 24.2%. The key reasons behind the industry advance are the rapid adoption of the concept in the corporate sector, integration of social media with gamification, and surging need to enhance the experience of customers.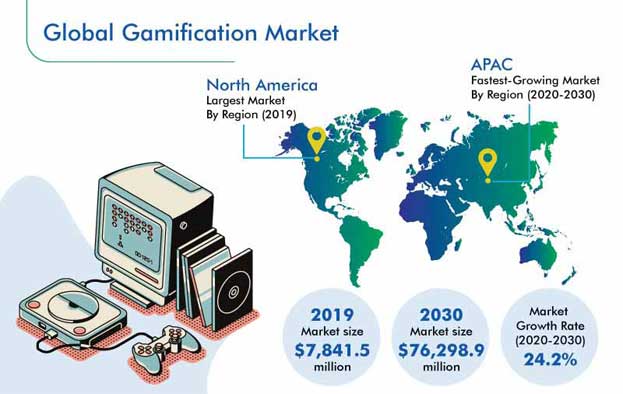 Segmentation Analysis of Gamification Market
During the forecast period, the consumer-driven bifurcation is expected to witness faster advance in the gamification market, on the basis of solution. Good customer engagement is necessary for building brand loyalty, which is why companies are rapidly using gamification for this purpose.
The cloud bifurcation, based on deployment, held the larger revenue share in 2019. This is because of the increasing demand for configurable gamification platforms, to get the most return on investment (RoI), which is pushing end users to use the cloud computing technology.
Till 2030, the marketing category would continue dominating the gamification market, when segmented by application, as companies are strongly focusing on enhancing data collection for strategic planning, bettering the consumer engagement for higher and more-regular sales, and raising brand awareness.
Retail was the largest category in the market during the historical period (2014–2019), under the end user segment. This is attributed to the high adoption of gamification solutions by retailers to augment their sales and brand loyalty, by engaging with customers in a better way. Additionally, retailers also leverage such solutions for analyzing the purchasing behavior and preference of customers.
North America held the largest share in the gamification market in 2019, and the situation is expected to be the same till 2030. This is because of the increasing number of gamification startups, heavy investments in the IT sector, earlier penetration of this technology for marketing and product development than in other regions, surging requirement for gamification solutions equipped with artificial intelligence (AI), and strong focus of companies on enhancing their customer engagement and employee performance.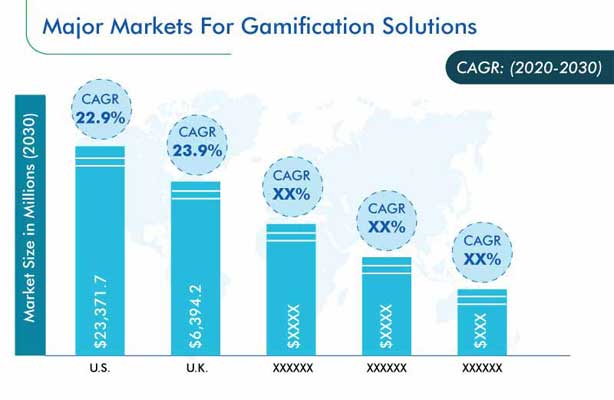 Rising Focus on Level Progress Monitoring Trending in Market
The key trend in the gamification market is the rising focus on monitoring level progress, as a result of companies' efforts to better engage with customers and improve the performance of employees. With activity feeds, progress bars, and in-house competitions, gamification lets organizations monitor and boost their employees' performance. Similarly, the customer–brand engagement can be enhanced via avatars and storytelling, virtual gifts, and virtual currencies. With the help of the level progress technique, it is possible to see how much effort a user is making to cross one level and unlock the next. After every crossing, users get immediate feedback, points or a badge.
Need for Enhanced Customer Experience is Key Market Driver
The most important driving factor for the gamification market is the increasing efforts by companies to enhance their engagement with customers. This is being achieved by leveraging this technology in loyalty programs, product exploration, game-based marketing, and interactive communication. Personalized recommendation games and quizzes are being used to better the customer engagement and build brand loyalty. Additionally, by offering users personalized avatars, reward-based promotions, and progress indicators, under loyalty programs, gamification encourages them to refer the brand to others or make more purchases. Similarly, interactive communication offers access to frequently asked questions (FAQs), which helps users in easy understanding of the brand.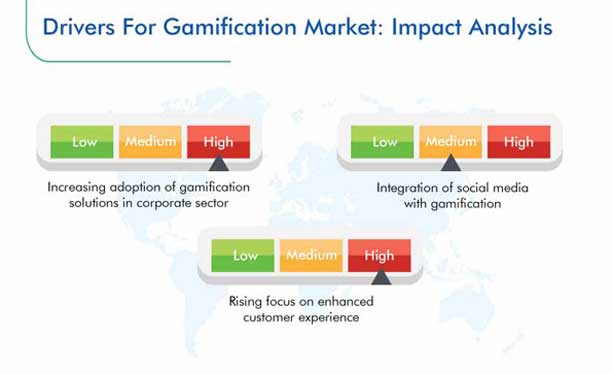 Integration of Artificial Intelligence (AI) a Key Opportunity Area
A key area of opportunity for the gamification market is the integration of machine learning (ML) and other artificial intelligence (AI) technologies with gamification. With these technologies, companies can study gamification solutions' success rate, with a dashboard. Similarly, the insights into the customer behavior extracted from gaming platforms can be analyzed using advanced business intelligence (BI) tools. For instance, in September 2018, Sellf S.r.l., a Europe-based customer relation management firm developing gamification solutions, was acquired by Tritium Software S.L. (ForceManager). By integrating its AI capabilities into Sellf's field sales gamification solutions, Tritium Software has created an intelligent personal assistant.
Gamification Market Report Coverage

| | |
| --- | --- |
| Report Attribute | Details |
| Historical Years | 2014-2019 |
| Forecast Years | 2020-2030 |
| Market Size by Segments | Solution, Deployment, Application, End User |
| Market Size of Geographies | U.S., Canada, U.K., Germany, France, Italy, Russia, hina, Japan, Australia, South Korea, India, Turkey, U.A.E., Saudi Arabia, South Africa, Brazil, Mexico |
Explore more about this report - Request free sample pages
Market Players Engaging in Mergers and Acquisition to Dominate Competition
Several players in the gamification market have undertaken merger and acquisition activities to enhance their offerings and augment their revenue. For instance, in February 2020, Geopointe LLC, a provider of geographic mapping services, and LevelEleven LLC, a developer of performance management software, merged, to offer solutions for better sales performances and enhanced customer relationship management (CRM), via the newly formed Ascent Cloud LLC.
Moreover, in September 2017, SAP SE paid $350 million to acquire Gigya Inc., a firm which offers software for customer identity and access management. With this acquisition, SAP has incorporated the identity and access management platform of Gigya into its Hybris Profile, in order to help users target new customers and analyze data for improving their engagement with them.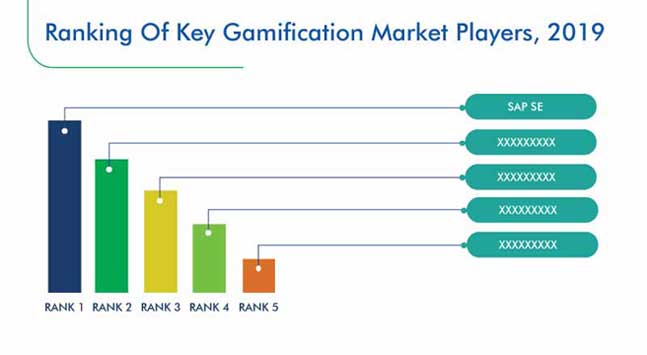 The major global gamification market players are SAP SE, Indusgeeks USA Inc., Axonify Inc., BI WORLDWIDE, TGC Technologies Pvt. Ltd., Gametize Pte. Ltd., Gamify, Microsoft Corporation, Salesforce.com Inc., Faya Corporation, Verint Systems Inc., Khoros LLC, MPS Interactive Systems Limited, IActionable Inc., nGUVU Technologies Inc., Juego Studio Private Limited, Ikipixel Information Technologies Inc. (Motivacraft), EASYPROMOS S.L., Mindspace LLC, XLPro Training Solutions Pvt. Ltd., MJV Technology and Innovation, Torry Harris Business Solutions Private Limited, Diantum Sociedad Limitada, Program-Ace, Bigtincan Holdings Limited, Centigrade GmbH, CRMGamified, and Infosys Limited.
Market Size Breakdown by Segment
The gamification market report offers comprehensive market segmentation analysis along with market estimation for the period 2014–2030.
Based on Solution
Enterprise-Driven
Consumer-Driven
Based on Deployment
Based on Application
Marketing
Sales
Product Development
Human Resources
Analytics
E-Commerce
Based on End User
Banking, Financial Services, and Insurance (BFSI)
Retail
Healthcare
Media and Entertainment
Education
Information Technology (IT) and Telecom
Government
Geographical Analysis
North America
Europe

U.K.
Germany
France
Italy
Russia

Asia-Pacific (APAC)

China
Japan
Australia
South Korea
India

Middle East and Africa (MEA)

Turkey
U.A.E.
Saudi Arabia
South Africa

Latin America (LATAM)