Market Outlook
The e-commerce in automotive aftermarket revenue stood at $38.2 billion in 2019, and it is set to grow at a CAGR of 23.3% during 2020–2030. The strongest growth drivers for this market include the surging consumer awareness regarding different auto parts, their technical details, and the convenience of purchasing them online; rising number of vehicles in operation (VIO), burgeoning number of road accidents, increasing average age of vehicles, booming number of do-it-yourself (DIY) customers, and growing automotive aftermarket.
However, this market suffered a setback in 2020 due to the ongoing COVID-19 pandemic. All COVID-affected countries have resorted to a complete or partial lockdown to ensure social distancing and contain the transmission of the virus. This has resulted in a cut down in the production of automobiles, restrictions on the transportation of non-essential items, decline in the import and export of automobile components, and disruptions in the supply chain. This has further led to a dip in the demand for automotive aftermarket products. However, the impact of the pandemic is projected to be temporary and be neutralized in the coming years by a high demand for automotive aftermarket items that will be witnessed by online platforms.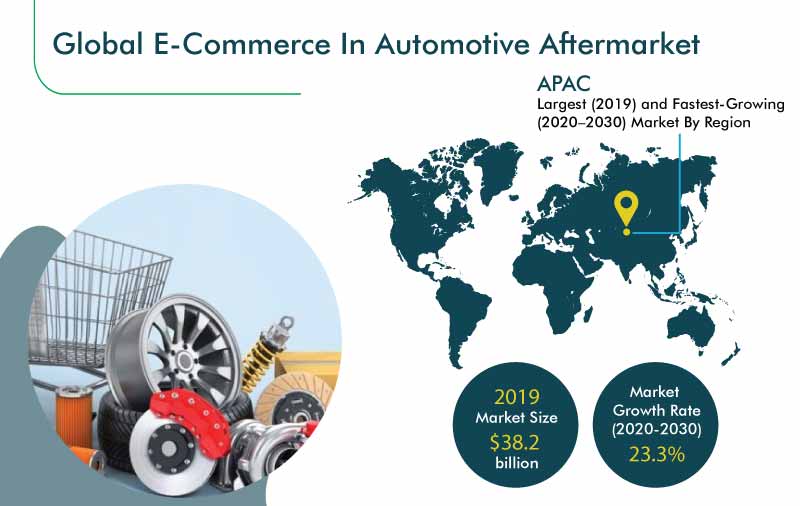 Engine Parts Recorded Highest Demand
The engine parts category, within the component segment, held the largest share in the e-commerce in automotive aftermarket during 2014–2019. Moreover, the category is expected to retain its dominance in the coming years owing to the constant surge in vehicle automobile age and VIO.
The category is further classified into pistons and piston rings, fuel injection systems and carburetors, engine valves and parts, and powertrain components. Among these, the powertrain components category held the major share in the past, primarily on account of the mushrooming demand for the retrofitting and recycling of used powertrain parts, including drivetrain components, transmissions and parts, and other engine parts.
Direct-to-Customer Category To Grow Faster
The direct-to-customer category, within the channel segment, is expected to witness the faster growth till 2030 due to the escalating number of DIY customers and increasing inclination toward online platforms for purchasing aftermarket components. Direct procurement from online platforms offers benefits such as additional discounts and same-day doorstep delivery.
Business-to-Customer (B2C) Sales To Witness Faster Growth
The B2C category, under the consumer segment, will showcase the faster growth in the foreseeable future. This will be due to the rising technical knowledge about automobile components and how to select them, increasing shift toward online platforms to procure vehicle parts, and easy availability of the requisite technical information about the different parts on e-commerce platforms.
Asia-Pacific (APAC) To Be Largest and Fastest-Growing Region
APAC dominated the e-commerce in automotive aftermarket between 2014 and 2019, and it is expected to continue its dominance in the near future, while progressing at the highest growth rate. The region is home to the largest automotive sector in the world, producing nearly 50 million vehicles every year. The thriving automobile sector in the region makes it a lucrative market for vehicle replacement components and parts.
India, South Korea, Japan, and China are among the most-lucrative automotive aftermarkets in APAC. Among these, China has emerged as the largest owing to the rapid surge in automobile sales due to the high urbanization rate and presence of a dynamic and technologically driven customer base, which is ardently shifting toward e-commerce services.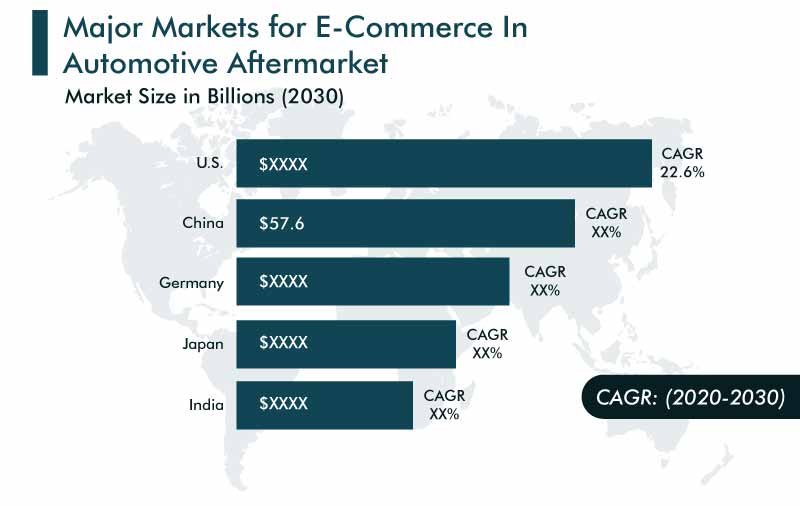 Click-&-Mortar Retailing Is Major Market Trend
Traditional retailers are focusing on amplifying their online presence due to the current trend of click-&-mortar retailing. The availability of automotive aftermarket products on e-commerce platforms enables customers to buy the products online and pick them up at the store. Click-&-mortar retailing encompasses online shopping platforms and brick-&-mortar stores and businesses, thus mutually diminishing the drawbacks exclusive to either. Retailers in the e-commerce in automotive aftermarket are improving their online platforms and uploading their inventory and product listings on these platforms to reach customers easily.
This also makes the purchasing experience better for consumers, as they do not have to physically look for some product traveling from one store to another. Customers can conveniently view the product and pay for it online and visit the store just to buy it. The retail model integrates the comfort provided by e-commerce, while substantially reducing the waiting period and delivery time.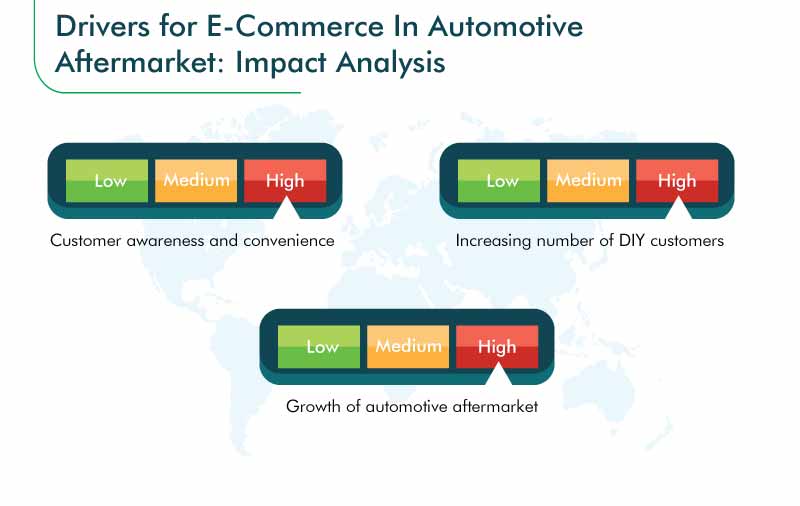 Rising Consumer Awareness and Convenience of Online shopping Boosting Market Growth
The growing customer awareness and higher convenience offered by online shopping portals are the key contributors to the market growth. Customers are switching from brick-&-mortar stores to online platforms because the latter offer a wide range of products and provide convenient transactions with speedy delivery, as per the customer's preference. Several e-tailers, such as Alibaba Group Holding Ltd., Wal-Mart Stores Inc., and Amazon.com Inc., are selling automobile parts, thereby offering easy access to customers. Moreover, the specifications of the products and services and vehicle compatibility requirements offered by the traditional sales channels make it difficult for customers to evaluate the product and estimate the price of the services against the value they would be deriving out of them.
Thus, to avoid buying overpriced products, customers are purchasing them from companies operating in the e-commerce in automotive aftermarket, because e-platforms give the freedom to navigate through a range of products without being affected by the sales gimmicks one needs to be cautious of during an offline purchase. This enables in bridging the trust deficit between the customer and the retailer and, in turn, drives the industry.
Contribution of DIY Customers to Market Rising Sharply
The soaring number of DIY customers is playing a vital role in increasing the market size, due to the growing trend of vehicle customization. With the emergence of the DIY culture, automobile enthusiasts and customers are upgrading their automobiles themselves. While maintenance and service centers and mechanics have been the core customer base for vehicle replacement part providers, DIY enthusiasts have recently emerged as a significant contributor to the market.
Expanding Automotive Aftermarket Proving Instrumental to Market Growth
The growth of the automotive aftermarket has a direct impact on the sales of such parts via online channels. The expansion of the automotive aftermarket can be owed to the mounting number of VIO, escalating per capita income, and increasing urbanization rate. The total number of automobiles in use grew from 1.28 billion in 2015 to 1.57 billion in 2018. Moreover, the escalating average age of vehicles will propel the e-commerce in automotive aftermarket growth, especially in developing regions, such as Latin America, Middle East, & Africa (LAMEA) and APAC.
The automotive aftermarket expansion can also be attributed to the amplifying number of road accidents worldwide. According to the World Health Organization (WHO), nearly 1.3 million people die on the roads every year, globally. The accident rate is tremendously high in developing countries due to their poor road conditions, thereby creating a high demand for aftermarket components. Apart from road accidents, normal wear and tear are boosting the online sales of aftermarket parts.
| Report Attribute | Details |
| --- | --- |
| Historical Years | 2014-2019 |
| Forecast Years | 2020-2030 |
| Base Year (2019) Market Size | $38.2 billion |
| Forecast Period CAGR | 23.3% |
| Report Coverage | Market Trends, Revenue Estimation and Forecast, Segmentation Analysis, Regional and Country Breakdown, Impact of COVID-19 on the Market, Company Share Analysis, Companies' Strategical Developments, Product Benchmarking, Company Profiling |
| Market Size by Segments | Component, Channel, Consumer, Geography |
| Market Size of Geographies | U.S., Canada, Germany, France, Italy, U.K., Spain, Japan, China, India, South Korea, Brazil, Mexico, U.A.E. |
| Secondary Sources and References (Partial List) | Automotive Aftermarket Suppliers Association (AASA), Automotive Component Manufacturers Association (ACMA), Automotive Industries Association of Canada (AIA Canada), Automotive Parts Manufacturer's Association (APMA), China Association of Automobile Manufacturers (CAAM), Fédération des Industries des Equipements pour Véhicules (FIEV), Japan Auto Parts Industries Association (JAPIA) Note: Above listed references and organizations are partial; the detailed and complete list is available in the final report |
Market Players Entering into Partnerships and Collaborations to Gain Competitive Edge
The global e-commerce in automotive aftermarket is fragmented in nature, with the presence of market players such as DENSO CORP., Robert Bosch GmbH, Delphi Technologies PLC, and Valeo SA.
In recent years, players in the industry have entered into numerous partnerships and collaborations, in order to stay ahead of their competitors. For instance:
In March 2020, U.S. Auto Parts Network Inc. (CarParts.com), an e-commerce automotive parts supplier specializing in collision, repair, and maintenance parts, entered into a partnership with Front Row Motorsports (FRM), for the 2020 NASCAR Cup Series. As an outcome of the partnership, U.S. Auto Parts Network Inc. will be the primary partner of veteran driver Michael McDowell, in the NASCAR Cup Series.
In November 2019, Advance Auto Parts Inc. entered into a multi-year partnership with NASCAR, beginning with the 2020 season. Furthermore, Advance Auto Parts Inc. will be featured as the primary sponsor on the No. 12 Ford Mustang driven by Ryan Blaney, for four races, in the NASCAR Cup Series.
In July 2019, DENSO CORP. entered into a joint venture with Smiths Manufacturing (Pty) Ltd., a subsidiary of Metair Investments Ltd., under the name DENSO Sales South Africa (Pty) Ltd. The joint venture was formed with the intention to sell automotive aftermarket products and services in Southern Africa. This joint venture is 51% owned by DENSO CORP. and 49% owned by Smiths Manufacturing (Pty) Ltd. DENSO Sales South Africa is selling repair parts and accessories and offering services such as repairs, for passenger cars and commercial vehicles, in South Africa and neighboring countries.
Some of the Key Players in the E-Commerce in Automotive Aftermarket Include:
DENSO CORP.

Robert Bosch GmbH

Delphi Technologies PLC

Valeo SA

ZF Friedrichshafen AG

Continental AG

HELLA GmbH & Co. KGaA

Meritor Inc.
Amazon.com Inc.

eBay Inc.

U.S. Auto Parts Network Inc.

Alibaba Group Holding Ltd.

Advance Auto Parts Inc.

BuyAutoParts.com

Genuine Parts Co.
E-Commerce in Automotive Aftermarket Size Breakdown by Segment
The research offers market size of the global e-commerce in automotive aftermarket for the period 2014–2030.
Based on Component
Engine Parts

Pistons and piston rings
Engine valves and parts
Fuel injection systems and carburetors
Powertrain components

Drive Transmission and Steering Parts

Gearboxes
Wheels
Steering systems
Axles
Clutch assembly systems

Suspension and Braking Parts

Brake calipers
Brake pads
Suspension systems

Equipment

Headlights and headlights components
Wipers and washer systems
Dashboard instruments

Electrical Parts

Starter motors
Spark plugs
Electric ignition systems
Batteries

Miscellaneous
Based on Channel
Third Party Retailer
Direct to Consumer
Based on Consumer
Business to Consumer (B2C)
Business to Business (B2B)
Geographical Analysis
North America E-Commerce in Automotive Aftermarket
Europe E-Commerce in Automotive Aftermarket

Germany
U.K.
France
Italy
Spain

Asia-Pacific (APAC) E-Commerce in Automotive Aftermarket

China
Japan
South Korea
India

Latin America, Middle East, and Africa (LAMEA) E-Commerce in Automotive Aftermarket