Cleanroom Consumables Market Overview
The global cleanroom consumables market stood at $7,938.7 million in 2015 and is expected to progress at a CAGR of 4.7% during 2016–2022 (forecast period). The market is primarily being driven by the growth in the pharmaceuticals & biotechnology industry and increasing demand for cleanroom consumables in the medical device and electronics industries, as these consumables play an important role in maintaining the quality of products manufactured in these industries. Besides, the increasing adoption of these products in the aerospace, optical, defense, and food industries is expected to drive the market in the near future.
GLOBAL CLEANROOM CONSUMABLES MARKET SHARE BY TYPE $M (2015)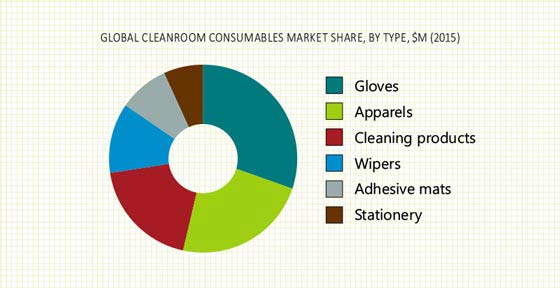 Based on type, the cleanroom consumables market is classified into apparel, cleaning products, stationery, wipers, gloves, and adhesive mats. Among these products, gloves held the largest share in the market, accounting for 30%, in 2015. This can be mainly ascribed to the growth in demand for cleanroom spaces in the pharmaceuticals & biotechnology industry, which further resulted in the demand for consumables used in such settings.
Cleanroom Consumables Market Dynamics
Trends
Rise in demand for eco-friendly cleanroom consumables is a key trend observed in the cleanroom consumables market across the globe. Since cleanroom consumable products are generally disposed after single use, they add to the level of contamination and pollution in the environment and lead to waste generation. Thus, rising environmental concerns have led to increased demand for eco-friendly and reusable cleanroom consumables in recent years.
Restraints
The growth of the cleanroom consumables market is expected be hampered by factors such as stringent regulations with respect to the manufacturing of cleanroom products and the high cost of raw materials used in product manufacturing. Regulatory bodies across the globe have formulated standards that have to be followed for the manufacturing of pharmaceutical and biotechnology products. Besides, considering the high cost of the raw materials used for manufacturing these products, many companies show reluctance toward making heavy investments to enter the market, which, in turn, limits the market growth.
Cleanroom Consumables Market Competitive Landscape
Micronova Manufacturing Inc., Kimberly-Clark Corporation, DuPont de Nemours Inc., Berkshire Corporation, Valutek, Texwipe, Nitritex Ltd., KM Corporation, Contec Inc., and Cantel Medical Corporation are some of the key players operating in the global cleanroom consumables market.
Key Questions Answered in the Report
What is the current scenario of the global cleanroom consumables market?
What are the key market segments and their market size and future potential?
What are the major catalysts for the market and their impact during the short, medium, and long terms?
What are the evolving opportunities for the players in the market?
What are the key regions from the investment perspective?
What are the key strategies adopted by the major players to expand their market share?