BPH Procedures Overview
Benign Prostatic Hyperplasia (BPH) refers to an enlarged prostate gland. The prostate gland surrounds the urethra, the tube that carries urine from the bladder out of the body. As the prostate gets bigger, it may squeeze or partly block the urethra, causing problems while urinating. BPH is common in aging men, and about half of all men between the ages of 51 and 60 suffer from BPH. It has been observed that up to 90% of men above the age of 80 years have BPH. The treatment methods for BPH include medications, transurethral resection of the prostate (TURP), transurethral incision of the prostate (TUIP), laser based treatment and other energy based treatments such as implants and prostatic artery embolization.
Global BPH Procedures, by Type (2013 – 2023)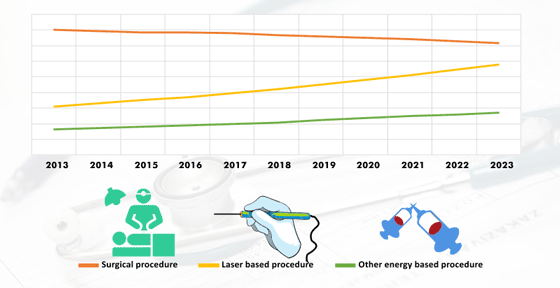 Based on type, BPH procedures are segmented into surgical procedure, laser based procedure and other energy based procedure. The number of laser based procedure is expected to register fastest growth during the forecast period. Laser based procedure are as effective as surgical procedures and reduce the hospital stay time. On the basis of end user, hospitals accounted for the largest number of BPH procedures in 2016, followed by speciality clinics and ambulatory surgery centers. Ambulatory surgical centers are expected to witness the highest inflow of BPH patients for treatment during the forecast period. The development of technologically advanced BPH procedures and high BPH prevalence is leading to the growth in the number of patients treated in the ambulatory surgical centers.
Rising prevalence of BPH disorders and growing aging population are some of the key factors driving the growth of number of BPH procedures. Additionally, increase in the awareness for BPH disorders and surge in adoption of minimally invasive procedures also spur the growth of the BPH procedures. However, the BPH procedures has been facing certain challenges such as side-effects associated with BPH treatment procedures and unfavourable healthcare reforms in the U.S., which is likely to impede its growth during the forecast period.
Browse Report on US BPH Procedures
Opportunities
High unmet needs associated with BPH have encouraged key players to invest in research and development activities to develop new BPH procedures that are comparatively less in cost, which provides further opportunities to the companies manufacturing devices for various BPH procedures, globally. There are various companies providing BPH treatment devices which are covered under Medicare and most private healthcare plans. For instance, Medtronic plc provides health care plans for the treatment of BPH, when Transurethral Needle Ablation Therapy (TUNA) is used. Due to such healthcare plans, patients opt for minimally invasive surgeries, thereby creating ample opportunities for the players in the market.
Growth Drivers
Increasing life expectancy and fall in the birth rates are the major reasons for rise in the aging population. The people in this category require extensive care, since they are more prone to illness due to low immunity levels and longer recovery time. According to the United Nations Department of Economic and Social Affairs (UNDESA), reports on the global aging population, the number of people aged 60 years or above is growing at a high rate and is projected to grow by 56.0 % globally, i.e. from 901 million in 2015 to 1.4 billion by 2030, and is projected to more than double its size from 2015, to reach 2.1 billion, by 2050. Increase in the aging population in the U.S., Germany, China and India in the next few years, is expected to create high demand for BPH treatment devices, since the population aged 50 years and above is more prone to BPH, and therefore tend to opt for various treatments that involve the use of procedures such as TURP, prostate implants and laser based treatments. Thus, growing aging population acts as a strong driver supporting the increase in the number of BPH procedures performed. Rising awareness about the BPH disorders and advanced BPH treatment procedures also fosters the growth of number of BPH procedures. Many campaigns were launched by the players in the market to make people aware about the prostate related diseases. In December 2016, GlaxoSmithKline plc launched a campaign with the name '#SeatsupforSanta', to spread awareness about BPH symptoms and treatments. In addition to radio and online advertisements, bathroom posters and PR support, a dedicated website was also created (www.morethanonceanight.ie) for creating awareness about BPH. The website provides a one-stop-shop for public who seek information related to BPH, as well as a checklist, allowing men to discover if their symptoms are indicative of BPH, which can be printed off and brought to the doctor for diagnosis and further treatment. All the aforementioned initiatives lead to the growth in the number of patients opting for various BPH treatments.
BPH Procedures - Competitive Landscape
Key player in the BPH procedures are introducing new advanced products for BPH treatment procedures. In September 2016, NeoTract, Inc. (NeoTract) announced that the company has received the de novo approval from USFDA for its UroLife system for prostate implant.
Some of the other key players operating in the global BPH procedures include NxThera, Inc., Boston Scientific Corporation, Urologix, LLC., Karl Storz GmbH & Co. KG, Lumenis Ltd., Olympus Corporation, Advin Urology, Convergent Laser Technologies, Richard Wolf GmbH, Medtronic Plc.
Scope for Customization
P&S Intelligence offers customization as per specific business requirements of clients. Illustrative customization within the scope of this report includes:
Period of Analysis – Increase in the study period, including historic and forecast years.
Geographical Analysis – Increase in country coverage.
Company Profiles – Wider company coverage in terms of detailed analysis or additional company profiles.
New custom report – A completely customized report can be provided on the market, specific to a region/ country/ segment.